Inversion therapy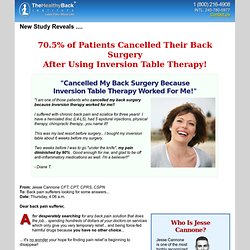 New Study Reveals .... "I am one of those patients who cancelled my back surgery because inversion therapy worked for me!! I suffered with chronic back pain and sciatica for three years! I have a herniated disc (L4-L5), had 5 epidural injections, physical therapy, chiropractc therapy...you name it!! This was my last resort before surgery... I bought my inversion table about 6 weeks before my surgery.
Inversion Therapy Table
Inversion Therapy for Back Pain, Neck Pain and Sciatica | LoseTheBackPain.Com
Inversion Therapy - Back Pain Relief with Inversion Therapy
I have had back pain and I have had sciatica. So I know the feeling. I know how frustrating it can be, and I know how back pain can suck the joy right out of your life.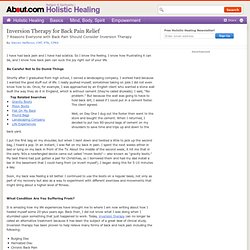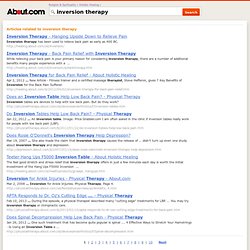 inversion therapy - About.com : Holistic Healing
Articles related to inversion therapy Do Inversion Tables Help Low Back Pain? - Physical Therapy Jan 22, 2012 ... An inversion table.