Health
Health Benefits of Inversion Tables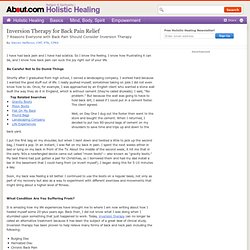 I have had back pain and I have had sciatica. So I know the feeling. I know how frustrating it can be, and I know how back pain can suck the joy right out of your life.
Inversion Therapy - Back Pain Relief with Inversion Therapy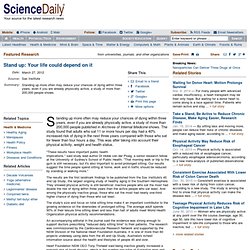 Stand up: Your life could depend on it
Standing up more often may reduce your chances of dying within three years, even if you are already physically active, a study of more than 200,000 people published in Archives of Internal Medicine shows. The study found that adults who sat 11 or more hours per day had a 40% increased risk of dying in the next three years compared with those who sat for fewer than four hours a day. This was after taking into account their physical activity, weight and health status. "These results have important public health implications," said study lead author Dr Hidde van der Ploeg, a senior research fellow at the University of Sydney's School of Public Health. "That morning walk or trip to the gym is still necessary, but it's also important to avoid prolonged sitting.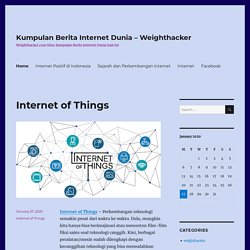 Weighthacker
Every single minute of exercise you do helps you lose weight I know a lot of people who don't bother trying to get much physical activity because they think if the don't exercise at the gym for an hour there's no point. But as a Weighthacker you know that things like NEAT movements and even light activities like pacing while you talk on the phone all add up.
Lower Back Pain - Causes, Treatment, Prevention, Relief
*If you are experiencing back pain, see a doctor who can determine the cause. If the pain spreads down your leg or is accompanied by tingling, numbness or weakness, see a doctor immediately. This site covers the more common causes of back pain, back pain prevention, and back pain treatment.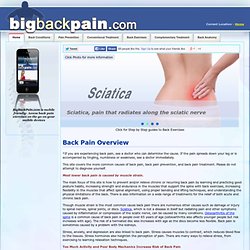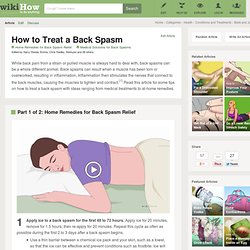 Edit Article Home Remedies for Back Spasm ReliefMedical Solutions for Back Spasms Edited by Harry Honda, Emma, Chris Hadley, Notinuse and 28 others While back pain from a strain or pulled muscle is always hard to deal with, back spasms can be a whole different animal.
How to Treat a Back Spasm: 9 steps
Muscle Spasms Causes, Symptoms, Diagnosis and Treatment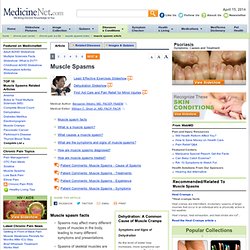 Dehydration: A Common Cause of Muscle Cramps Symptoms and Signs of Dehydration As the level of water loss increases, more symptoms can become apparent. The following are further signs and symptoms of dehydration.
Muscle Spasm of the Back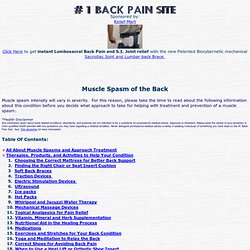 Muscle Spasm of the Back Muscle spasm intensity will vary in severity. For this reason, please take the time to read about the following information about this condition before you decide what approach to take for helping with treatment and prevention of a muscle spasm: