Writing objectives
Get flash to fully experience Pearltrees
By Shelley A. Gable A post from a couple weeks ago explained that there are instructional design models that offer formulas for assembling training in a way that captures learners' attention, conveys content, and provides learners with an opportunity to practice and receive feedback on new skills. That post described Robert Gagne's nine events of instruction , which is one of the more popular instructional design models and is based on cognitive and behavioral psychology. Another well-known and broadly accepted instructional design model is M.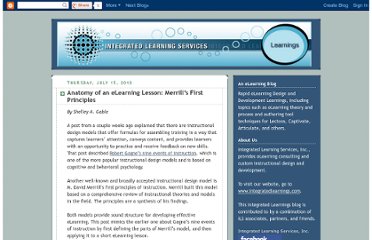 Before you decide on the content to cover in your course, endow your course with a strong internal structure conducive to student learning. Alignment among three main course components ensures an internally consistent structure. Alignment is when the: OBJECTIVES articulate the knowledge and skills you want students to acquire by the end of the course ASSESSMENTS allow the instructor to check the degree to which the students are meeting the learning objectives INSTRUCTIONAL STRATEGIES are chosen to foster student learning towards meeting the objectives
Time: 30 minutes In this activity, you will use an instrument called the "taxonomy of educational objectives" to align learning outcomes with learning activities, which are part of teaching methods. The taxonomy was originally developed to align learning outcomes with assessment items (Anderson & Krathwohl, 2001). It has since been used in instructional design to ensure that the components of a learning design are "aligned".