Designer
Daito Manabe Key work&activity Left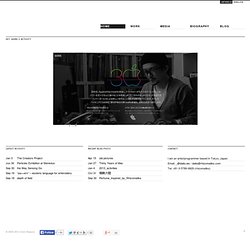 Daito Manabe | Artist, Designer, Programmer, DJ, VJ, Composer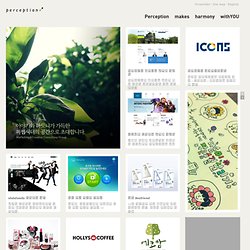 연세대학교 발전기금 디자인 리뉴얼 연세대학교의 발전기금 마련을 위한 다양한 기부스토리와 모금 활동 이야기 연세대학교 미래융합연구원 브랜드 아이덴티티를 정립하고 로고 / 웹사이트 / 인테리어를 통합적인 구축 다담게임 웹사이트 디자인 리뉴얼 국제적 온라인 게임회사로 발돋음한 다담게임의 아이덴티티를 부각
Perception
metadesign.com
creative computing group
KOLLISION
: Fred Penelle
인터페이스 연대기
For tonight's post, I'm going to include three new examples from my upcoming Nature of Code book. I'll also excerpt some of the text with these examples below. This first example expands on the existing Recursive Tree example that comes with Processing.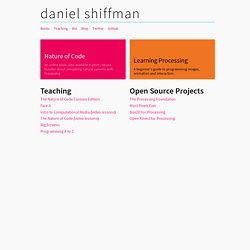 A sound-responsive laser installation set to The Rite of Spring, performed with the North Netherlands Symphony Orchestra. Arcade were commissioned to make a visual accompaniment to Stravinsky's masterpiece. The project was produced by the Groninger Forum for the Timeshift festival in Holland, to celebrate the 100-year anniversary of the controversial first performance of The Rite of Spring.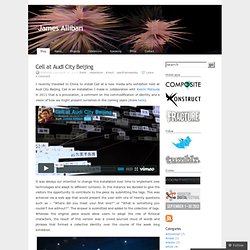 Joon&Jung Designteller
Permanent Construction - Jan Vormann
© Finn Magee 2012
Brooklyn Bridge Park, New York, USA I am currently ramping up for my new show, Global Model Village, which will feature the image above which was taken in New York last year. The show opens September 27th at Andipa Gallery in London and features a mix of installations placed in different cities around the world over the past couple of years.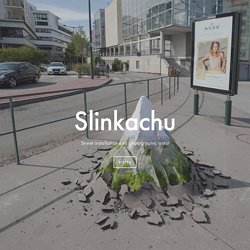 Design I/O - Night Bright 2011 Faces 2011 YesYesNo - Nike+ Paint With Your Feet 2011 YesYesNo - Nike+ City Runs 2011