Société numérique
BUY THIS SATELLITE - Connect Everyone.
Identité numérique et apprentissage: Quels Liens?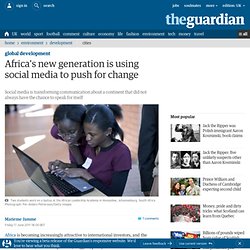 Two students work on a laptop at the African Leadership Academy in Honeydew, Johannesburg, South Africa. Photograph: Per-Anders Pettersson/Getty Images Africa is becoming increasingly attractive to international investors, and the growth in its human capital is also very exciting. This new generation of makers, doers, inventors, venture capitalists, bloggers, policymakers – the "Cheetah Generation" as the Ghanaian economist George Ayittey has called them – are the hungry grassroots who have been let down by their governments.
Africa's new generation is using social media to push for change | Global development