Web and Coding Forums
Enkoder. Posting your email address on a website is a sure-fire way to get an inbox full of Spam.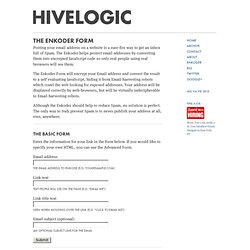 The Enkoder helps protect email addresses by converting them into encrypted JavaScript code so only real people using real browsers will see them. The Enkoder Form will encrypt your Email address and convert the result to a self evaluating JavaScript, hiding it from Email-harvesting robots which crawl the web looking for exposed addresses. Your address will be displayed correctly by web-browsers, but will be virtually indecipherable to Email harvesting robots.
Although the Enkoder should help to reduce Spam, no solution is perfect. The only way to truly prevent Spam is to never publish your address at all, ever, anywhere. Hues Hub: HTML Color Codes in Hexadecimal at intervals of hue, saturation, and light; Hue each 6 degrees. HTML, CSS, and JavaScript Tutorials, References, and Articles | HTML Dog. Dottoro Web Reference. Find latitude and longitude with Google Maps. This page uses the Google Maps API to find out accurate geographical coordinates (latitude and longitude) for any place on Earth.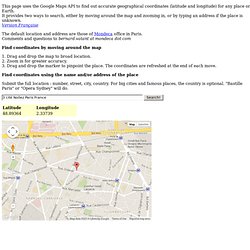 It provides two ways to search, either by moving around the map and zooming in, or by typing an address if the place is unknown.Version Française The default location and address are those of Mondeca office in Paris. Dreamweaver Club. Flash and HTML5 Tutorials for Designers and Developers! A simple tutorial. « Que peut faire PHP ?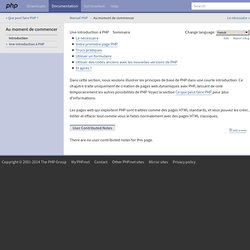 Le nécessaire » Edit Report a Bug Une introduction à PHP ¶ Sommaire ¶ Six Revisions - Web Design Articles, News, Tutorials. HTML Goodies: The Ultimate HTML Resource. Learn to code. Webmaster Forum.
---