Blogging
On Triggering and the Triggered, Part 3 | Alastair's Adversaria
[WARNING: This post contains language and discussion that rape or sexual abuse survivors may find upsetting.] Within this post I will continue my analysis of the debate surrounding the words of Pastor Douglas Wilson's that Jared Wilson posted over a week ago. I have already blogged twice on the subject – here and here. Both of these posts have provoked extensive discussion, with over 230 comments between the two of them.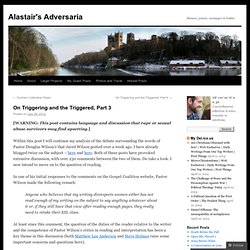 Brain Traffic - Content Strategy Is All We Do
Camille Paglia's "Sexual Personae": Book Review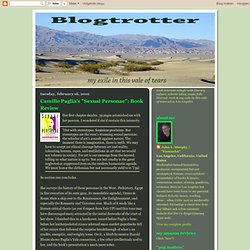 Her first chapter dazzles. 39 pages astonished me with her passion. I wondered if she'd sustain this intensity. "Out with stereotypes, feminism proclaims. But stereotypes are the west's stunning sexual personae, the vehicles of art's assault against nature.
The page you are looking for might have been removed, had its name changed, or is temporarily unavailable. Please try the following: Make sure that the Web site address displayed in the address bar of your browser is spelled and formatted correctly.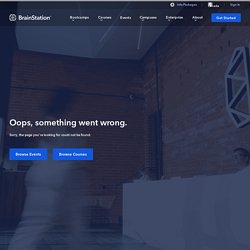 Sexual Personae
Sexual Personae
Whenever Camille Paglia's turns out another study of the Western Culture, she succeeds in aggravating a wide spectrum of intellectuals. Paglia's discovery that women's reproductive powers naturally bind them to men upsets feminist intellectuals. She says that Ayn Rand-like capitalism has freed women from bondage to men, and she makes Leftists boil with indignation. When she associates homosexual aestheticism with some of the most despotic systems and shows that gay men's love of all things masculine is idolatry, she is sure to ruin their day.
Western Culture's Lurid Evolution - Rapid Pulse
When you "beef up" something, you improve it. When you don't "beat around the bush" you go directly to "the meat of the matter." If you're a "couch potato" who "vegetates" in front of the boob tube all day then you're undoubtedly sloppy, out of shape, listless, and dull.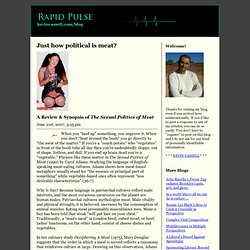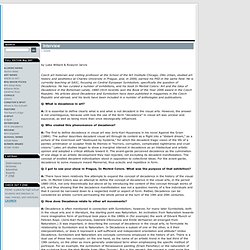 Interview by Luke Willard & Rowynn Jarvis Czech art historian and visiting professor at the School of the Art Institute Chicago, Otto Urban, studied art history and aesthetics at Charles University in Prague, and, in 2000, earned his PhD in the same field. He is currently teaching at SAIC, focusing on Central European Symbolism, specifically the question of Decadence.
Art & Decadence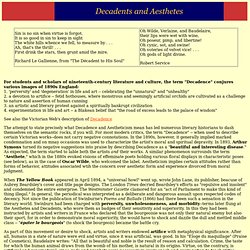 For students and scholars of nineteenth-century literature and culture, the term "Decadence" conjures various images of 1890s England: 1. 'perversity' and 'degeneration' in life and art -- celebrating the "unnatural" and "unhealthy" 2. a devotion to artifice -- fetid hothouses, where monstrous and seemingly artificial orchids are cultivated as a challenge to nature and assertion of human cunning 3. an artistic and literary protest against a spiritually bankrupt civilization 4. experimentation in life and art -- a Blakean belief that "the road of excess leads to the palace of wisdom" See also the Victorian Web's description of Decadence The attempt to state precisely what Decadence and Aestheticism mean has led numerous literary historians to dash themselves on the semantic rocks, if you will. For most modern critics, the term "Decadence" -- when used to describe certain Victorian works--does not carry negative connotations.
Decadence
Blogs Are Godless Communist Bullshit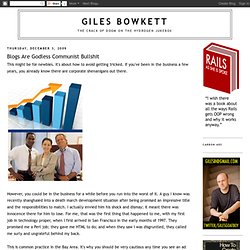 This might be for newbies. It's about how to avoid getting tricked. If you've been in the business a few years, you already know there are corporate shenanigans out there. However, you could be in the business for a while before you run into the worst of it. A guy I know was recently shanghaied into a death march development situation after being promised an impressive title and the responsibilities to match.