Sweets
Cookies and Cream Fudge
Red Velvet Ice Cream
Tomorrow is Valentine's Day, the day in which seemingly every single thing in the world turns red and pink. Cards, candy wrappers, clothes, and most of all – desserts. Red velvet has become hugely popular over the last few years and what started as a simple red-hued cake with cream cheese frosting has morphed into countless dessert variations based on the color and flavors of the original dessert. There are cupcakes, cheesecakes, whoopie pies, Rice Krispies treats, pancakes, cookies, and the list goes on and on. One recipe that caught my attention last year was red velvet ice cream, and I was excited to create my own version this year. What a perfect way to get your red velvet fix, and have some festive ice cream to serve alongside a decadent chocolate dessert.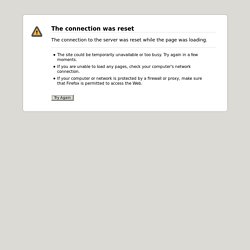 Tagalong Peanut Butter Parfaits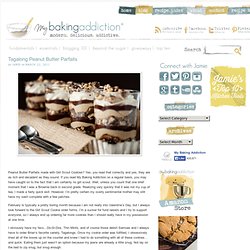 [pinit]
I don't drink coca-cola. But I do eat it.
Coca-Cola Cupcakes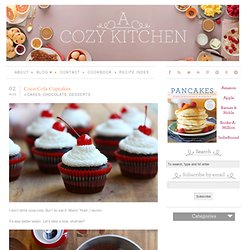 Basic Marzipan Recipe - How to Make Homemade Marzipan - Marzipan Candy Recipe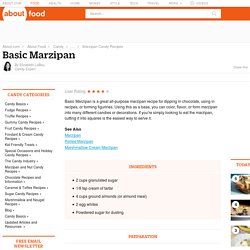 Basic Marzipan is a great all-purpose marzipan recipe for dipping in chocolate, using in recipes, or forming figurines. Using this as a base, you can color, flavor, or form marzipan into many different candies or decorations. If you're simply looking to eat the marzipan, cutting it into squares is the easiest way to serve it.
Marzipan Recipe
Mug Cakes
Lofthouse Style Soft Frosted Sugar Cookies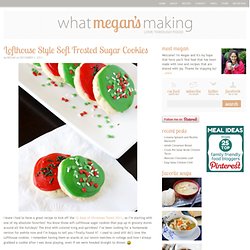 Lofthouse Style Soft Frosted Sugar Cookies
Hot Cocoa Pudding Mugs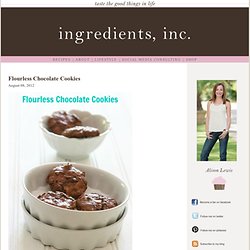 Flourless Chocolate Cookies August 08, 2012 A friend recently passed me this recipe for Flourless Chocolate Cookies, and she told me to try them.
Flourless Chocolate Cookies
Cookie Dough Dip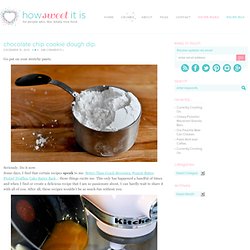 Go put on your stretchy pants. Seriously. Do it now.
Spiced Applesauce Cake with Cinnamon Cream Cheese Frosting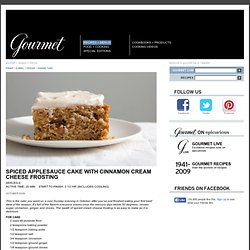 Serves6 Active time:20 min Start to finish:3 1/2 hr (includes cooling) October 2009 This is the cake you want on a cool Sunday evening in October, after you've just finished eating your first beef stew of the season. It's full of the flavors everyone craves once the mercury dips below 50 degrees—brown sugar, cinnamon, ginger, and cloves.
Central Dispatch - Show
S'more Bars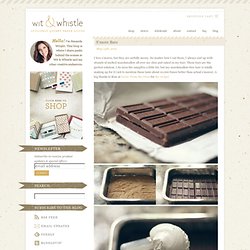 May 14th, 2012 I love s'mores, but they are awfully messy. No matter how I eat them, I always end up with strands of melted marshmallow all over my chin and caked in my hair. These bars are the perfect solution.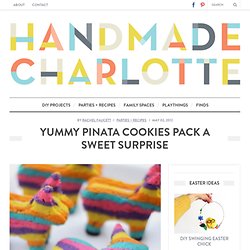 May 02 Rachel Faucett Sugar cook­ies with a sur­prise inside–how cool is that?
DIY Pinata Cookies
Handle the Heat » Raspberry Lemonade Bars
Banana Split Bites
Banana Split Bites ~ A classic ice cream dessert gets mini for some bite size fun. And yes, there is actually a tiny scoop of ice cream tucked inside and underneath the whip cream of those little darlings.
Grilled S'more Brownie
These cookies are every bit as delicious as they look.
S'mores Cookies
Crafty Kitchen: Owl S'mores | Craft Buds
Here's a fun recipe for adults and kids alike–owl smores! Let's just start off by saying, when the items below are the ingredients, you know the final product is going to be good! To make these owls you'll need graham crackers, Reese's peanut butter cups, candy corn, M&Ms, and large marshmallows.
Bacon Cookies
Baklava
My style of baklava is nut-heavy, as you can see. I like it that way, though it does produce a baklava that isn't easy to eat according to formal Turkish baklava etiquette. If you're a stickler for formality, cut down the nuts. The result will be pieces of baklava that are easier to spear with a fork and pop into your mouth.
No-Bake Chewy Cookies and Cream Bars
Oh how I love a treat that can be whipped up in about 15 minutes. My boys and their buddies couldn't get enough of these Chewy Oreo Bars we had as an after school snack this week.
Get Off Your Butt and BAKE! » Impressive recipes made simple. » page 3
Guest Post–Key Lime Swirl Cheesecake Bars
SugarBlog - The Ultimate Ice Cream Cake Cookie Pie
Rainbow Cake in a Jar
Homemade Junk Food | Spark
Rice Krispies Sushi
PHILADELPHIA® No-Bake Mini Cheesecakes recipe
Cookies and Cream Peanut Butter…Midnight Snack
Martha Stewarts Cookies and Cream Cheesecakes Recipe | La Mia Vita Dolce - StumbleUpon
Chocolate Chip Cheesecake Dip « Slice & Dice
Popsicles!
Twix Cheesecakes
Better-Than-Crack-Brownies
Best No-Bake Cheesecake Recipe
She Wears Many Hats
Easter Cupcakes Baked in Real Egg Shells
Icings Recipes at Bake Decorate Celebrate!
Pumpkin Chocolate Pudding
Fried Ice Cream
Three Safe-to-Eat Cookie Doughs: Chocolate Chip, Sugar, and Cake Batter!
penniesonaplatter
Snowball Cookies | Favorite Holiday Cookies
Healthy Sugar Cookies Recipe
Whipped Cream Frosting Recipe
Pumpkin Cupcakes With Cinnamon Cream Cheese Frosting
Cute Cupcakes. All The Time.
peanut butter pretzel bites « Two Tiny Kitchens
How to Avoid a Spreading Cookies < Cooking Tips and Cooking Questions Answered
Red Velvet Cheesecake Brownies
Watermelon Lime Sorbet Slices
smores recipe
Oreo Cookies and Cream No-Bake Cheesecake