Art
Top 250. Peter Jaworowskis Portfolio. Ayaka Itos photosets on Flickr. CGTalk. Hyper-Realistic Acrylic Body Painting (15 pics) Carved Book Landscapes by Guy Laramee. (click images for detail) For the better part of three decades multidisciplinary artist Guy Laramee has worked as a stage writer, director, composer, a fabricator of musical instruments, a singer, sculptor, painter and writer.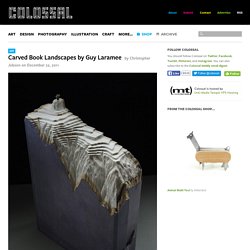 Among his sculptural works are two incredible series of carved book landscapes and structures entitled Biblios and The Great Wall, where the dense pages of old books are excavated to reveal serene mountains, plateaus, and ancient structures. Of these works he says: So I carve landscapes out of books and I paint Romantic landscapes. Mountains of disused knowledge return to what they really are: mountains. - StumbleUpon. MWM Graphics | Matt W. Moore. MWM Graphics | Matt W. Moore - StumbleUpon. Great Resume Designs that Catch Attention-and Got People Hired - StumbleUpon.
Inspiration June 21, 2011 When applying for a job, you have no choice but to do your best to outshine competition.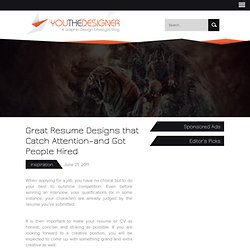 Even before winning an interview, your qualifications (or in some instance, your character) are already judged by the resume you've submitted. Drowning Beautiful | - StumbleUpon. Skateboard Sculptures - StumbleUpon. L'avant et l'après de peintures connues | La boite verte - StumbleUpon.
---