Références anglophones
INTERDISCIPLINARY PERSPECTIVES ON INFECTIOUS DISEASES - 2012 - Neglected Infectious Diseases: Mechanism of Pathogenesis, Diagnos
Swiss Med Wkly. 2012;142:w13727 Neglected tropical diseases: diagnosis, clinical management, treatment and control
PLoS Negl Trop Dis. 2012 February; 6(2): e1475. Neglected Tropical Diseases of the Middle East and North Africa: Review of Their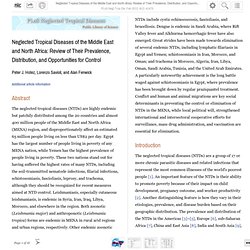 Public Library of Science Abstract The neglected tropical diseases (NTDs) are highly endemic but patchily distributed among the 20 countries and almost 400 million people of the Middle East and North Africa (MENA) region, and disproportionately affect an estimated 65 million people living on less than US$2 per day. Egypt has the largest number of people living in poverty of any MENA nation, while Yemen has the highest prevalence of people living in poverty. These two nations stand out for having suffered the highest rates of many NTDs, including the soil-transmitted nematode infections, filarial infections, schistosomiasis, fascioliasis, leprosy, and trachoma, although they should be recognized for recent measures aimed at NTD control.
FDA - AOUT 2011 - DRAFT Guidance for Industry Neglected Tropical Diseases of the Developing World: Developing Drugs for Treatmen
Bol Med Hosp Infant Mex 2011;68(2):86-90 The global burden of neglected tropical diseases
CDC - 2010 - CDC's Neglected Tropical Diseases Program
Louisiana State University - 2011 - Dissertation en ligne : MAPPING AND MODELING OF NEGLECTED TROPICAL DISEASES IN BRAZIL AND BO
A Peer-Reviewed Open-Access Journal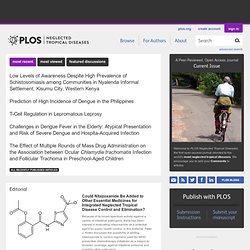 Electronic Data Capture Tools for Global Health Programs: Evolution of LINKS, an Android-, Web-Based System The rapid expansion of mobile networks globally, coupled with the decreasing cost of mobile equipment, is allowing global health programs increasingly to utilize mobile- and cloud-based technology in their efforts to target important challenges to public health. The present report, conducted by Alex Pavluck and colleagues, describes a second-generation, more efficient, cloud-based, smartphone-based system and the key elements that lead to its greater efficiency.
PLOS 31/05/11 Research and Capacity Building for Control of Neglected Tropical Diseases: The Need for a Different Approach
PLOS 26/07/11 The Struggle of Neglected Scientific Groups: Ten Years of NeTropica Efforts to Promote Research in Tropical Diseas
Figures Citation: Moreno E, Gutiérrez JM, Chaves-Olarte E (2011) The Struggle of Neglected Scientific Groups: Ten Years of NeTropica Efforts to Promote Research in Tropical Diseases in Central America. PLoS Negl Trop Dis 5(7): e1055. doi:10.1371/journal.pntd.0001055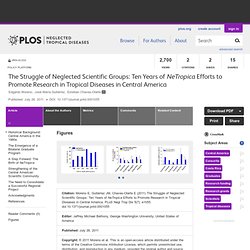 PLOS 27/07/11 A Review of Exotic Animal Disease in Great Britain and in Scotland Specifically between 1938 and 2007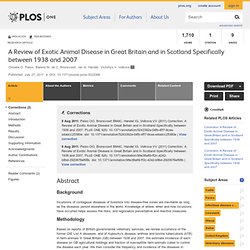 Results Of the former OIE List A diseases, CSF, FMD, SVD, HPAI ("fowl plague" until 1981 [8]) and NDV ("fowl pest" until 1962) have all occurred in GB between 1938 and 2007. The remaining OIE List A diseases did not occur: African horse sickness, African swine fever, bluetongue (introduced in 2008), contagious bovine pleuropneumonia, goat and sheep pox, lumpy skin disease, peste des petits ruminants, Rift Valley fever, rinderpest and vesicular stomatitis. Livestock demographics in Great Britain 1938–2007 The total number of cattle, sheep and pigs farmed in GB almost doubled from 32.7 million in the 1940s to 58.2 million in the 1990s, but then declined following the FMD outbreak in 2001 to 46.5 million (Figure 1, left panels; see Table S1 for all 70-year results). The number of poultry more than doubled from 61.1 million in 1948 to 150.4 million in 2007 (Figure 1, left panels; Table S1).
PLOS 25/10/11 The Neglected Tropical Diseases of India and South Asia: Review of Their Prevalence, Distribution, and Control or
Abstract Background After many years of general neglect, interest has grown and efforts came under way for the mapping, control, surveillance, and eventual elimination of neglected tropical diseases (NTDs).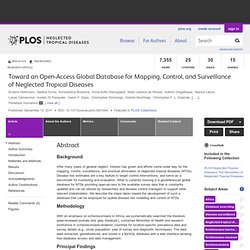 PLOS 13/12/11 Toward an Open-Access Global Database for Mapping, Control, and Surveillance of Neglected Tropical Diseases