Sites institutionnels Internationaux
Documents OIE
Documents FAO. Documents OMS. GRIPAVI research project (2006-2011) - International Conference 2011. Présentations en ligne. The GRIPAVI research project (2006-2011) on the ecology and epidemiology of Avian influenza (AI) and Newcastle diseases (ND) in six countries of Africa and South East Asia is finalizing at the end of 2011, by organising an international conference: Avian influenza dynamic and management:at virus, birds and humans interfaces November 22 - 24 2011 Cirad - Amphithéâtre J.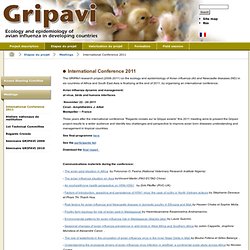 Highly Pathogenic Avian Influenza Early Detection Data System (HEDDS) - 2011 Sampling Efforts. In the President's budget for Fiscal Year 2012, the National Biological Information Infrastructure (NBII), a program under the U.S.
Geological Survey's Biological Information Management and Delivery Program, was terminated. As a result, the funding that facilitated the NBII Node partnerships, as well as the development and maintenance of databases, applications and systems, is no longer available. On January 15, 2012, all NBII websites/applications with an *.nbii.gov URL were removed from the internet. Avian Influenza (Flu) | Questions and Answers About Avian Influenza (Bird Flu) and Avian Influenza A (H5N1) Virus.
Welcome to the CDC website for the 2006 Outbreak of E. coli from Fresh Spinach.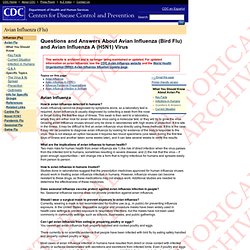 Skip directly to the search box, site navigation, or content. Topics on this page: Avian Influenza How is avian influenza detected in humans? USDA OCT 2005 Questions and Answers: Avian Influenza. The Biology of Avian Influenza Q.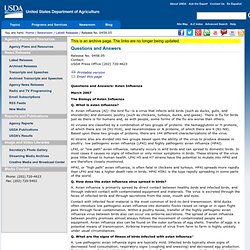 What is avian influenza? A. Avian influenza (AI)--the bird flu--is a virus that infects wild birds (such as ducks, gulls, and shorebirds) and domestic poultry (such as chickens, turkeys, ducks, and geese). Influenza aviaire. La maladie L'influenza aviaire est une maladie causée par un virus de type A qui peut affecter les espèces aviaires domestiques ou sauvages.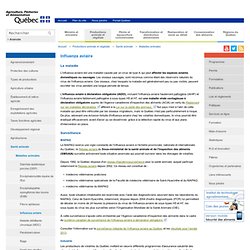 Les oiseaux sauvages, sont reconnus comme étant des réservoirs naturels du virus de l'influenza aviaire. Ces oiseaux, chez lesquels la maladie est généralement peu ou pas visible, peuvent excréter les virus pendant une longue période de temps. L'influenza aviaire à déclaration obligatoire (IADO), incluant l'influenza aviaire hautement pathogène (IAHP) et l'influenza aviaire faiblement pathogène à sous-types H5 et H7, est une maladie virale contagieuse à déclaration obligatoire auprès de l'Agence canadienne d'inspection des aliments (ACIA) en vertu du Règlement sur les maladies déclarables .ce lien s'ouvrira dans une nouvelle fenêtre. afférent à la Loi sur la santé des animaux. .ce lien s'ouvrira dans une nouvelle fenêtre.
SANTE CANADA 06/09/05 Grippe aviaire. Votre santé et vous Cet article a été rédigé en collaboration avec l'Agence de santé publique du Canada.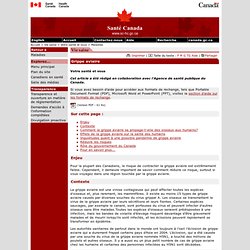 Si vous avez besoin d'aide pour accéder aux formats de rechange, tels que Portable Document Format (PDF), Microsoft Word et PowerPoint (PPT), visitez la section d'aide sur les formats de rechange. Sur cette page : Enjeu. ONU - Avian Influenza and the pandemic threat.
Sites institutionnels Européens
---