Zeıtgeıst
The Zeitgeist Movement. ZeitNews. The Free World Charter. The Venus Project. Paradise or Oblivion. Zday Global. The Zeitgeist Film. Zeitgeist: The Movie. Zeitgeist: Moving Forward. Interreflections I. Jacque Fresco. Fresco writes and lectures his views on sustainable cities, energy efficiency, natural-resource management, cybernetic technology, automation, and the role of science in society.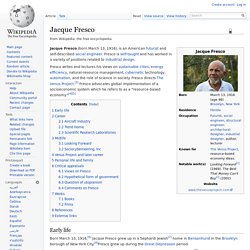 Fresco is the director of The Venus Project.[1] Fresco advocates global implementation of a socioeconomic system which he refers to as a "resource-based economy. "[2][3] Early life. Peter Joseph. Peter Joseph[1] (born 1979) is an American independent filmmaker and social activist.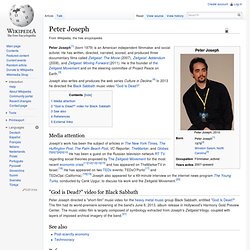 He has written, directed, narrated, scored, and produced three documentary films called Zeitgeist: The Movie (2007), Zeitgeist: Addendum (2008), and Zeitgeist: Moving Forward (2011). He is the founder of the Zeitgeist Movement and on the steering committee of Project Peace on Earth.[3] Joseph also writes and produces the web series Culture in Decline.[4] In 2013 he directed the Black Sabbath music video "God Is Dead?
" Media attention.
---