Blogging
With so many amazing arts, heritage and creative blogs out there already, how do you make yours stand out? How do you get people returning for more, and how do you increase visitor numbers and build a loyal following? There are plenty of tips and tricks to get your own creative blog rocking and therefore raising your profile and helping you to win more business.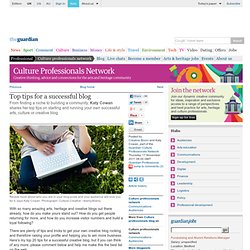 Top tips for a successful blog | Culture professionals network | Guardian Professional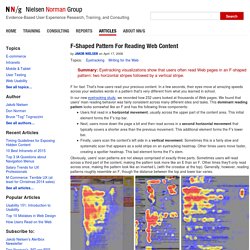 Summary: Eyetracking visualizations show that users often read Web pages in an F-shaped pattern: two horizontal stripes followed by a vertical stripe. F for fast . That's how users read your precious content. In a few seconds, their eyes move at amazing speeds across your website's words in a pattern that's very different from what you learned in school.
First 2 Words: A Signal for the Scanning Eye