Writing Sites
Creative writing within social networks: collaborative writing, microwriting, twitterature, mashups, intertextual processes ... | Educational Technology. DIRECTIONS: Read the following passages and identify the point of view used in each.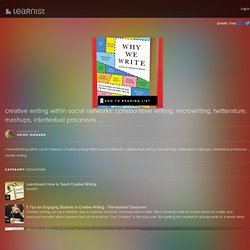 Choose among first-person, third-person objective, third-person limited, and third-person omniscient points of view. Passage 1: Father was in the army all through the war—the first war, I mean—so, up to the age of five, I never saw much of him, and what I saw did not worry me. Sometimes I woke and there was a big figure in khaki peering down at me in the candlelight. Write to Done | Unmissable articles on writing. Find Creative Writing Contests, Poetry Contests & Grants. Breakthrough Novel Award. Nathan Bransford, Author. Proofreading & Paper Editing - Papercheck. GradeQuick Web - Web-based teacher gradebook software | Rediker Software. Sign up for a free online demo: TeacherPlus Gradebook for Administrator's Plus TeacherPlus is an easy-to-use, browser-based gradebook designed specifically for Administrator's Plus schools.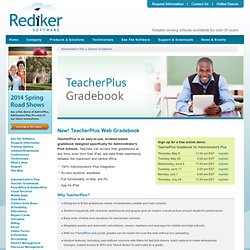 Teachers can access their gradebooks at any time, even from their iPad, and data flows seamlessly between the classroom and central office. Suite101. Creative Writing Ideas, Courses Online, Free Classes for Writers. Book Lovers: Fine Books and Literature. Welcome to Imagination Tree - Tools for Writers and Readers. Renaissance Art Leather Journals. Moleskine Journals, Notebooks and Date Books , MoleskineUS.
---