Writing Exercies
English 50 Exercises for Story Writers. English 50 – Intro to Creative Writing: Exercises for Story Writers Basic Theory: What is a short story?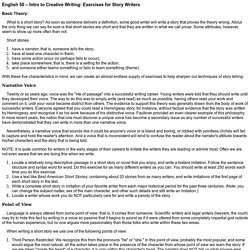 As soon as someone delivers a definition, some good writer will write a story that proves the theory wrong. About the only thing we can say for sure is that short stories are short and that they are written in what we call prose. 80 Journal Writing Prompts | TomSlatin.com. 50 MORE Journal Writing Prompts | TomSlatin.com. Characters on the Bus. When I was a senior in college, I took the city bus to and from school and took notes on my observations.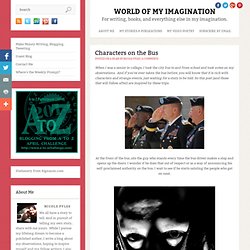 And if you've ever taken the bus before, you will know that it is rich with characters and strange events, just waiting for a story to be told. So this post (and those that will follow after) are inspired by these trips. A 12-Day Plan of Simple Writing Exercises. It's the perfect time to restart your engine and get back into writing.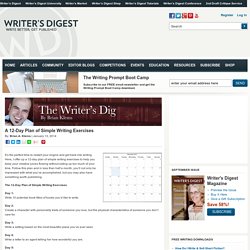 Here, I offer up a 12-day plan of simple writing exercises to help you keep your creative juices flowing without eating up too much of your time. Follow this plan and in less than half a month, you'll not only be impressed with what you've accomplished, but you may also have something worth publishing. The 12-Day Plan of Simple Writing Exercises Day 1: Write 10 potential book titles of books you'd like to write. How to Write Without Colour. As writers, we rely on our unique ability to convey the visual world in words.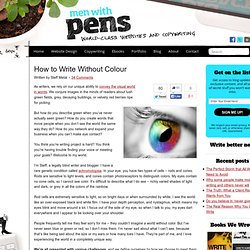 We conjure images in the minds of readers about lush green fields, grey, decaying buildings, or velvety red berries ripe for picking. But how do you describe green when you've never actually seen green? How do you create words that move people when you don't see the world the same way they do? Write to Done.
Arouse your creativity A guest post by Katie Tallo of Momentum Gathering.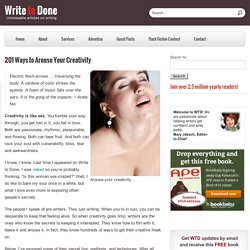 Electric flesh-arrows … traversing the body. A rainbow of color strikes the eyelids. A foam of music falls over the ears. It is the gong of the orgasm. ~ Anais Nin. Random Writing Prompt Generators. Welcome to the Purdue University Online Writing Lab (OWL) Exercises for Fiction Writers. English 50 – Intro to Creative Writing: Exercises for Story Writers More Exercises: Write the first 250 words of a short story, but write them in ONE SENTENCE.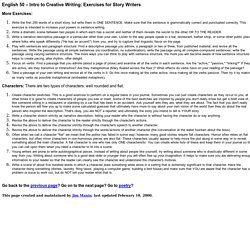 Make sure that the sentence is grammatically correct and punctuated correctly. This exercise is intended to increase your powers in sentence writing. Write a dramatic scene between two people in which each has a secret and neither of them reveals the secret to the other OR TO THE READER. WriteSomething. Dragon Writing Prompts :: Picture prompts. As of today, that's how many posts there are at Dragon Writing Prompts :-) I had vague thoughts of a prompt inspired by 1000 as I saw the number approaching.
Well, no great original ideas popped into my head. No not-great original ones, either. ;-) So, since a picture's worth 1000 words, I browsed through the writing area of Worth1000.com for a picture prompt. (Click for larger view at the artist's Worth1000 page.) The Idea Swap. Write here. write now. 6 Ways to Hook Your Readers. Although I consider myself an avid reader, I must admit I have a short attention span when it comes to getting into books.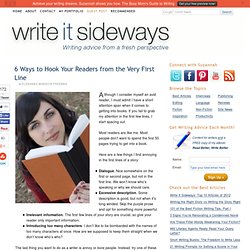 If you fail to grab my attention in the first few lines, I start spacing out. Most readers are like me. Most people don't want to spend the first 50 pages trying to get into a book. Here are a few things I find annoying in the first lines of a story: Dialogue. Exercises for Fiction Writers - Page 2. How to improve writing skills with writing exercises. Creative Writing Exercises -- Creative Writing Exercises for Craft. No matter what stage you're at with your writing, it's always beneficial to work on craft and technique.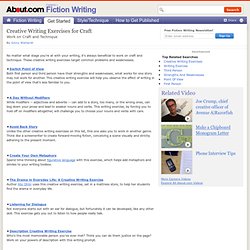 These creative writing exercises target common problems and weaknesses. Switch Point of View. 501 Writing Prompts.
---