Screenwriting Magazines & Resources
scriptdevil.co.uk » Blog Archive » 'Story Physics' And The Art of Screenwriting
July 15th, 2012 by Catharine Ashdown Story Physics are the story-telling principles at the core of Pixar animations. These principles have been further developed by BBC Drama's John Yorke to deliver training for emerging scriptwriters. Empathise with your main character, even if you don't like all of his/her motivations. (For example, Woody in Toy Story initially masked his selfish desires as being selfless.)Unity of opposites. Each character must have clear goals that oppose each other.You should have something to say.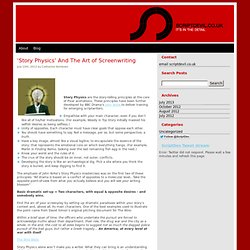 Go Into The Story | The craft of screenwriting, movies, Hollywood, and the creative life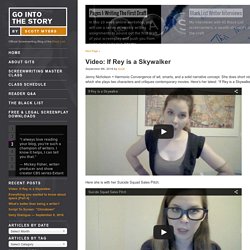 The Black List is a pretty exclusive club, especially so for those writers who manage to land two scripts on the List in a single year. That's what Elijah Bynum did in 2013 when two of his original screenplays — "Mississippi Mud" and "Hot Summer Nights". I sought out Elijah to see what sort of creative mind could manage that feat. He was kind enough to give me an hour of his time in what turned out to be a great conversation about storytelling and the craft of screenwriting.
36 Writing Essays by Chuck Palahniuk
1: Establishing Your Authority Chuck teaches two principal methods for building a narrative voice your readers will believe in. Discover the Heart Method and the Head Method and how to employ each to greatest effect. 2: Developing a Theme At the core of Minimalism is focusing any piece of writing to support one or two major themes.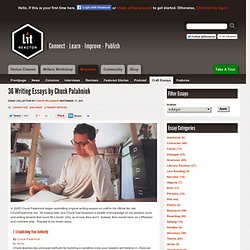 ScreenwritingU: Screenwriting classes, Screenwriting articles, screenwriter interviews, and screenwriting videos.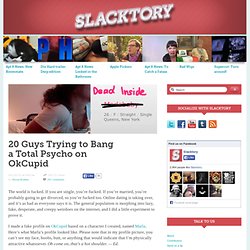 20 Guys Trying to Bang a Total Psycho on OkCupid
The world is fucked. If you are single, you're fucked. If you're married, you're probably going to get divorced, so you're fucked too. Online dating is taking over, and it's as bad as everyone says it is. The general population is morphing into lazy, fake, desperate, and creepy weirdoes on the internet, and I did a little experiment to prove it.
senscritique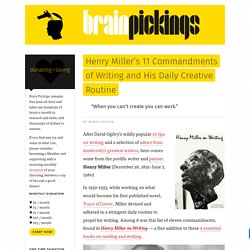 Henry Miller's 11 Commandments of Writing & Daily Creative Routine
by Maria Popova "When you can't create you can work." After David Ogilvy's wildly popular 10 tips on writing and a selection of advice from modernity's greatest writers, here comes some from iconic writer and painter Henry Miller.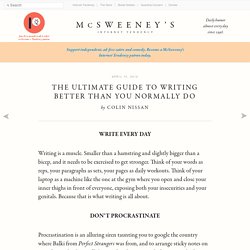 Writing is a muscle. Smaller than a hamstring and slightly bigger than a bicep, and it needs to be exercised to get stronger. Think of your words as reps, your paragraphs as sets, your pages as daily workouts. Think of your laptop as a machine like the one at the gym where you open and close your inner thighs in front of everyone, exposing both your insecurities and your genitals. Because that is what writing is all about. Procrastination is an alluring siren taunting you to google the country where Balki from Perfect Strangers was from, and to arrange sticky notes on your dog in the shape of hilarious dog shorts.
The Ultimate Guide to Writing Better Than You Normally Do.
Adam Levenberg is author of THE STARTER SCREENPLAY and one of Hollywood's most in demand screenwriting consultants. As a reader for USA Films (BEING JOHN MALKOVICH, TRAFFIC), Adam recommended scripts such as HOLLYWOODLAND and SYLVIA, which were both produced by the studio. After working as a Creative Executive for Intuition Productions (THE STEPFORD WIVES, PASSENGERS), Adam moved on to One Race Films (XXX, THE CHRONICLES OF RIDDICK, THE PACIFIER, FIND ME GUILTY, FAST & FURIOUS) where he became the company's Development Executive.
Screenwriting, screenplays, and writing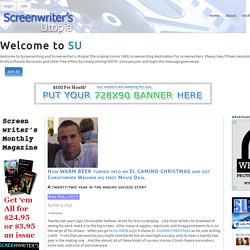 Site Updated: Apr 20, 2014. I'm a longtime user of Final Draft Software and recently upgraded to Final Draft 9, but I just came across a new online screenwriting software program that has a lot of the same features. I'll check it out and post what I find out later. The other students in my screenwriting course seem to really love it. Because Final Draft 9 just came out, I haven't been able to find any promo codes yet, but email me any codes you find for Final Draft Screenwriting Software and I'll post them.
Screenwriting.info: How to Write a Screenplay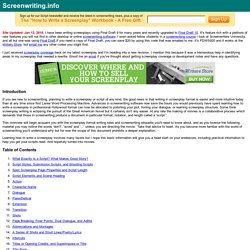 Thirty Question Character Survey | National Novel Writing Month
SAS4WRITES - home
Official Website of Annie Wood - Comedy Writer and TV/Film Actress
Homepage
Ressources pour ecrivains
Dr . Lee E. Warren, B.A., D.D. (c) November/December 1996 "PLIM REPORT" Feel free to copy and circulate this article for non-commerical purposes provided the Web site and author are mentioned.
Idiot Savant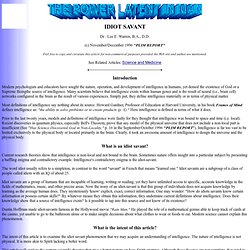 bighappyfunhouse • found photos. free pie.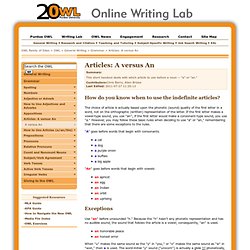 Summary: This short handout deals with which article to use before a noun -- "a" or "an." Contributors:Chris Berry, Allen BrizeeLast Edited: 2011-07-27 11:20:13 How do you know when to use the indefinite articles? The choice of article is actually based upon the phonetic (sound) quality of the first letter in a word, not on the orthographic (written) representation of the letter. If the first letter makes a vowel-type sound, you use "an"; if the first letter would make a consonant-type sound, you use "a."
A versus An
Storyline Online
el inquilino guionista
Stage 32 - Network with fellow actors, directors, producers, screenwriters and other industry professionals.
Script Writing, Screenwriting & Screenplay Resources | Script Magazine
The Stage 32 Blog
The Literacy Shed - The Literacy Shed Home
Excerpts from "How to be Perfect" by Ron Padgett
Share Get some sleep. Eat an orange every morning. Be friendly. It will help make you happy. Hope for everything.
Book-A-Minute SF/F
Don't have time to read it all? Let's face it. There's a lot of science fiction and fantasy out there and very little time to read it in. Well sit back and relax, because your troubles are solved! We here at Book-A-Minute SF/F have come up with a solution. We've taken several great speculative fiction novels and extracted the important stuff, cutting out all the filler.
oneword.com
Plot Scenario Generator
VBS2 Scenario Development
Profile of the Top Screenplay and Screenwriting Contests, 9/02
Screenplay Festival
Applause Screenwriting Competition
Screenplay Option
Free online speed reading software | Spreeder.com
Write on Reader - Forms of Writing - Descriptive Writing
Fifty (50!) Tools which can help you in Writing - Stepcase Lifeh
23 Websites that Make Your Writing Stronger
Writer's Digest - 101 Best Sites
50 of the Best Websites for Writers
Internet Resources - Writers Resources - Writing Links & Writers
Questionnaires for Writing Character Profiles - Creative Writing Help
80 Journal Writing Prompts | TomSlatin.com
50 Awesome Open Source Resources for Writers and Writing Majors
PEN American Center - Grants & Awards
The Online Community for Writers
Stephie Smith's Resources for Writers
OnceWritten.com -- The Source For New & Emerging Authors -- Writing Contests, Win Free Book, Writing Prompts, Book Reviews and Writing Advice
Teen Writers Bloc
Fiction!
software and resources for writers
Teaching Writing with Technology
Go Teen Writers
The Market ist - The Writers Market Resource
ScreenplayFest Philadelphia "Screenwriters Community & Online Screenplay Contest"
Freelance Writing Jobs | A Freelance Writing Community and Freelance Writing Jobs Resource - Freelance Writing Jobs for All Writers
A home for your writing
Resources for Copywriters
CPCW: The Center for Programs in Contemporary Writing
Poetry & Writing Community - Writers-Network.com - The Online Creative Writing Site
http://poewar.com/
Scripped scenario_ plusieurs
The Scriptwriters Network - A 501(c)3 Non-profit organization
The Screenplay Writers | Hire screenwriters | Treatment writers
Screenwriting, Screenplay, and Screenplays from the Scriptologist.com Screenwriting Magazine
Script Magazine | A Final Draft, Inc. Publication
Magazine | Script Magazine
Shoreline Scripts Screenwriting Competition
The Screenplay Writers | Hire screenwriters | Treatment writers
Alpha Scripts - Film Writers Resource
The Scriptwriters Network - A 501(c)3 Non-profit organization