Interesting People
MORT - Célébrités et Stars mortes : Biographie et Anniversaire de celebrite disparue. SOUL BIOGRAPHIES | HUMAN PORTRAITS IN FILM. The most awesome story i ever heard Funny Pictures Add Funny. My Father Was a Polygamist - Read More on ELLE. I've been in courtrooms before, during three trials of the poly­gamous radicals led by the infamous Ervil LeBaron who ­murdered my father, Rulon Allred.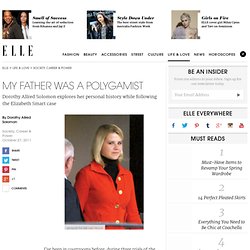 They saw him as an obstruction to LeBaron's ambition of establishing himself as "the One Mighty and Strong," who, according to early Mormon prophecy, will come to set God's house in order. One of those trials took place in the same Salt Lake City federal courthouse where I now sit. LeBaron died 30 years ago in Utah's state prison, but for the past two weeks, I've come to watch another tormentor, Brian David Mitchell, cross the courtroom in a gray cloud of piety. Bernard Madoff, passé à tabac. Le bandit en col blanc Bernard Madoff a été violenté par un codétenu en décembre, écrit le Wall Street Journal.Après l'agression, l'ancien patron du Nasdaq a dû être admis dans un centre médical où il a été soigné d'une fracture du nez, de côtes cassées et de plaies au visage et au crâne, dit le très sérieux canard, citant un pensionnaire de l'établissement à verrous.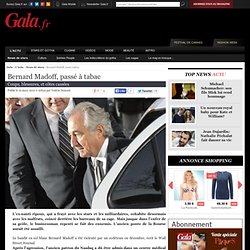 Le détail des lésions et traumatismes n'a pu être vérifié, mais un ancien taulard récemment libéré a confirmé la correction dont Bernie avait été victime. Selon l'ancien captif, la rixe portait sur une dette présumée de Madoff envers son agresseur. Au moment de la bastonnade, l'Administration avait affirmé que Madoff était traité pour des vertiges et un problème de tension artérielle. Roman Polanski. Liliane bettencourt. Affaire DSK. Stories. George Wright Fugitive Story - Uncatchable GQ May 2012: Newsmakers. It's past ten o'clock in the evening, a rude hour to knock on someone's front door, but George Wright's attorney has assured me that this is the best time.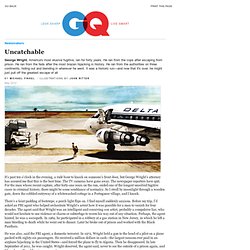 The TV cameras have gone away. The newspaper reporters have quit. For the man whose recent capture, after forty-one years on the run, ended one of the longest unsolved fugitive cases in criminal history, there might be some semblance of normalcy. So I stroll by moonlight through a wooden gate, down the cobbled entryway of a whitewashed cottage in a Portuguese village, and I knock. There's a faint padding of footsteps; a porch light flips on. Man found sobbing in street after 36-hour ordeal with German nymphomaniac. The woman was arrested last month after another exhausted lover escaped onto a balcony and cried for help A man was found sobbing in the street by police after his one-night stand demanded too much sex.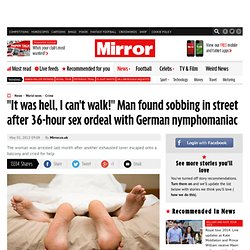 The African man broke down in tears outside the woman's apartment after the 36-hour ordeal in Munich, Germany. Top 10 Most Evil Humans. Crime As we approach the new year, I thought it would be appropriate to do a list that combines and ranks entries from a combination of related lists – a summary list.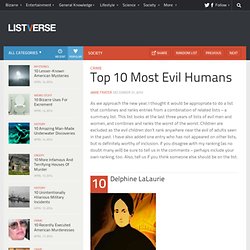 This list looks at the last three years of lists of evil men and women, and combines and ranks the worst of the worst. Children are excluded as the evil children don't rank anywhere near the evil of adults seen in the past. George Wright Fugitive Story - Uncatchable GQ May 2012: Newsmakers. Alan Turing's Reading List: What the Computing Pioneer Borrowed From His School Library. By Maria Popova What Alice in Wonderland has to do with electromagnetic theory, relativity, and Pluto.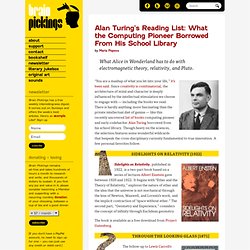 "You are a mashup of what you let into your life," it's been said. Since creativity is combinatorial, the architecture of mind and character is deeply influenced by the intellectual stimulation we choose to engage with — including the books we read. There is hardly anything more fascinating than the private intellectual diet of genius — like this recently uncovered list of books computing pioneer and early codehacker Alan Turing borrowed from his school library. The Unbearable Lightness of Being John Malkovich :: Articles :: Gotham Magazine. LEFT: Black wool two-button suit by DKNY ($595).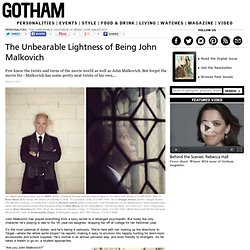 Available through special order at Macy's, 151 West 34th Street, 212-695-4400. Shirt by Boss Black ($95). Boss, the Shops at Columbus Circle, 10 Columbus Circle, 212-485-1900. Hans Rosling: How The Washing Machine Sparked the Reading Revolution. By Maria Popova It's hard not to love statistical stuntman Hans Rosling.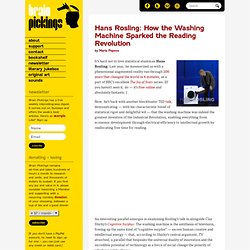 Last year, he mesmerized us with a phenomenal augmented reality run through 200 years that changed the world in 4 minutes, as a part of BBC's excellent The Joy of Stats series. (If you haven't seen it, do — it's free online and absolutely fantastic.) Now, he's back with another blockbuster TED talk, demonstrating — with his characteristic blend of statistical rigor and delightful wit — that the washing machine was indeed the greatest invention of the Industrial Revolution, enabling everything from economic development through electrical efficiency to intellectual growth by reallocating free time for reading.
Saul Bass: Why Man Creates (1968) By Maria Popova I love iconic graphic designer Saul Bass and have a soft spot for luminaries' musings on the nature of creativity.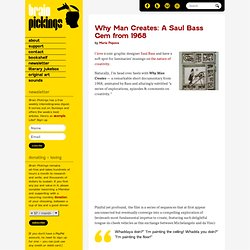 Naturally, I'm head over heels with Why Man Creates — a remarkable short documentary from 1968, animated by Bass and alluringly subtitled "a series of explorations, episodes & comments on creativity." Playful yet profound, the film is a series of sequences that at first appear unconnected but eventually converge into a compelling exploration of (wo)man's most fundamental impetus to create, featuring such delightful tongue-in-cheek vehicles as this exchange between Michelangelo and da Vinci: Whaddaya doin?" 'I'm painting the ceiling! Sylvia von Harden.
August Sander, Sylvia von Harden, Journaliste, 1920s Nestor Gianaklis by Apollinaire Je goûte ton haleine plus exquise que la fumée Tendre et bleue de l'écorce du bouleau.
---