Grammar
oneword.com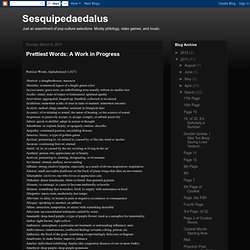 Prettiest Words, Alphabetized (1,027) Abattoir: a slaughterhouse; massacre Absinthe: wormwood liquor of a bright-green color Acciaccatura: grace note, an embellishing note usually written in smaller size Acedia: ennui; state of torpor or listlessness; spiritual apathy Acervuline: aggregated, heaped up, bundled, collected or localized
Prettiest Words: All of Them. 23 Pages. Could Always Use More, Though - StumbleUpon
Wordnik: All the Words
20 Common Grammar Mistakes That (Almost) Everyone Makes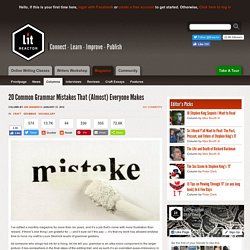 I've edited a monthly magazine for more than six years, and it's a job that's come with more frustration than reward. If there's one thing I am grateful for — and it sure isn't the pay — it's that my work has allowed endless time to hone my craft to Louis Skolnick levels of grammar geekery. As someone who slings red ink for a living, let me tell you: grammar is an ultra-micro component in the larger picture; it lies somewhere in the final steps of the editing trail; and as such it's an overrated quasi-irrelevancy in the creative process, perpetuated into importance primarily by bitter nerds who accumulate tweed jackets and crippling inferiority complexes. But experience has also taught me that readers, for better or worse, will approach your work with a jaundiced eye and an itch to judge. While your grammar shouldn't be a reflection of your creative powers or writing abilities, let's face it — it usually is.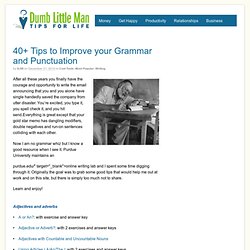 40+ Tips to Improve your Grammar and Punctuation
After all these years you finally have the courage and opportunity to write the email announcing that you and you alone have single handedly saved the company from utter disaster. You're excited, you type it, you spell check it, and you hit send.Everything is great except that your gold star memo has dangling modifiers, double negatives and run-on sentences colliding with each other. Now I am no grammar whiz but I know a good resource when I see it. Purdue University maintains an purdue.edu/" target="_blank">online writing lab and I spent some time digging through it. Originally the goal was to grab some good tips that would help me out at work and on this site, but there is simply too much not to share.
38 Slang Terms From Colonial Times That Need to Be Brought Back By Cooper Fleishman February 23, 2012 at 11:42 am Francis Grose's Dictionary of the Vulgar Tongue: A Dictionary of Buckish Slang, University Wit, and Pickpocket Eloquence ("considerably altered and enlarged, with the modern changes and improvements, by a member of the Whip Club.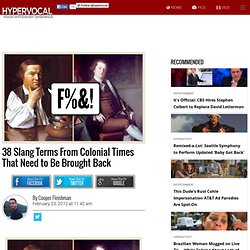 38 Vulgar Terms From the 19th-Century Urban Dictionary
The Anagram Dictionary - StumbleUpon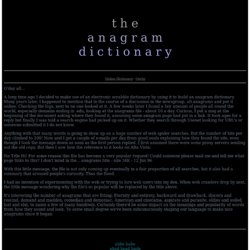 t h e a n a g r a m d i c t i o n a r y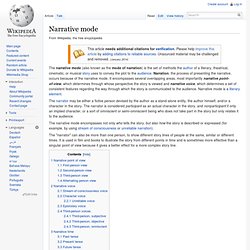 The narrative mode (also known as the mode of narration) is the set of methods the author of a literary, theatrical, cinematic, or musical story uses to convey the plot to the audience. Narration, the process of presenting the narrative, occurs because of the narrative mode. It encompasses several overlapping areas, most importantly narrative point-of-view, which determines through whose perspective the story is viewed and narrative voice, which determines a set of consistent features regarding the way through which the story is communicated to the audience.
Narrative mode
The Phrase Thesaurus is a writers' resource that stimulates ideas for headlines, copy, song lyrics, fiction writing etc. Journalists, advertising copywriters, songwriters, or anyone interested in creative writing in English, can benefit from this ideas generator. find out more and try the free sample... When it comes to memorable quotations, many prominent people save the best until last.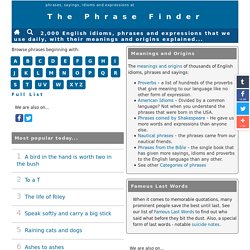 The meanings and origins of sayings and phrases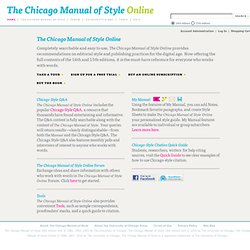 The Chicago Manual of Style Online
Completely searchable and easy to use, The Chicago Manual of Style Online provides recommendations on editorial style and publishing practices for the digital age. Now offering the full contents of the 16th and 15th editions, it is the must-have reference for everyone who works with words. Chicago Style Q&A The Chicago Manual of Style Online includes the popular Chicago Style Q&A, a resource that thousands have found entertaining and informative. The Q&A content is fully searchable along with the content of The Chicago Manual of Style. Your queries will return results—clearly distinguishable—from both the Manual and the Chicago Style Q&A.
free expressions meanings, words, phrases origins and derivations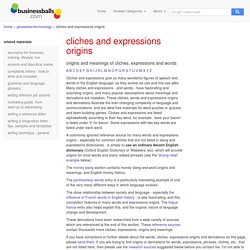 home » glossaries/terminology » cliches and expressions origins origins and meanings of cliches, expressions and words Cliches and expressions give us many wonderful figures of speech and words in the English language, as they evolve via use and mis-use alike.
A%20Glossary%20of%20Literary%20Devices
20 Common Grammar Mistakes That (Almost) Everyone Makes