Journalism
Localeaks. One key component of the rebooted news-cycle is the anonymous drop box.
Demand driven media must include the ability of sources to initiate and fuel the journalistic process with confidence of anonymity. At localeaks.com , MediaLobby is giving users the ability to submit news tips to over 1400 U.S. news organizations through one simple form. MediaLobby is also offering U.S. News organizations on the local and state levels the ability to implement their own version for little or no cost. Each drop box consists of a secure web connection and form that immediately encrypts both files and text submitted and removes identifying metadata from documents.
Online - Shirky: The Shock of Inclusion and New Roles for News in the Fabric of Society. If you were in the news business in the 20th century, you worked in a kind of pipeline, where reporters and editors would gather facts and observations and turn them into stories, which were then committed to ink on paper or waves in the air, and finally consumed, at the far end of those various modes of transport, by the audience.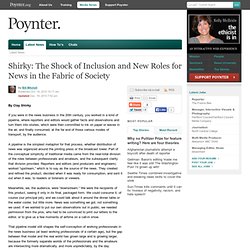 A pipeline is the simplest metaphor for that process, whether distribution of news was organized around the printing press or the broadcast tower. Part of the conceptual simplicity of traditional media came from the near-total division of the roles between professionals and amateurs, and the subsequent clarity that division provided. Reporters and editors (and producers and engineers) worked "upstream," which is to say as the source of the news. News Trends and Headlines | Seek4media - Introducing the 20-cent 'cloud phone'
---