MVVM
Model View ViewModel
The Model View ViewModel (MVVM) is an architectural pattern used in software engineering that originated from Microsoft as a specialization of the presentation model design pattern introduced by Martin Fowler . [ 1 ] Largely based on the model–view–controller pattern (MVC), MVVM is targeted at modern UI development platforms which support event-driven programming , such as HTML5 , [ 2 ] [ 3 ] Windows Presentation Foundation (WPF), Silverlight and the ZK framework . MVVM facilitates a clear separation of the development of the graphical user interface (either as markup language or GUI code) from the development of the business logic or back end logic known as the model (also known as the data model to distinguish it from the view model). The view model of MVVM is a value converter [ 4 ] meaning that the view model is responsible for exposing the data objects from the model in such a way that those objects are easily managed and consumed.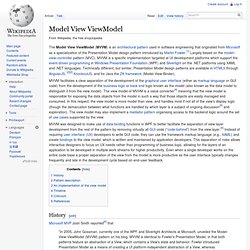 Blog.Rees.Biz: Mvvm Pattern
Overview: MVVM stands for Model-View-ViewModel. This is a variation of the MVC pattern , and although MVVM has a controller like component called the ViewModel, I personally find it easier to still call this the controller. The basic premise of any derivative of the MVC Pattern. The main idea of MVVM is to take full advantage of WPF Data-Binding to allow very loose coupling between the Controller and the View.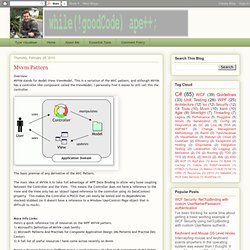 MVVM Explained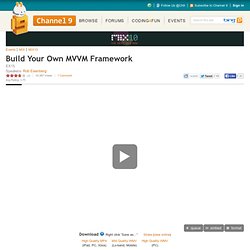 Build Your Own MVVM Framework | MIX10
You've heard a lot about Model-View-ViewModel (MVVM), but you've struggled to see how it can help you in your day-to-day work. Or, you're experienced at implementing MVVM, but looking for some ways to maximize your investment in this methodology. In this talk, we build a simple MVVM framework by iteratively identifying pain points in our UI development and eliminating them with simple solutions. You'll walk away with code, but more importantly with an understanding of how to apply some simple ideas to improve productivity with MVVM in your own projects.
MVVM has been a trending topic lately. And why shouldn't it be? People want to build great WPF/SL applications and want guidance on how to build them using the framework's strengths.
Jer's One Stop Shop > Home - MVVM for Tarded Folks Like Me *or* MVVM and What it Means to Me
The MVVM Pattern Is Highly Overrated
Update: check out my MVP In Silverlight/WPF series which discusses the MVP approach as an alternative to MVVM If you're doing Silverlight or WPF, you've no doubt come across the MVVM (Model-View-ViewModel) pattern. It seems to be the most popular client-side architecture pattern used among Silverlight/WPF developers. I find the pattern to be highly overrated, and actually have some big issues with the whole thing. First, let's briefly cover what MVVM is about for those of you who don't know yet. MVVM virtually eliminates all of the code that would typically be placed in the code-behind file of your View (a user control, a screen, whatever) by putting all of that logic in the ViewModel.
Important Note Friends, I would very much appreciate if you leave me a line or two in the comments section stating how you think this article can be improved and what other topics on MVVM you want me to cover. Thanks. Introduction As many companies are switching from WinfForms to WPF/Silverlight, several project managers recently asked me almost identical questions about MVVM: What is MVVM Pattern?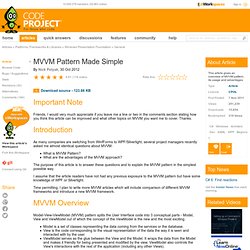 MVVM Pattern Made Simple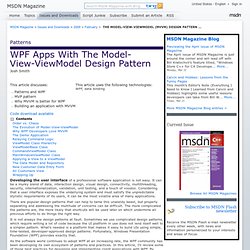 Patterns WPF Apps With The Model-View-ViewModel Design Pattern Josh Smith
MVVM Compared To MVC and MVP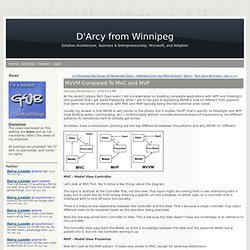 Saturday, November 21, 2009 6:53 PM At the recent Calgary Tech Days event I did a presentation on building composite applications with WPF and Silverlight. One question that I get asked frequently when I get to the part of explaining MVVM is how its different from patterns that seem too similar or identical, with MVC and MVP typically being the two common ones raised. Usually my answer is that MVVM is very similar to the others, but it implies *stuff* that's specific to Silverlight and WPF (how binding works, commanding, etc.). Unfortunately without concrete demonstrations of implementing the different patterns, its sometimes hard to verbally get across.
i 3 Votes Let's take a look at MVVM from higher level and take a step by step approach to understand it.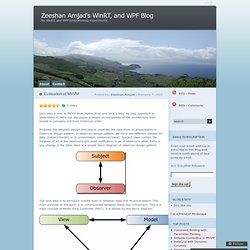 Evaluation of MVVM « Zeeshan Amjad's WPF Blog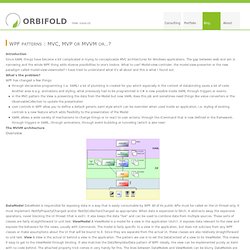 WPF patterns : MVC, MVP or MVVM or…? :: Orbifold
Introduction Since XAML things have become a bit complicated in trying to conceptualize MVC architectures for Windows applications. The gap between web and win is narrowing and the whole WPF thing adds diverse possibilities to one's toobox. What to use? Model-view-controler, the model-view-presenter or the new paradigm called model-view-viewmodel? I have tried to understand what it's all about and this is what I found out.