Vidéos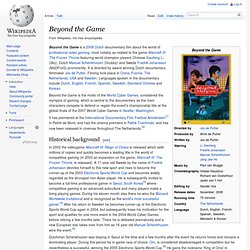 Beyond the Game
Beyond the Game is a 2008 Dutch documentary film about the world of professional video gaming , most notably as related to the game Warcraft III: The Frozen Throne featuring world champion players Chinese Xiaofeng Li (Sky), Dutch Manuel Schenkhuizen (Grubby) and Swede Fredrik Johansson (MaDFroG) prominently. It is directed by award winning Dutch documentary filmmaker Jos de Putter .
Blog of Baron Soosdon
My Underground Lair
Through the Looking Glass
The Basics of Making WoW Machinima
Pinkhair's art and machinima
The Other Side
Beckman Movie Productions - Official Homepage
Mozilla Firefox
404 - Not Found
Spiffworld
Stone Falcon Productions
WarcraftMovies.com
filmcraft.org | home
Myndflame | Machinima Advanced, World of Warcraft, WoW, Illegal
Rufus Cubed Productions Online - Revision X!
Brandon M. Dennis
Academy of Machinima Arts & Sciences