Bases de données
L'armurerie de World of Warcraft
WoW Armory Light
View your profile - select your region, server and type in your character name! I've fixed a few minor bugs with profile tracking thanks to changes in the API. Future improvements should be pushed soon! Talents have been redesigned and updated for MoP. You'll also notice some stats like resilience and PvP Power have been added to associated listings. More updates coming as I can get them done!
Armory Lite The WoW Armory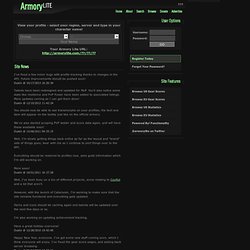 *Not applicable to ICANN fees, taxes, shipping and handling, sale priced domains and transfers, bulk domains and transfers, premium domains, Sunrise/Landrush domain registrations and pre-registrations, memberships or maintenance plans, additional disk space and bandwidth renewals, additional email addresses, additional AdSpace advertising funds, Managed Hosting, custom page layouts, brand identity services, Go Daddy branded merchandise or gift cards. Discount reflected in your shopping cart - cannot be used in conjunction with any other offer, discount or promotion, or in connection with special partnership discount programs. After the initial purchase term, discounted products purchased with special offer discounts will renew at the then-current renewal list price. Offer ends Sept 30, 2012 5:00 pm (MST). † Good for one 1-year registration of any available .COM, .US, .BIZ, .INFO, .NET or .ORG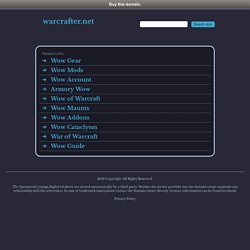 Warcrafter
Character names in the search are case sensitive! This means if you type in 'rollie' you won't find me! You would have to type in 'Rollie'! I have removed the option to use wildcards. This type of search is just killing the database in it's current format. I am working on improvements but until those improvements are in place, I have had to remove the wildcard.
WarcraftRealms
WoW Heroes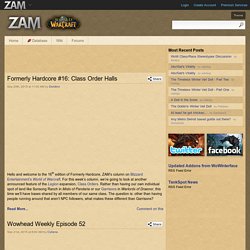 If there is one developer that has defined my gaming experience best over the last 20 years it's Blizzard Entertainment. Not only have I been a fan of the Warcraft franchise since the original RTS title was released in 1994, but they have also delivered two additional franchises that have captivated my attention on and off again across multiple titles, expansions, genres and platforms. In fact the only game or game-world that has even come close to holding my interest to the same extend is League of Legends, if not in sheer number of years than at least in time spent in game. Unlike the unbridled affection I have for the immense depth of character of the three expertly crafted Blizzard franchises, League of Legends holds my attention primarily because of the engrossing MOBA game-play it offers.
Fri, 21 Oct 2011 11:19:18 -0400 by kaliban So once again, Blizzard has decided to completely overhaul their API and transition it to a completely new format. Gone is the old XML Armory of old and there is a whole new RESTful API which has been rolling out. Unfortunately, there are still massive gaping holes in item data sourcing with little to no documentation on what's actually there.