Protests
Get flash to fully experience Pearltrees
Occupation Wall-Street ACTUALITES & INFORAMATIONS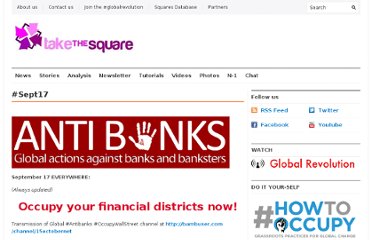 September 17 EVERYWHERE:
Non à l'anéantissement des droits sociaux !
Manifestation contre la guerre du Vietnam Les huit raisons pour lesquelles les jeunes aux Etats-Unis ne se révoltent pas: comment les Etats-Unis ont annihilé tout esprit de résistance
Home / Political action Feb 24, 2011 01:15 PM
MADISON, Wis. - A state Capitol thrown into chaos swelled for a fifth day with thousands of protesters, as supporters of Republican efforts to scrap the union rights of state workers added their voices to the debate for the first time and GOP leaders insisted again Saturday there was no room for compromise. Supporters of Gov. Scott Walker and his effort to ease Wisconsin's budget woes gathered on the east side of the Capitol, surrounded by a much larger group of pro-labor demonstrators who since Tuesday have filled the Capitol with chanting, drum-beats and anti-Walker slogans.