Protests
[Rue89] Maroc: les limites de la constitution soumise à referendum #dostour #Morocco
The decades-long political winter in the Arab world seemed to be thawing early this year as mass protests toppled Tunisian President Zine el-Abidine Ben Ali in January and Egyptian President Hosni Mubarak in February.
A Fourth Wave or False Start?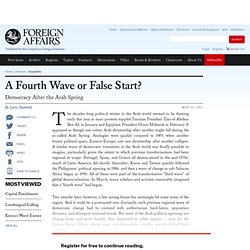 Al Jazeera: Inside Story – The King and the constitution | Hisham Almiraat
Boycott du référendum du 1er juillet : 10 bonnes raisons de le faire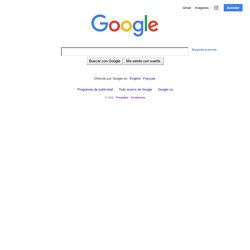 A l'heure où j'écris ses lignes, la manifestation du dimanche 19 juin n'a pas encore eu lieu. Le discours du roi de vendredi dernier a enfin levé le voile sur les nouvelles règles du jeu politique.
Faut-il boycotter le referendum ? | CAPDEMA | Discussions Constitutionnelles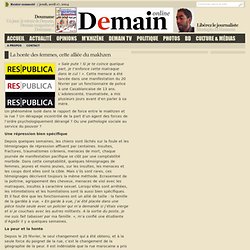 « Sale pute !
La honte des femmes, cette alliée du makhzen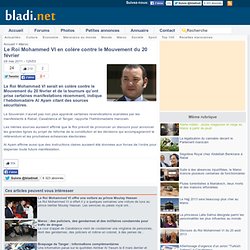 Accueil > Maroc
Le Roi Mohammed VI en colère contre le Mouvement du 20 février
Maroc : le Mouvement du 20 février appelle à manifester contre le projet de réforme constitutionnelle
Le Mouvement de jeunes du 20 février, qui revendique des changements politiques profonds au Maroc, a appelé à manifester dimanche 19 juin pour protester contre le projet de réforme constitutionnelle annoncé vendredi par le roi Mohammed VI. Cette mobilisation vise à obtenir "une constitution véritablement démocratique et une monarchie parlementaire", a expliqué à l'AFP Najib Chaouki, l'un des membres de la section de Rabat du Mouvement.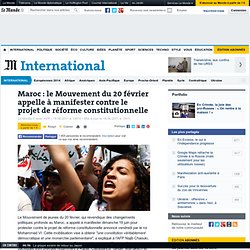 Maroc: "Il n'est plus possible de faire marche arrière"
Des manifestations, Zineb El Rhazoui, militante franco-marocaine des droits de l'homme en a vécues.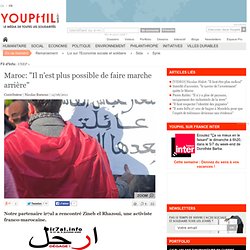 Mohammed VI jugé sévèrement dans la prestigieuse revue (Foreign Affairs)
Monarchy loyalists attack democracy activists in Rabat - MOROCCO
Morocco urged to end violent crackdown on protests
"What if we offered a prayer for the soul of bin Laden?" The question was tossed into the meeting of the February 20 Movement like a hand grenade. But the young men and women gathered in the Moroccan Labor Union building in Rabat didn't duck for cover.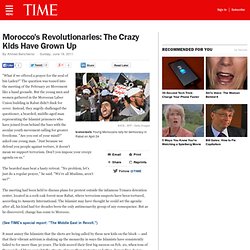 Morocco's Revolutionaries: The Crazy Kids Have Grown Up
Thousands poured into the streets of Rabat on Sunday June 5 to condemn the death of a protester and to demand an end to the country-wide government crackdown on peaceful demonstrations.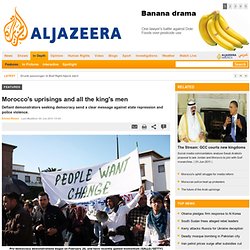 Morocco's uprisings and all the king's men - Features
Morocco's Constitutional Face Lift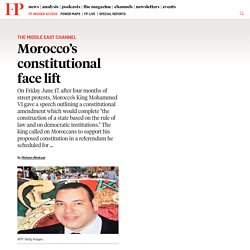 On Friday June 17, after four months of street protests, Morocco's King Mohammed VI gave a speech outlining a constitutional amendment which would complete "the construction of a state based on the rule of law and on democratic institutions."
Play it Again, King Mohammed 
In a region where trust is parcelled out with exquisite care, usually only among family and friends, I'm getting used to 'jokes' that I'm a British spy. To establish some trust quickly with only limited French and barely any Arabic, I'm deploying an unusual weapon: Monty Python clips on my iPhone. There are enough clips from The Life of Brian sub-titled in French on YouTube to connect these 1960s British cultural revolutionaries to the 21st century ones in North Africa. In a world where there are suddenly dozens of post-revolutionary parties in the mix, the People's Front of Judea splitters is popular with all, while activists relish this example of revolutionary planning.
Police violence reaching new levels in Morocco with Sunday beatings
A police officer kicks a demonstrator during a protest in Rabat, Morocco, last week. Protesters say police on motorcycles struck out with truncheonsGovernment spokesman says demonstrators were provocativeEU calls for restraint from governmentProtesters want more freedom, jobs, better conditions
Ce texte présente des avancées sur certains points par rapport à notre actuelle Constitution.
Pourquoi il faut voter contre ce projet de constitution | Réda Chraïbi propose
النسخة الكاملة لخطبة الجمعة الموحدة والتي دعت الناس للتصويت بنعم #Maroc #Morocco #Dostour