MACRO
Zoe Emails
Game Career Guide has been a constant help throughout my continual development and I have found yet another little gem. One of their features has Gideon Shbeeb , a student at The Guildhall at SMU, pick apart the narrative structure of Bioware's original Mass Effect depicting why it succeeds as an interactive story.I am going to take notes from the article to enable my development. One of the key reasons it is an interactive story is the main character, Commander Shepherd is a typical protagonist from Bioware, but the thing that grabs the player is the immediate customisation.
Tips and Tricks « ZL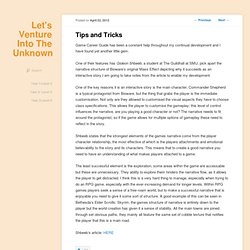 Writing Genres/Techniques « aassuu
A secret history (or shadow history ) is a revisionist interpretation of either fictional or real (or known) history which is claimed to have been deliberately suppressed, forgotten, or ignored by established scholars. Secret history is also used to describe a type or genre of fiction which portrays a substantially different motivation or backstory from established historical events. [ edit ] Secret histories of the real world Originally, secret histories were designed as non-fictional, revealing or claiming to reveal the truth behind the " spin ": one such example is the Secret History of the Mongols . Secret histories can range from standard historical revisionism with proper critical reexamination of historical facts to negative historical revisionism wherein facts are deliberately omitted, suppressed or distorted. The exemplar secret history is the Anecdota of Procopius of Caesarea (known for centuries as the Secret History ).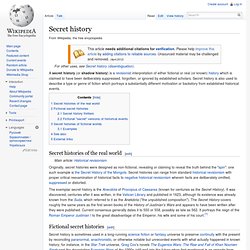 Secret history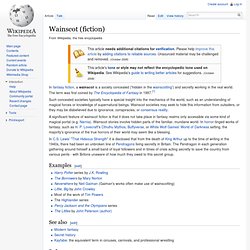 In fantasy fiction , a wainscot is a society concealed ('hidden in the wainscotting ') and secretly working in the real world. The term was first coined by The Encyclopedia of Fantasy in 1997. [ 1 ] Such concealed societies typically have a special insight into the mechanics of the world, such as an understanding of magical forces or knowledge of supernatural beings. Wainscot societies may seek to hide this information from outsiders, or they may be disbelieved due to ignorance, conspiracies, or consensus reality . A significant feature of wainscot fiction is that it does not take place in fantasy realms only accessible via some kind of magical portal (e.g.
Wainscot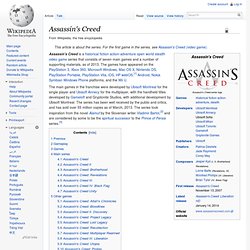 Assassin's Creed is a historical action-adventure open world stealth video game series that, as of 2013, consists of five main games and a number of supporting materials. The games have appeared on the PlayStation 3 , Xbox 360 , Microsoft Windows , Mac OS X , Nintendo DS , PlayStation Portable , PlayStation Vita , iOS , HP webOS , [ 1 ] Android , Nokia Symbian Windows Phone platforms, and the Wii U . The main games in the franchise were developed by Ubisoft Montreal , with the handheld titles developed by Gameloft and Gryptonite Studios, with additional development by Ubisoft Montreal. The series has received much popularity from the general public and acclaim from critics, and has sold over 55 million copies as of March, 2013.
Assassin's Creed
Neil Richard MacKinnon Gaiman [ 3 ] ( pron.: / ˈ ɡ eɪ m ən / ; [ 4 ] born Neil Richard Gaiman ; 10 November 1960) [ 5 ] is an English author of short fiction, novels, comic books, graphic novels , audio theatre and films. His notable works include the comic book series The Sandman and novels Stardust , American Gods , Coraline , and The Graveyard Book . He has won numerous awards, including Hugo , Nebula , Bram Stoker , Newbery Medal , and Carnegie Medal . He is the first author to win both the Newbery and the Carnegie medals for the same work, The Graveyard Book (2008). [ 6 ] [ 7 ] Early life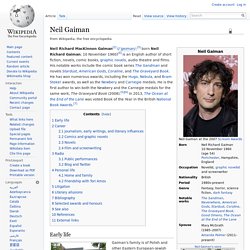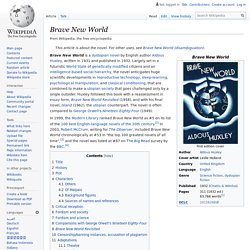 Brave New World is a novel written in 1931 by Aldous Huxley and published in 1932. Set in London of AD 2540 (632 A.F. – "After Ford" – in the book), the novel anticipates developments in reproductive technology , sleep-learning , psychological manipulation and operant conditioning that combine to profoundly change society. Huxley answered this book with a reassessment in an essay, Brave New World Revisited (1958) and with his final work, a novel titled Island (1962). In 1999, the Modern Library ranked Brave New World fifth on its list of the 100 best English-language novels of the 20th century . [ 1 ] In 2003, Robert McCrum writing for The Observer listed Brave New World number 53 in "the top 100 greatest novels of all time", [ 2 ] and the novel was listed at number 87 on the BBC 's survey The Big Read . [ 3 ] [ edit ] Title
The Limits to Growth is a 1972 book about the computer modeling of unchecked economic and population growth with finite resource supplies. [ 1 ] Funded by the Volkswagen Foundation [ 2 ] and commissioned by the Club of Rome it was first presented at the 3. St. Gallen Symposium . Its authors were Donella H. Meadows , Dennis L. Meadows , Jørgen Randers , and William W.