World Affairs
How the Man is Making You Sick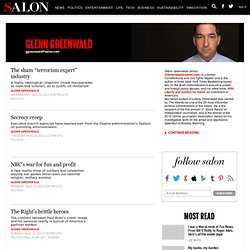 Last day at Salon Glenn Greenwald Wednesday, Aug 15, 2012 9:30 PM UTC Politics
Collapse (part 1)
Collapse (Part 2)
27c3: INDECT - an EU-Surveillance Project
By Monday, February 7, 2011 10:01 EST
'Anonymous' hacks security firm that probed its membership‎ | Raw Story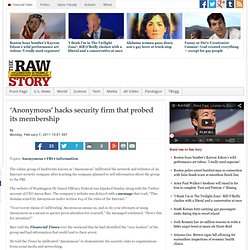 Bush's Swiss visit off after complaints on torture
The Jonestown Death Tape - November 18, 1978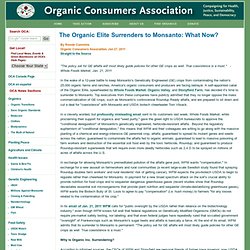 The Organic Elite Surrenders to Monsanto: What Now?
"The policy set for GE alfalfa will most likely guide policies for other GE crops as well. True coexistence is a must." - Whole Foods Market, Jan. 21, 2011
On September 14, 2001, President George W. Bush declared a national emergency with respect to the terrorist attacks of three days earlier. The National Emergencies Act of 1976 requires the President to renew this state of emergency on an annual basis if he wishes it to remain in effect. Bush renewed it every year he was in office, and now President Barack Obama has extended it for the second time during his term. The United States of America, therefore, is now entering its 10th year under a continual state of emergency — on the basis of a small number of (admittedly spectacular) terrorist attacks that took place in the space of a few hours back in 2001 and a handful of failed attempts since. So-called national emergencies are a boon for governments, and particularly for heads of state.
Bush, Obama, and the Nine-year "Emergency"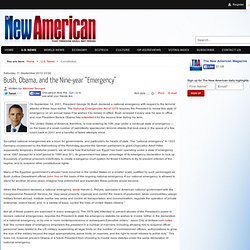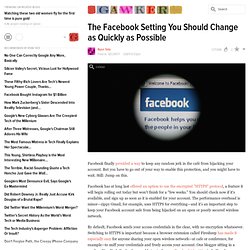 SExpand Facebook finally provided a way to keep any random jerk in the café from hijacking your account.
The Facebook Setting You Should Change as Quickly as Possible
The piece of paper that fooled Hitler
27 January 2011Last updated at 06:51 ET By Jon Kelly BBC News Magazine Continue reading the main story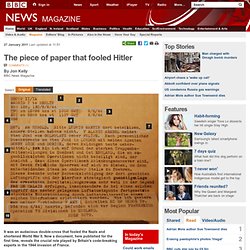 Mark Zuckerberg's Facebook page has been hacked by an unknown person who posted a status update suggesting that the site should let people invest in it rather than going to the banks. The page belonging to the 26-year-old Zuckerberg, the Facebook founder who was named Time's Man of the Year in 2010, was hacked some time on Tuesday. The message left by the hacker read: ""Let the hacking begin: If facebook needs money, instead of going to the banks, why doesn't Facebook let its users invest in Facebook in a social way? Why not transform Facebook into a 'social business' the way Nobel Prize winner Muhammad Yunus described it? What do you think?
The wrong kind of sharing: Mark Zuckerberg's Facebook page hacked | Technology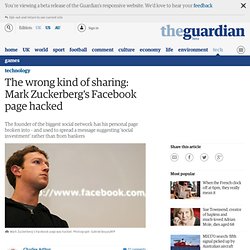 Food: There's Lots Of It
Mass Animal Deaths
A Letter from Anonymous
A Message from Anonymous -- Operation LeakSpin -- Operation PayBack -- Wikileaks
American Officers To Police Canada- NAU
Leaked Cable: Hike Food Prices To Boost GM Crop Approval In Europe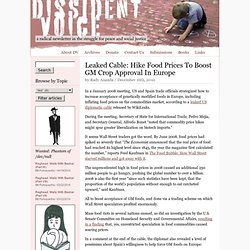 In a January 2008 meeting, US and Spain trade officials strategized how to increase acceptance of genetically modified foods in Europe, including inflating food prices on the commodities market, according to a leaked US diplomatic cable released by WikiLeaks. During the meeting, Secretary of State for International Trade, Pedro Mejia, and Secretary General, Alfredo Bonet "noted that commodity price hikes might spur greater liberalization on biotech imports."
The Wikileaks Documentary -- Full Version
The Rockefeller File (1976) by Gary Allen
Amazon take down of Wikileaks - Is the free internet dead?