Egypt
EGYPT: Young boy murdered by police in cold blood -They shoot innocent people!!!! Who is behind the Egypt Government Overthrow? - Don't let the smoke get in your eyes. FOX Reporter Spends Night In Hospital After Being Attacked By Pro-Mubarak Mob. Egypt unrest: Protesters erupt in anger after Mubarak signals he will not resign. The latest developments, as confirmed by CNN, on the uprising in Egypt.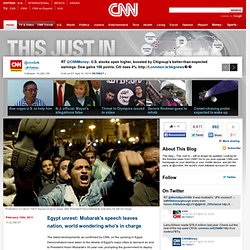 Demonstrators have taken to the streets of Egypt's major cities to demand an end to President Hosni Mubarak's 30-year rule, prompting the government to deploy the military to deal with civil unrest for the first time in a generation. Check out our full coverage and the latest tweets from CNN correspondents on the ground. [Update 6:22 a.m. Egypt protests - live updates | News. Time to wrap up the live blogging for the night.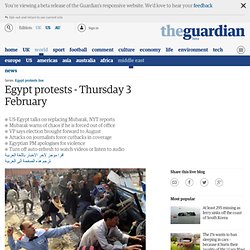 Here's the Guardian's latest wrap-up of the day's events from our correspondents in Cairo, Alexandria, Washington DC and London. A summary of what we've learned in the last few hours: Heavy Gunfire Erupts in Cairo Protest Square. Middle East. 12 April 2014Last updated at 06:17 ET Egypt in crisis Reports, features and analysis as turmoil continues to grip a divided Egypt Gazans suffering effects of Egypt's drive against Muslim Brotherhood US scholar's wish to be buried in Iran on hold amid media backlash John Simpson: The importance of good, free journalism The untold side of the Camp David summit goes on stage Why it's tough being a woman and a fan in Kuwait Anti-Syrian hostility spawns Lebanon social media backlash Syrian refugees fear long wait in Lebanon's Palestinian camps Iranians unhappy as subsidy cuts bring rise in cost of living.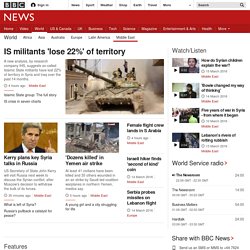 Protesters flood Egypt streets - Middle East. More than a million protesters flooded into central Cairo on Tuesday, turning the Egyptian capital's Tahrir, or Liberation, Square into a sea of humanity as massive protests against Hosni Mubarak swept across Middle East's most populous nation.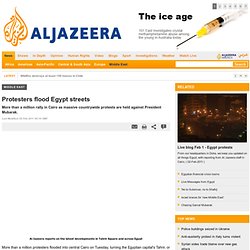 Packed shoulder to shoulder in and around the famed square, the mass of people held aloft posters denouncing the Egyptian president, and chanted slogans "Go Mubarak Go" and "Leave! Leave! Leave! " Similar demonstrations calling on Mubarak to step down were also witnessed across other cities, including Sinai, Alexandria, Suez, Mansoura, Damnhour, Arish, Tanta and El-Mahalla el-Kubra.
Some weekend work that will (hopefully) enable more Egyptians to be heard. Like many people we've been glued to the news unfolding in Egypt and thinking of what we could do to help people on the ground.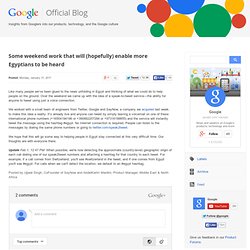 Over the weekend we came up with the idea of a speak-to-tweet service—the ability for anyone to tweet using just a voice connection. We worked with a small team of engineers from Twitter, Google and SayNow, a company we acquired last week, to make this idea a reality. It's already live and anyone can tweet by simply leaving a voicemail on one of these international phone numbers (+16504194196 or +390662207294 or +97316199855) and the service will instantly tweet the message using the hashtag #egypt.
No Internet connection is required. People can listen to the messages by dialing the same phone numbers or going to twitter.com/speak2tweet. 5 Al-Jazeera Journalists Just Got Arrested In Egypt. NYT: Egyptian hopes converge in fight for bridge - World news - Mideast/N. Africa. Egyptian military deploys in Cairo under curfew - World news - Mideast/N. Africa. Energized protesters press for 'freedom,' revel in making history.
NEW: A protester in Alexandria says President Mubarak's "time is over"NEW: Video footage shows demonstrators overruning police on a Nile River bridgeNEW: A protester in Cairo says: "We'll do 3,000 more than what the Tunisians did"Protesters greet military troops on the streets with hugs and handshakes Editor's note: This article is being updated constantly by CNN reporters worldwide.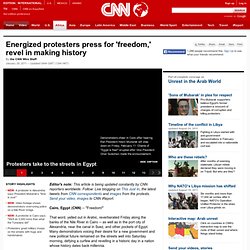 Follow: Live blogging on This Just In, the latest tweets from CNN correspondents and images from the protests. Cracks down on mass protests as Mubarak dissolves government. Tanks roll into Egyptian cities as army takes control President Obama speaks to the Egyptian president after Mubarak gives an addressMubarak says he has asked government to resignProtesters defy a curfew that went into effect at 6 p.m.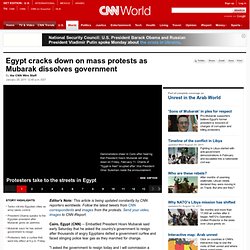 Friday Editor's Note: This article is being updated constantly by CNN reporters worldwide. Follow the latest tweets from CNN correspondents and images from the protests. Send your video, images to CNN iReport. Cairo, Egypt (CNN) -- Embattled President Hosni Mubarak said early Saturday that he asked the country's government to resign after thousands of angry Egyptians defied a government curfew and faced stinging police tear gas as they marched for change. Egyptian Military Deploys After Day of Riots. Murbark got his family out of Egypt. Pres Mubarak Speech "I Am Absolutely On The Side Of Freedom" United States Will Stand Up For Human Rights Everywhere! Pres Obama Speech On Egypt's Protest. Inside Story - Egypt's Coptic Christians. Egypt protests - Tuesday 1 February | News. That's it for today's live blog – here's a summary of the main events on a packed day: • Huge protests throughout Egypt saw city centres packed with protesters demanding the end of President Mubarak's rule as president • Mubarak announced that he would not run in the coming presidential elections, promising constitutional reforms and a transfer of power.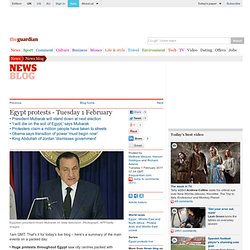 Interview With Egyptian Ambassador to the US 1/29/2011. Egypt Women Show Courage Participating In Mubarak Protests. "If I wasn't pregnant, I would've just stayed home.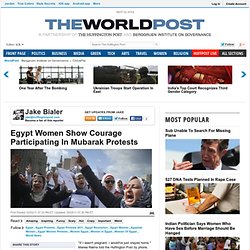 " Marwa Rakha told the Huffington Post by phone, explaining her attendance of the protests in Egypt while seven months pregnant. "I went out because of my baby. I owe this to him. " Rakha, an adjunct professor at the American University in Cairo, is one of many women who has participated in the recent protests in Egypt. The diplomatic car that ran over 20 people in cairo (28th-Jan-2011) Egypt : Spiraling Out Of Control?
ABC's Amanpour Interviews Mubarak, Suleiman. Death in Alexandria. WikiLeaks Diplomatic Cable Talks About Presidential Succession In Egypt. Limbaugh Jokes About Detention of NYT Journalists, Until He Learns Fox 'News' Reporters Hospitalized. READER COMMENTS ON "Limbaugh Jokes About Detention of NYT Journalists, Until He Learns Fox 'News' Reporters Hospitalized"(32 Responses so far...)
COMMENT #1 [Permalink] ... Ernest A. Canning said on 2/3/2011 @ 6:23 pm PT... An exceptionally disgusting level of hypocrisy, even for the likes of Rush Limbaugh? COMMENT #2 [Permalink] ... Untitled. Egypt protests: Hosni Mubarak refuses to step down. 10 February 2011Last updated at 23:22 President Mubarak addressed the nation in a television broadcast Egypt's President Hosni Mubarak has said he will stay in office and transfer all power only after September's presidential election. His comments in a national TV address confounded earlier reports that he was preparing to stand down immediately. Mr Mubarak said he would delegate some powers to Vice-President Omar Suleiman, but the details of this remain unclear.
Egypt unrest: Higher Military Council statement. 10 February 2011Last updated at 11:20 ET The meeting of Egypt's top military chiefs was aired on state TV Egypt's Higher Military Council issued a televised address on Thursday, saying it was in a state of continuous session to protect the nation and meet the aspirations of the people. The move comes after two weeks of mass demonstrations calling on President Hosni Mubarak to resign.
---