Workouts
Fast Full-Body Workout Ideas
LifePlusFitness.COM: Great Glutes in 20 Minutes!
fitness: workout Get a slammin' lower body with these leg exercises Photograph by Chris Shipman Nothing complements the season's hiked-up hemlines quite like a pair of gorgeous gams. And getting them is easier than you may think.
Lean Legs Workout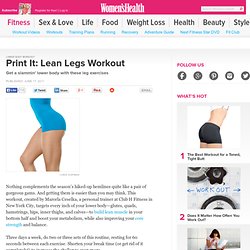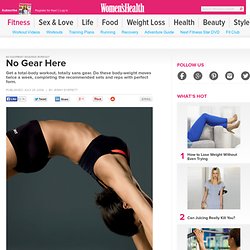 fitness: workout Get a total-body workout, totally sans gear. Do these body-weight moves twice a week, completing the recommended sets and reps with perfect form. By Jenny Everett Photograph by Chris Shipman
Upper-Body Makeover - The Ultimate Arms and Abs Workout
This fast and effective upper-body circuit was designed by fitness expert and star of the "10 Pounds DOWN: Better Body Blast" DVD Jessica Smith to tone your arms and abs without any equipment! For best results, do the workout on two or three nonconsecutive days per week, alternating with cardio and lower-body exercises (and of course pairing it with a healthy diet ). How it works: Complete each set of exercises twice, moving quickly back and forth between the two moves, before moving on to the next set. Set 1: Pushups and Planks Set 2: Dips and Sits Set 3: Side Press and Sweep Set 4: Shoulder Pushup and Reclining Circle Workout tip: There are a lot of pushups and pressing moves in this routine, so if you experience any wrist issues, try placing a folded towel under your palms or perform the move while holding onto a dumbbell—or modify in another way that works for you.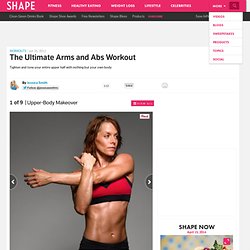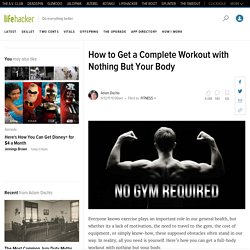 Everyone knows exercise plays an important role in our general health, but whether its a lack of motivation, the need to travel to the gym, the cost of equipment, or simply know-how, these supposed obstacles often stand in our way. In reality, all you need is yourself. Here's how you can get a full-body workout with nothing but your body. Note: To be clear, some of the exercises we'll be discussing in this post will require more than just you. For example, you might need to borrow a table in your home or place your feet underneath the couch.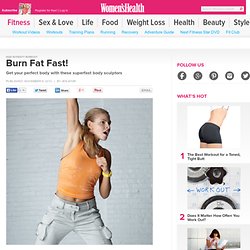 Burn Fat--Fast!
fitness: workout Get your perfect body with these superfast body sculptors By Jen Ator Photograph by Chris Shipman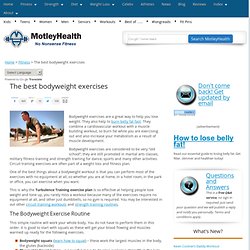 Best Bodyweight Exercises for Fitness and Weight Loss , 8.3 out of 10 based on 15 ratings Rating: 8.3/ 10 (15 votes cast) Drop and Give me 20 Bodyweight exercises are a great way to help you lose weight. They also help to burn belly fat fast .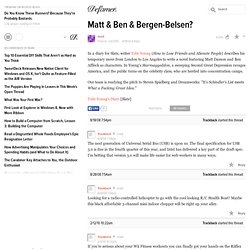 This is part of The Lifehacker Workout , a 3-4 day exercise program for normal people. Our full-body workout combines 20 minutes of cardio with strength exercises. (You can separate the cardio and the strength exercises if you like, doing the walking/jogging in the a.m., for example, and the exercises in the p.m.) 20 minutes of walking or jogging.
This slimmer-thigh circuit created by Jessica Smith, fitness expert and star of the 10 Pounds DOWN: Better Body Blast DVD will help strengthen and tone your whole lower body—especially those thighs. For best results, perform 15 reps of each move, back to back without rest, up to four days a week. And be sure to couple your lower-body workouts with cardio exercise and a healthy diet to stay slim and trim for good.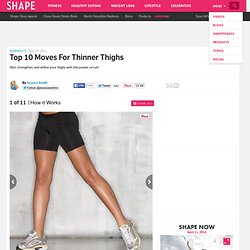 Thigh Workout Details - Top 10 Moves for Thinner Thighs