Workouts
Fast Full-Body Workout Ideas
Personal Training Programs - Exercise database, muscles, equipment - bench... - StumbleUpon
Nothing complements the season's hiked-up hemlines quite like a pair of gorgeous gams. And getting them is easier than you may think. This workout, created by Marcela Ceselka, a personal trainer at Club H Fitness in New York City, targets every inch of your lower body—glutes, quads, hamstrings, hips, inner thighs, and calves—to build lean muscle in your bottom half and boost your metabolism, while also improving your core strength and balance. Three days a week, do two or three sets of this routine, resting for 60 seconds between each exercise. Shorten your break time (or get rid of it completely!)
Lean Legs Workout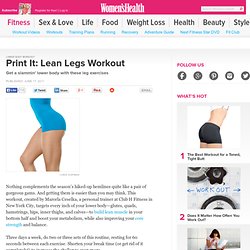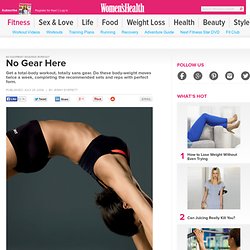 Get a total-body workout, totally sans gear. Do these body-weight moves twice a week, completing the recommended sets and reps with perfect form. Published: July 25, 2008 | By Jenny Everett Pushups are proof positive that gravity makes your body one hell of a workout tool. Which is fan-freakin'-tastic, because getting to the gym--or even locating your own dumbbells (need a forensic detective?)
Equipment-Free Workouts for Women: Exercise At Home with No Equipment, at womenshealthmag.com
Upper-Body Makeover - The Ultimate Arms and Abs Workout
This fast and effective upper-body circuit was designed by fitness expert and star of the "10 Pounds DOWN: Better Body Blast" DVD Jessica Smith to tone your arms and abs without any equipment! For best results, do the workout on two or three nonconsecutive days per week, alternating with cardio and lower-body exercises (and of course pairing it with a healthy diet). How it works: Complete each set of exercises twice, moving quickly back and forth between the two moves, before moving on to the next set. Set 1: Pushups and Planks Set 2: Dips and Sits Set 3: Side Press and Sweep Set 4: Shoulder Pushup and Reclining Circle Workout tip: There are a lot of pushups and pressing moves in this routine, so if you experience any wrist issues, try placing a folded towel under your palms or perform the move while holding onto a dumbbell—or modify in another way that works for you.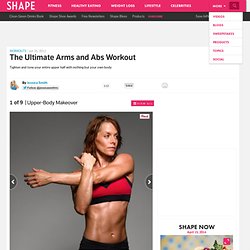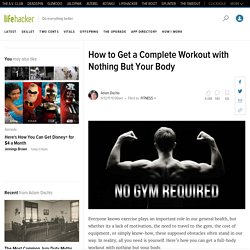 I have had horrible RSI and have gotten a lot better — I'm afraid what helped me was being able to take months off typing, and some weekly or biweekly Pilates. Luxury, insofar as `not crippled' is a luxury. I don't know what you can do while you have acute RSI, because every body is different etc etc., but this is what I came up with at the time: 1) Sleep. It's the only time you actually heal.
How to Get a Complete Workout with Nothing But Your Body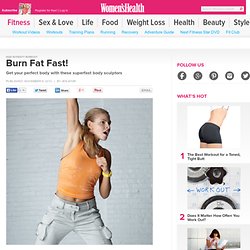 Burn Fat--Fast!
Preventing too much holiday cheer from settling on your waistline comes down to simple calorie math: If you want to indulge in a few extra calories, you'll have to sweat off a few more than usual. Send 'em packing with these four explosive moves created by Kim Blake, a trainer at Nike World Headquarters Sports Center in Portland, Oregon. You'll push your body weight off the floor and then absorb it when you land. Translation?
GAIN Fitness - Personal Trainer Quality Workouts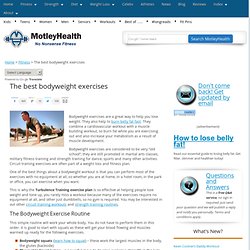 Bodyweight exercises are a great way to help you lose weight. They also help to burn belly fat fast. They combine a cardiovascular workout with a muscle building workout, so burn fat while you are exercising out and also increase your metabolism as a result of muscle development. Bodyweight exercises are considered to be very "old school", they are still promoted in martial arts classes, military fitness training and strength training for dance, sports and many other activities. Circuit training exercises are often part of a weight loss and fitness plan.
Best Bodyweight Exercises for Fitness and Weight Loss | MotleyHealth®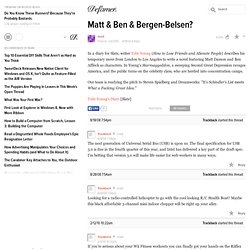 The Lifehacker Workout News, Videos, Reviews and Gossip - Lifehacker
I disagree, the bicycle one is much more difficult than a crunch in the middle of a circuit, as long as you do it for over 20 seconds at least. But yes one-legged squats are so, so much better, if you can keep your balance well enough to carry them out. At my rowing club we find the most useful press-up variation is with your hands right next to each other, thumbs down fingers up to make a diamond-shaped hole between your hands. Really monsters your triceps. 10/13/11 9:11am
This slimmer-thigh circuit created by Jessica Smith, fitness expert and star of the 10 Pounds DOWN: Better Body Blast DVD will help strengthen and tone your whole lower body—especially those thighs. For best results, perform 15 reps of each move, back to back without rest, up to four days a week. And be sure to couple your lower-body workouts with cardio exercise and a healthy diet to stay slim and trim for good.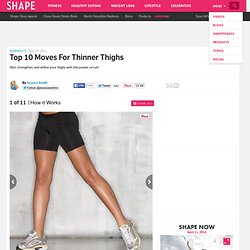 Thigh Workout Details - Top 10 Moves for Thinner Thighs
Weight Training, Exercise Instruction & Kinesiology
Core Blasting Workout Without Sit-ups or Crunches
Exercise Finder, health - divine.ca - Page 2