Work
Script
Picture. One-pixel table border with CSS « Visa Kopu. Webmaster-Tools-Hilfe. Changing your site's title and description in search results - Webmaster Tools Help. Google's generation of page titles and descriptions (or "snippets") is completely automated and takes into account both the content of a page as well as references to it that appear on the web.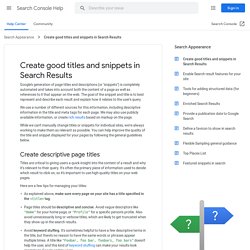 The goal of the snippet and title is to best represent and describe each result and explain how it relates to the user's query. The more information you give us, the better your search result snippet can be. With rich snippets, webmasters with sites containing structured content—such as review sites or business listings—can label their content to make it clear that each labeled piece of text represents a certain type of data: for example, a restaurant name, an address, or a rating. Learn more about how rich snippets can improve your site's listing in search results.
AdWords: Keyword-Tool. Neue Ideen für Keywords und Anzeigengruppen finden Der Keyword-Planer ist ein zentraler Ort, an dem Sie neue Kampagnen für das Suchnetzwerk erstellen oder bereits vorhandene Kampagnen erweitern können.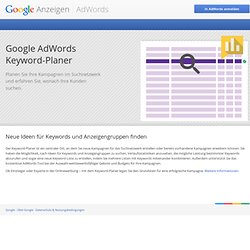 Sie haben die Möglichkeit, nach Ideen für Keywords und Anzeigengruppen zu suchen, Verlaufsstatistiken anzusehen, die mögliche Leistung bestimmter Keywords abzurufen und sogar eine neue Keyword-Liste zu erstellen, indem Sie mehrere Listen mit Keywords miteinander kombinieren. Außerdem unterstützt Sie das kostenlose AdWords-Tool bei der Auswahl wettbewerbsfähiger Gebote und Budgets für Ihre Kampagnen.
---