Plugins
Free jQuery Slider Plugin - jQuery Slideshow | SlideDeck. eShop, un autre plugin pour la vente en ligne avec Wordpress. J'avais déja parlé, le mois dernier, de wp-eCommerce , plugin génial s'il en est, qui permettait de transformer un blog WordPress en un véritable site de vente en ligne. Voici eShop, un autre plugin extrêmement intéressant pour quiconque souhaite vendre sur son blog WordPress. Si vous avez toujours rêvé de vendre vos ebooks, les mp3 de votre groupe, ou encore les points de croix de mamy, et que vous possédez un blog WordPress, eShop est le plugin qu'il vous faut. Voici un petit aperçu de ses possibilités: Intégration complète avec Paypal Propose l'affichage d'un produit sur une page.
Redirection – Manage 301 redirections without modifying Apache. Redirection is a WordPress plugin to manage 301 redirections, keep track of 404 errors, and generally tidy up any loose ends your site may have.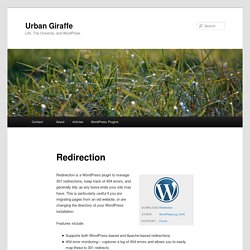 This is particularly useful if you are migrating pages from an old website, or are changing the directory of your WordPress installation. Features include: Supports both WordPress-based and Apache-based redirections 404 error monitoring – captures a log of 404 errors and allows you to easily map these to 301 redirects RSS feed for 404 errors Custom 'pass-through' redirections allowing you to pass a URL through to another page, file, or website. Full logs for all redirected URLs Create redirections based upon a URL, browser, referring site, or login status Automatically add a 301 redirection when a post's URL changes Full regular expression support Fully localized Export all redirections to CSV, XML, or Apache .htaccess files Import Apache .htacces files Redirection is available in the following languages:
WpSEO - The ultimate SEO-Plugin for WordPress. SEO made easy! Créer une page de dons dans votre blog WordPress ! sur Geekeries. Il existe plusieurs moyens pour que vos lecteurs vous remercie de votre travail.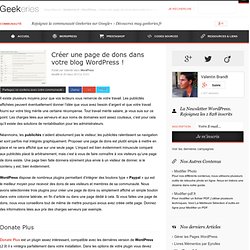 Les publicités affichées peuvent éventuellement donner l'idée que vous avez besoin d'argent et que votre travail fourni sur votre blog mérite une certaine récompense. Tout travail mérite salaire, je vous suis sur ce point. Les charges liées aux serveurs et aux noms de domaines sont assez couteaux, c'est pour cela qu'il existe des solutions de rentabilisation pour les administrateurs. Néanmoins, les publicités n'aident absolument pas le visiteur, les publicités ralentissent sa navigation et sont parfois mal intégrés graphiquement. Proposer une page de dons est plutôt simple à mettre en place et ne sera affiché que sur une seule page. Blackbird Pie pour incruster les tweets dans vos articles WordPress !
Flipping Team.
---