Optimisation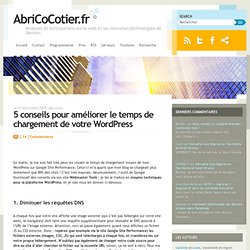 5 conseils pour améliorer le temps de chargement de votre Wordpress
Le 10 décembre 2009, par Louis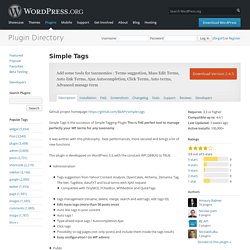 Simple Tags is the successor of Simple Tagging Plugin This is THE perfect tool to manage perfectly your WP terms for any taxonomy It was written with this philosophy : best performances, more secured and brings a lot of new functions This plugin is developped on WordPress 3.3, with the constant WP_DEBUG to TRUE. Administration Tags suggestion from Yahoo!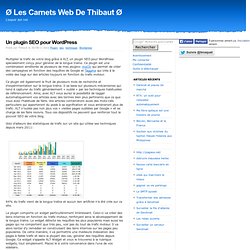 Multiplier le trafic de votre blog grâce à XLT, un plugin SEO pour WordPress spécialement conçu pour générer de la longue traîne.
Un plugin SEO pour Wordpress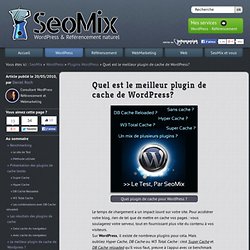 Quel plugin de cache pour WordPress ? Le temps de chargement a un impact lourd sur votre site. Pour accélérer votre blog, rien de tel que de mettre en cache vos pages : vous soulagerez votre serveur, tout en fournissant plus vite du contenu à vos visiteurs.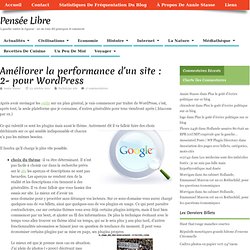 Après avoir envisager les outils sur un plan général, je vais commencer par traiter de WordPress, c'est, après tout, la seule plateforme que je connaisse, d'autres généralités pour tous viendront après (.htaccess par ex.) Ce qui ralentit ce sont les plugins mais aussi le thème. Autrement dit il va falloir faire des choix déchirants sur ce qui semble indispensable et chacun n'a pas les mêmes besoins. Il faudra qu'il charge le plus vite possible.
Améliorer la performance d'un site : 2- pour WordPress
WordPress SEO Tutorial: The Best SEO Permalink Structure ~ WorPress SEO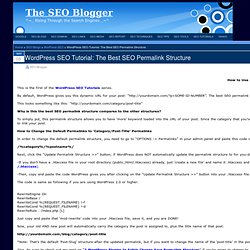 How to Use Permalinks to Enhance Your WordPress SEO Blog This is the first of the WordPress SEO Tutorials series. By default, WordPress gives you this dynamic URL for your post: "http://yourdomain.com/?
17+ plugins Wordpress SEO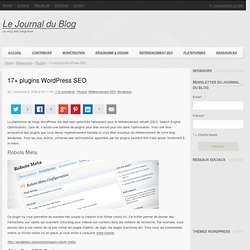 La plateforme de blogs WordPress est déjà bien optimisée nativement pour le référencement naturel (SEO, Search Engine Optimisation).
Pour le SEO et pour le code HTML5. Bon : autant vous prévenir d'emblée tout ce qui va suivre est expérimental et empirique.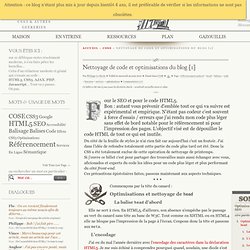 Nettoyage de code et optimisations du blog [1] - COSE
WordPress Optimization Bible