Wordpress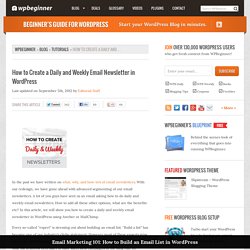 How to Create a Daily and Weekly Email Newsletter in WordPress
In the past we have written on what, why, and how-to's of email newsletters. With our redesign, we have gone ahead with advanced segmenting of our email newsletters. A lot of you guys have sent us an email asking how to do daily and weekly email newsletters.
Instalation & mise en ligne
WP Remote | Just another WordPress webapp
A propos de 4X Plus de 30.000 noms de domaines .FR ne sont pas renouvelés par leur titulaire et redeviennent disponibles chaque mois. Nous listons et qualifions ces domaines jusqu'à 1 mois avant leur libération.