WordPress
Wordpress, Joomla, and Drupal Magazine Web CMS Software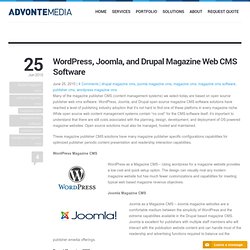 Many of the magazine publisher CMS (content management systems) we select today are based on open source publisher web cms software.
Posez-vous ces questions avant d'installer un plugin sur WordPress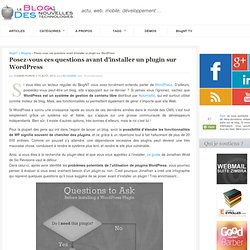 Si vous êtes un lecteur régulier du BlogNT vous avez forcément entendu parler de WordPress.
WordPress 2012 Survey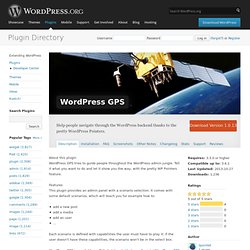 GPS
About this plugin WordPress GPS tries to guide people throughout the WordPress admin jungle. Tell it what you want to do and let it show you the way, with the pretty WP Pointers feature. Features This plugin provides an admin panel with a scenario selection. It comes with some default scenarios, which will teach you for example how to: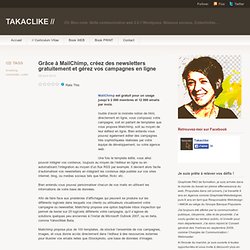 Grâce à MailChimp, créez des newsletters gratuitement et gérez vos campagnes en ligne « TAKACLIKE //
i
L'intégrateur de solutions open source Smile livre aujourd'hui les résultats de son étude sur l'utilisation des CMS open source en entreprise. Premier enseignement, trois système de gestion de contenu viennent en tête des réponses : Drupal, Joomla et WordPress. Leur popularité est très élevée : 91% pour Drupal, 92% pour Joomla et 89% pour WordPress.
WordPress : le CMS open source plébiscité par les entreprises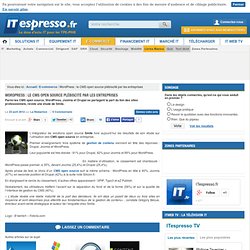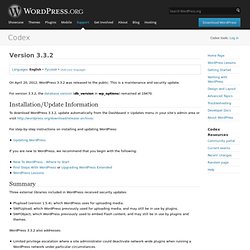 Version 3.3.2
Version 3.3.2
Having been downloaded over 1 million times, WordPress SEO by Yoast plugin is by far the best and most complete SEO plugin for WordPress. While it has given us no issues in the past, for some users it has been a pain. Recently one of our clients ran into the issue of getting a 404 error for their sitemaps generated by Yoast's WordPress SEO plugin.
How to Fix Yoast's WordPress SEO Sitemap 404 Error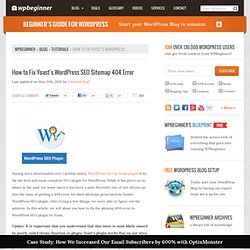 Breadcrumbs for WordPress with Twitter Bootstrap
Aujourd'hui nous apprendrons à utiliser jQuery afin de créer un slider. Plusieurs notions de WordPress vous seront utiles, notamment les query_posts et les custom fields ou champs personnalisés. Coté jQuery, tous sera décortiqué dans ce tutoriel.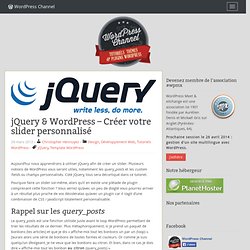 jQuery & Wordpress – Créer votre slider personnalisé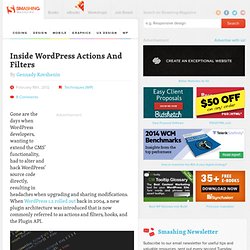 Inside WordPress Actions and Filters
Advertisement Gone are the days when WordPress developers, wanting to extend the CMS' functionality, had to alter and hack WordPress' source code directly, resulting in headaches when upgrading and sharing modifications. When WordPress 1.2 rolled out back in 2004, a new plugin architecture was introduced that is now commonly referred to as actions and filters, hooks, and the Plugin API.
You might be a skeptic.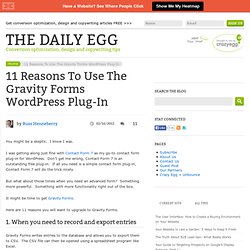 11 Reasons To Use The Gravity Forms WordPress Plug-In
Add Taxonomies | WordPress Snippets
Watch Configuring WordPress for Multiple Environments Video by by Jason McCreary
The folks at Interconnect IT has put together an awesome WordPress user guide which you can download for FREE, yes, totally free.
Download an Awesome WordPress User Guide for FREE
Introducing Hierarchy: Even More CMS for WordPress
A long standing (for what reason I've yet to understand) debate surrounding WordPress is whether or not it's a "true" content management system versus a blogging platform. Nomenclature aside, I've been "using WordPress as a CMS" for years and will always call it a CMS because: it manages content. As much of a blanket statement that is, to argue about it seems moot. That said, as much as I love WordPress I do have some qualms about it, and everything can be summed up in three words: Custom Post Types. I've had a love/hate relationship with Custom Post Types for some time now, even back to before they were Custom Post Types. The problem can be outlined by taking a high level view over how you manage WordPress content.
Yesterday we did our review of the best free WordPress themes for 2011 and collected together 165, so today is the turn for premium themes.
Review of the Year: 325 of the Best Premium WordPress Themes
llow - Lorenzo Laganà on Web
WordPress Town Hall on USTREAM: Live town hall meetings/Q&A with the people behind WordPress, the open source application that is the web's most popular pu
Watch without ads Ustream © Search
Advent Calendar – WordPress, WPCron and the right Time
WordPress offers a pseudo-cronjob functionality, which allows the developer to execute scheduled events.
And this, my friends, is why you should NEVER download a them
[Concours Noël] Le livre WordPress 3 pour le blogueur efficace à gagner
WordCamp Paris 2011
WordPress : gare aux plugins obsolètes
Inscription | WordCamp Paris 25 novembre 2011
Un site utilisant WordPress
Autoentrepreneur.org | Un site utilisant WordPress
Questions and Answers
Officers Directory
Adding a Wordpress Menu To a Non-Wordpress Page « Design Chemical – jQuery, Wordpress, Tutorials & Plugins
Utilisation de WordPress parmi les 100000 plus gros sites
6 techniques pour éviter de se faire pirater un blog sous Wordpress
Content Management Systems Rap
Le plugin WordPress WP HTaccess v2.4 contient une faille CSRF
htaccess Tricks for Better WordPress SEO & Security
Top 10 WordPress Hacks of All Time | Onextrapixel - Showcasing Web Treats Without A Hitch
Un site bon marché, parce que simple
Un site complexe, avec beaucoup de fonctionnalités
WP Custom Template to Create Layout with Different Sidebar
Stephanie Leary Presentations
How to Create A Custom WordPress Meta Box
How to Create Preload Images with jQuery in WordPress
How to Display WordPress Post Thumbnails with Captions
PHPCrossRef - PHP Cross Reference Library
Custom Post Type Publish Action Hook
A HitchHackers guide through WordPress | Function, Filter & Action index
Enhancing WordPress Custom Fields with Search Filtering
Using custom taxonomies to create a movie database
IMM-Glossary WordPress Plugin