Wordpress
WP_CheatSheet_LoopVisualModel.jpg (850×1100)
Developer Documentation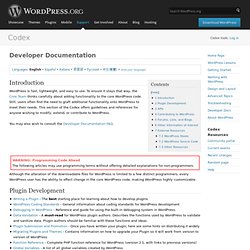 Developer Documentation Languages: English • Español • Italiano • 한국어 • Русский • 中文(繁體) • (Add your language) Introduction WordPress is fast, lightweight, and easy to use.
Advertisement As a Web designer, I often find myself building WordPress-based websites that will ultimately be updated and maintained by clients who have little to no experience working with HTML. While the TinyMCE rich-text editor is great for giving Web content managers of any skill level the tools they need to easily style and publish their posts to a degree, creating anything beyond a single column of text with a few floated images generally requires at least a basic understanding of HTML. This article shows you an easy-to-implement trick that enables even the least tech-savvy of clients to manage multi-column content layouts within the comfort of the WYSIWIG editor.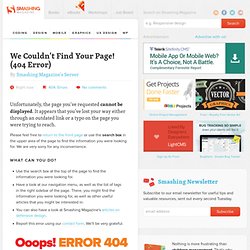 Support » Retrieving featured image URL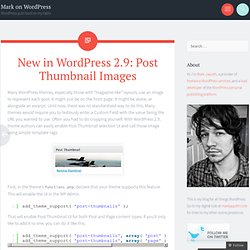 Many WordPress themes, especially those with "magazine-like" layouts, use an image to represent each post. It might just be on the front page. It might be alone, or alongside an excerpt. Until now, there was no standardized way to do this. Many themes would require you to tediously enter a Custom Field with the value being the URL you wanted to use. Often you had to do cropping yourself.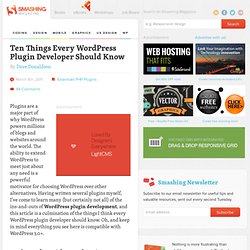 Advertisement Plugins are a major part of why WordPress powers millions of blogs and websites around the world. The ability to extend WordPress to meet just about any need is a powerful motivator for choosing WordPress over other alternatives. Having written several plugins myself, I've come to learn many (but certainly not all) of the ins-and-outs of WordPress plugin development, and this article is a culmination of the things I think every WordPress plugin developer should know. Oh, and keep in mind everything you see here is compatible with WordPress 3.0+.
tanzaku « Free WordPress Themes
Installing WordPress Locally on Your Mac With MAMP What is MAMP? MAMP stands for Macintosh, Apache, MySQL, and PHP. MAMP is an application you can install on your Mac which allows you to have access to a local PHP server and MySQL server.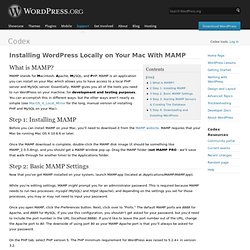 Installing WordPress Locally on Your Mac With MAMP
Clean & Functional WordPress Themes Complete, friendly and free from unnecessary components. Who we are? We are a team of designers. Actually, there are only two of us but you have to admit that the team sounds much better. We make elegant, simple and functional WordPress themes.