Blog Ping Sites
A premium subscription allows you to store your URLs in your account. Your URLs will be automatically pinged daily (level of subscriptions apply). A premium account not only saves you the hassle of having to ping each of your URLs manually, it also ensures that pinging is performed frequently and in a timely manner. Premium accounts are pinged daily and to an exclusive list of ping resources, ensuring maximum exposure to search engines.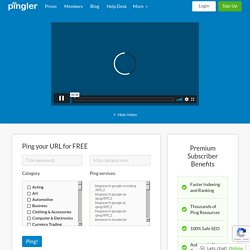 Blog pinger - Free Blog ping service - Ping Google, Yahoo, and 40 more web services
Ping your blog, website, or RSS feed for Free - Blog Ping Tool
Notify search engines, blog and rss directories that your blog is updated or created (currently over 40+ services). And it only takes less than 30 seconds to do this with our blog ping tool which is completely free and easy. Works for any type of blog or site. Ping services will be notified, including Google Blog Search, Google FeedBurner, Yahoo and many others.