Tools
::: Byrd Tool Corp ::: At ToolCrib.com you'll find power tools, power tool reviews and cordless power tools at ToolCrib.com, Your tool crib online. Bad Axe Tool Works - Services and Tools for the Discriminating Woodworker. Bridge City Tools Behind the Scenes. Drivel Starved Nation!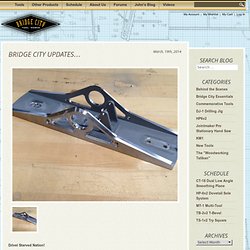 Lots of stuff to report! First, my blog has been silenced for almost 3 months because I had some work done to it, and it started acting screwy. So I moved on to some other, more pressing activities, although we all know there is nothing more important than the DSN! I think it is fixed now. (Fingers crossed) Stanley Planes Model Reference:Number. Toolcritic: Reviews and Analysis Organized by Tool Lovers. Tools-Plus Tool Talker BlogTools-Plus Tool Talker Blog » Makita Tools | Dewalt Power Tools | Porter Cable Tools | Milwaukee Tools | ToolKing.com. Skil 9215-01 Factory Reconditioned 8.5 Amp Reciprocating Saw | One Hot Tool Deal Every Day at Tooliday!
Wood characteristics, properties of wood and information about wood. This is a huge topic and I have several links in the text.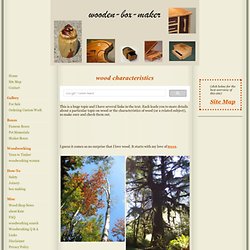 Each leads you to more details about a particular topic on wood or the characteristics of wood (or a related subject), so make sure and check them out. I guess it comes as no surprise that I love wood. It starts with my love of trees. The door panels are cherry with mineral streaks running through them. On the drawer front, on the lower left, you can see where a branch divided the heartwood and sapwood of the walnut (the solid light band is maple I laminated for further contrast).
At ToolCrib.com you'll find power tools, power tool reviews and cordless power tools at ToolCrib.com, Your tool crib online. Tool Snob - The Online Source for Tool News and Reviews. Woodworking Tools | Woodworking Supplies. Toolmonger. Clark & Williams - Makers of Fine Traditional Wooden Planes. Vega 50" Fence.
Vega 50" Utility Fence I had some birthday money burning a hole in my pocket and I wasn't all that happy with my stock Jet fence, so I decided to upgrade.
It didn't help that Woodworkers Warehouse was having a 10% off sale and Redmond Machinery had some great prices on some scratch and dent Biesemeyer Fences. I also wanted to make an outfeed table and I thought I should have my new fence before I embarked on that project.
---