Woodworking
Woodturning. Great Woodworking DVDs for woodworkers by woodworkers.
Supplies. THISisCarpentry. Daed Toolworks miter planes. Daed Toolworks Miter Planes The miter plane (or 'mitre' if you drink tea instead of coffee) is a format which has unfortunately gained relatively little popularity in America.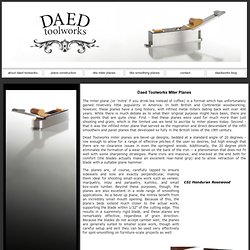 In both British and Continental woodworking, however, these planes have a long history, with infilled metal miters dating back well over 400 years. While there is much debate as to what their original purpose might have been, there are two points that are quite clear. First - that these planes were used for much more than just shooting end grain, which is the limited use we tend to ascribe to miter planes today.
Wood Carving Workshops | Learn How To Carve Wood, Wooden Figures, Statues, Anything! Blended Woodworking | Combining The Best Aspects Of Hand And Power Tools. Hearne Hardwoods Internet Store! HOCK TOOLS -- Blades and Such for Planes and More. Auxiliary Table Saw Fence and Accessories. The Fence Adapting a pattern from ShopNotes magazine, Volume 10, Issue 60, I made an auxiliary fence for my table saw.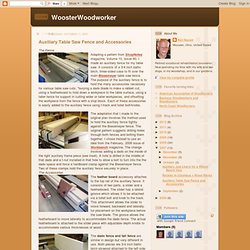 It consists of a 3/4 inch baltic birch, three-sided case to fit over the main Biesemeyer table saw fence. Roarockit | How to build custom skateboard decks, with Canadian Maple Veneer and Thin Air Press Vacuum technology. Startwoodworking.com.
Forums
Encyclopedia of furniture making by Ernest Joyce. Woodworking. Home Construction. Woodworking Website | Welcome to Your Online Workshop! | LumberJocks.com :: woodworking community. Wood Working. Inspirationstation. DIY Home Improvement audio and video podcasts by The Handyguys.
Woodworking. Woodworking. Tools. Hardware. Sylvan space. Finishing. Exotic Wood, Birdseye Maple, Curly Maple & Tiger Maple | Bell Forest Products. Woodworking Talk - Woodworkers Forum. Gallery | Women In Woodworking. Myriam Sosa is an artisan, journalist and teacher in Caracas, Venezuela.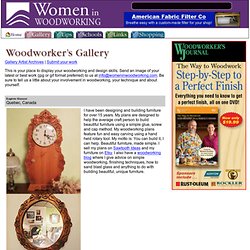 Her artistic development began with the formal study of graphic design at the Institute of Design Perera and visual arts at the School Cristobal Rojas. She is dedicated to the craft of the wooden toy and consolidated Cositas Wood Workshop, where handmade wooden toys of original designs are made with great care and quality and sold directly to customers.
Shows
An Ax to Grind: A Practical Ax Manual, 9923-2823-MTDC, Index. The Forest Service, United States Department of Agriculture, has developed this information for the guidance of its employees, its contractors, and its cooperating Federal and State agencies, and is not responsible for the interpretation or use of this information by anyone except its own employees.
The use of trade, firm, or corporation names in this publication is for the information and convenience of the reader, and does not constitute an endorsement by the Department of any product or service to the exclusion of others that may be suitable. The United States Department of Agriculture (USDA), prohibits discrimination in all its programs and activities on the basis of race, color, national origin, gender, religion, age, disability, political beliefs, sexual orientation, and marital or family status. (Not all prohibited bases apply to all programs.) Woodworkers Guild of America : Videos, Articles, Forum, and Woodworking Resources. Woodworking Videos and Video Blog (WoodTreks™) — Online Videos for Woodworkers, Techniques, People, How To Ideas and Projects.
Information. Woodworking Website | Welcome to Your Online Workshop! About – The Unplugged Woodshop. Tom Fidgen is an author, musician, designer/maker living in Toronto, Ontario.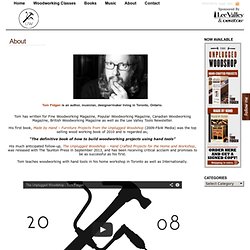 Tom has written for Fine Woodworking Magazine, Popular Woodworking Magazine, Canadian Woodworking Magazine, British Woodworking Magazine as well as the Lee Valley Tools Newsletter. His first book, Made by Hand – Furniture Projects from the Unplugged Woodshop (2009-F&W Media) was the top selling wood working book of 2010 and is regarded as; "The definitive book of how to build woodworking projects using hand tools" His much anticipated follow-up, The Unplugged Woodshop – Hand Crafted Projects for the Home and Workshop, was released with The Taunton Press in September 2013, and has been receiving critical acclaim and promises to be as successful as his first. Tom teaches woodworking with hand tools in his home workshop in Toronto as well as Internationally.
Matt's Basement Workshop Podcast. Barnard Woodworking School. Michael Hosaluk - WOOD. Personal Statement My love of woodworking is not only for the beauty and mystery of the material, but in the inventing of new techniques and processes to create objects.The materials I use relate to the objects I make.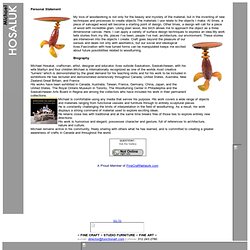 At times, a piece of salvaged wood will become a starting point of design. Other times, a design will call for a piece of wood with incredible grain. Using plain wood, like birch allows me to approach the object as a three dimensional canvas. Here, I can apply a variety of surface design techniques to express an idea.My work tells stories from my life, places I've been, people I've met, architecture, our environment.
Plans. Schools.
---