Woodworking
Great Woodworking DVDs for woodworkers by woodworkers
THISisCarpentry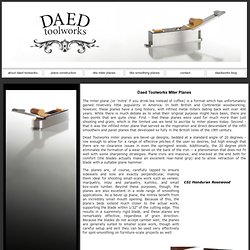 Daed Toolworks miter planes
Daed Toolworks Miter Planes
Wood Carving Workshops | Learn How To Carve Wood, Wooden Figures, Statues, Anything!
Blended Woodworking | Combining The Best Aspects Of Hand And Power Tools
Hearne Hardwoods Internet Store!
HOCK TOOLS -- Blades and Such for Planes and More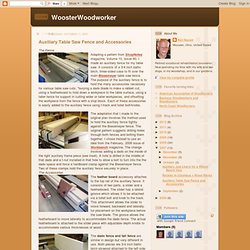 Auxiliary Table Saw Fence and Accessories
The Fence Adapting a pattern from ShopNotes magazine, Volume 10, Issue 60, I made an auxiliary fence for my table saw. It consists of a 3/4 inch baltic birch, three-sided case to fit over the main Biesemeyer table saw fence.
Roarockit | How to build custom skateboard decks, with Canadian Maple Veneer and Thin Air Press Vacuum technology
Encyclopedia of furniture making by Ernest Joyce
DIY Home Improvement audio and video podcasts by The Handyguys
Exotic Wood, Birdseye Maple, Curly Maple & Tiger Maple | Bell Forest Products
Woodworking Talk - Woodworkers Forum
Gallery | Women In Woodworking
United States
An Ax to Grind: A Practical Ax Manual, 9923-2823-MTDC, Index
Woodworkers Guild of America : Videos, Articles, Forum, and Woodworking Resources
Woodworking Videos and Video Blog (WoodTreks™) — Online Videos for Woodworkers, Techniques, People, How To Ideas and Projects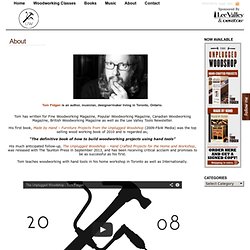 Tom Fidgen is an author/musician/designer/maker living in Toronto, Ontario. "I began my journey into wood working at a very young age growing up on Cape Breton Island in Nova Scotia, Canada.
About – The Unplugged Woodshop
Matt's Basement Workshop Podcast
Barnard Woodworking School
Personal Statement My love of woodworking is not only for the beauty and mystery of the material, but in the inventing of new techniques and processes to create objects.The materials I use relate to the objects I make.
Michael Hosaluk - WOOD