Women in Venture Capital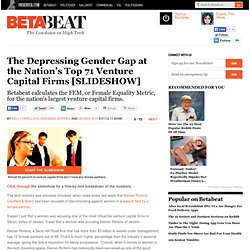 Almost 50 percent of venture capital firms don't have any female partners. Click through the slideshow for a firm-by-firm breakdown of the numbers. The tech industry was shocked, shocked, when news broke last week that Kleiner Perkins Caulfield & Byers had been accused of discriminating against women in a lawsuit filed by a female partner . It wasn't just that a woman was accusing one of the most influential venture capital firms in Silicon Valley of sexism. It was that a woman was accusing Kleiner Perkins of sexism.
The Depressing Gender Gap at the Nation's Top 71 Venture Capital Firms
Slideshow: A peek at 2012 Silicon Valley Women of Influence - Silicon Valley / San Jose Business Journal
The 2012 Women of Influence have been picked and full biographies will come in April when the awards are given. For now, click through the photo gallery to see their names. I'm happy to announce that the 2012 Women of Influence list has been finalized.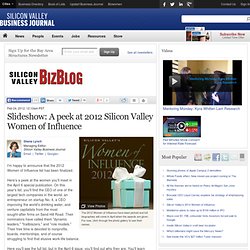 Bios of Female VCs and Entrepreneurs