Women in Venture Capital
The Depressing Gender Gap at the Nation's Top 71 Venture Capital Firms. Betabeat calculates the FEM, or Female Equality Metric, for the nation's largest venture capital firms.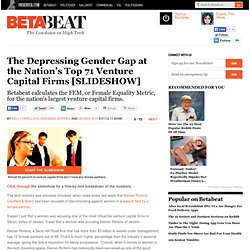 Share this: By Kelly Faircloth, Adrianne Jeffries and Jessica Roy 5/31/12 11:40am Start The Slideshow Almost 50 percent of venture capital firms don't have any female partners.Click through the slideshow for a firm-by-firm breakdown of the numbers.The tech industry was shocked, shocked, when news broke last week that Kleiner Perkins Caulfield & Byers had been accused of discriminating against women in a lawsuit filed by a female partner.It wasn't just that a woman was accusing one of the most influential venture capital firms in Silicon Valley of sexism. It was that a woman was accusing Kleiner Perkins of sexism.Kleiner Perkins, a Sand Hill Road firm that has more than $3 billion in assets under management, has 12 female partners out of 49. Slideshow: A peek at 2012 Silicon Valley Women of Influence - Silicon Valley / San Jose Business Journal. The 2012 Women of Influence have been picked and full biographies will come in April when the awards are given.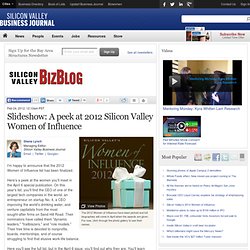 For now, click through the photo gallery to see their names. I'm happy to announce that the 2012 Women of Influence list has been finalized. Women & The VC World.
DBL Investors. Deborah Farrington. Columns and blogs.
---
erinnewkirk Jan 11 2012

Thanks for the invitation, Lucy. First time I've used Pearltrees, too. Fascinating.

lucymarcus Jan 11 2012

Thanks for inviting me - this is the first time I've used Pearltrees and the group is a good idea!

agoldfisher Jan 11 2012

Cool! I LOVE that you love it!

jenniferlankford Jan 11 2012

I just LOVE that you have this "pearl"!!
---