Video Delivery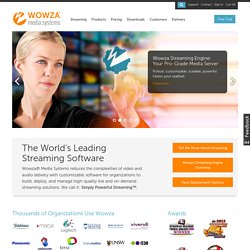 "Wowza Media Server 3 delivers the essential functionality and features that are must-haves for our business." Julien MarusiVivendi Vice President of Technology Wowza is providing us with a highly cost-effective media server and a robust platform for high-value services that complements our ongoing development. Fernando FronzaTelefónica Video and CDN Global Services Director Wowza gave us a unified streaming platform that greatly simplified our infrastructure and gave us a tremendous competitive and cost advantage. I can't think of television streaming without it going forward.
The leading online video management and publishing company. - thePlatform
Dailymotion Cloud - Video hosting and videos streaming server
Stream your videosfrom $15 per month Dailymotion Cloud is a white label video solution that's adaptable to your storage space and bandwidth needs No commitment. A clear and simple management UI. A secure online payment system.