Scrap Sales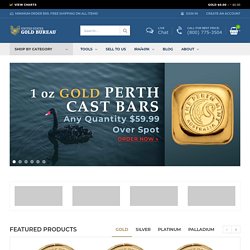 April 11, 2014 As gold prices dropped in 2013, demand for physical gold shot up dramatically. Gold bullion and gold coin investment surged 28 percent, the highest-ever recorded total for gold purchases, according to the World Gold Council. Similarly, demand for gold jewelry also shot up by 17 percent. Much of...
Buy Gold Bullion & Gold Coins Direct From the U.S. Gold Bureau
Bullion Gold Bar .999+ Pure - CMX (Sealed) (1.000 oz.)
1 troy ounce Gold Bullion Bar Pure gold bars are easily the most recognized form of gold bullion in the world today. Bullion Direct is pleased to offer gold bars from a variety of manufacturers from around the world.