"Wisdom"
Start Here. 'Smile, breathe and go slowly.'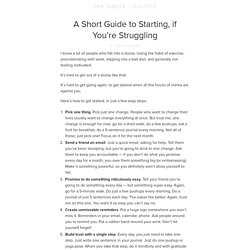 ~Thich Nhat Hanh By Leo Babauta While some of you have been following Zen Habits since its early days (beginning of 2007), many of you are fairly new readers. To help you through the fairly overwhelming archives, I've compiled a beginner's guide. David Foster Wallace - Commencement Speech at Kenyon University. Transcription of the 2005 Kenyon Commencement Address - May 21, 2005 (If anybody feels like perspiring [cough], I'd advise you to go ahead, because I'm sure going to.
In fact I'm gonna [mumbles while pulling up his gown and taking out a handkerchief from his pocket].) Add These Five Commands to the Top of Your To-Do List, Avoid the Most Common Deathbed Regrets. Kensho. An Essay by Einstein -- The World As I See It. "How strange is the lot of us mortals!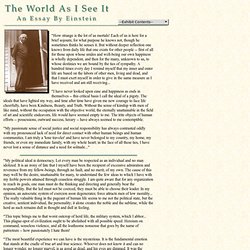 Each of us is here for a brief sojourn; for what purpose he knows not, though he sometimes thinks he senses it. But without deeper reflection one knows from daily life that one exists for other people -- first of all for those upon whose smiles and well-being our own happiness is wholly dependent, and then for the many, unknown to us, to whose destinies we are bound by the ties of sympathy. A hundred times every day I remind myself that my inner and outer life are based on the labors of other men, living and dead, and that I must exert myself in order to give in the same measure as I have received and am still receiving... Code of Conduct.
18 Things I Wish Someone Would've Told Me at 18. 9 Mind-Bending Epiphanies That Turned My World Upside-Down | Raptitude.com. Over the years I've learned dozens of little tricks and insights for making life more fulfilling.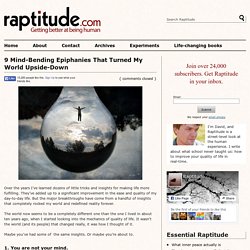 They've added up to a significant improvement in the ease and quality of my day-to-day life. But the major breakthroughs have come from a handful of insights that completely rocked my world and redefined reality forever. The world now seems to be a completely different one than the one I lived in about ten years ago, when I started looking into the mechanics of quality of life. Advice on Living the Creative Life from Neil Gaiman. By Maria Popova "Someone on the internet thinks what you're doing is stupid, or evil, or it's all been done before?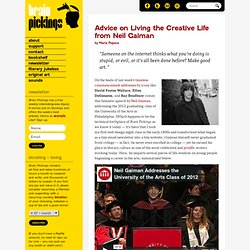 Make good art." On the heels of last week's timeless commencement addresses by icons like David Foster Wallace, Ellen DeGeneres, and Ray Bradbury comes this fantastic speech by Neil Gaiman, addressing the 2012 graduating class of the University of the Arts in Philadelphia. Five Manifestos for the Creative Life. By Kirstin Butler How a numbered list can start a personal revolution.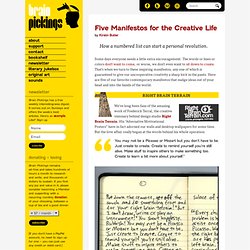 Some days everyone needs a little extra encouragement. The words or lines or colors don't want to come, or worse, we don't even want to sit down to create. 27 lessons I've learned in 27 years.
---