WINDOWS
Microsoft Windows Operating System News
After giving you ten reasons why you should upgrade to Windows 8, it is now time to give you reasons why you may not want to upgrade to Windows 8. This is not a top ten list, and it does not have to be one as you do not need ten or more reasons not to switch. If there is one thing that is bothering you or keeping you from upgrading, it is sufficient.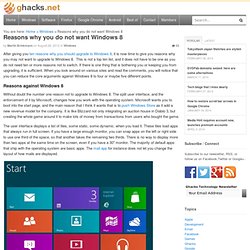 Reasons why you do not want Windows 8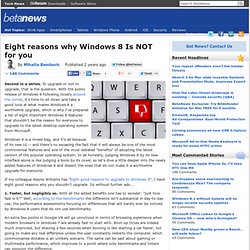 Second in a series.
Eight reasons why Windows 8 Is NOT for you
What Is...every file format in the world - A through E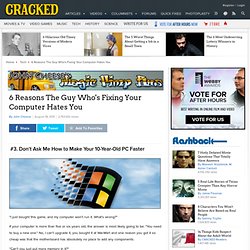 6 Reasons The Guy Who's Fixing Your Computer Hates You
#3. Don't Ask Me How to Make Your 10-Year-Old PC Faster "I just bought this game, and my computer won't run it.
Turn Off Unnecessary Windows Services - MarkSanborn.net
File Repair - easily repair corrupted files.
ProcessLibrary.com - The Online Resource For Process Information!
Download your missing .dll files - DLL-files.com
AnswersThatWork - PC Tuning & Troubleshooting, HelpDesk, Fix PC Problems, Speed Up slow PC, Computer Tips & Solutions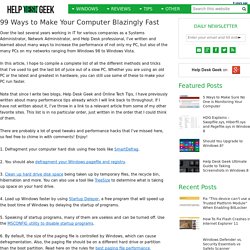 Over the last several years working in IT for various companies as a Systems Administrator, Network Administrator, and Help Desk professional, I've written and learned about many ways to increase the performance of not only my PC, but also of the many PCs on my networks ranging from Windows 98 to Windows Vista. In this article, I hope to compile a complete list of all the different methods and tricks that I've used to get the last bit of juice out of a slow PC.
99 ways to Make Your Computer Blazingly Fast
Built into Windows is a special tool called the "Microsoft System Configuration Utility" or simply "MSCONFIG." Designed to help you troubleshoot problems with your computer, MSCONFIG can also be used to ensure that your computer boots faster and crashes less.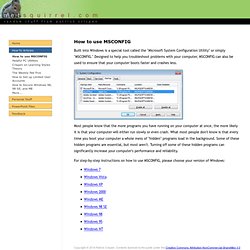 How to use MSCONFIG: NetSquirrel.com
How to Unlock a Computer Without a Password Reset Disk
Bootdisk.Com
AutoItScript Website
MaxTo
Windows CMD Commands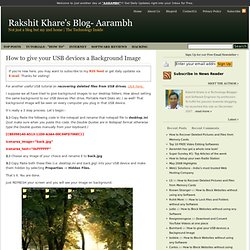 If you're new here, you may want to subscribe to my RSS feed or get daily updates via E-mail. Thanks for visiting!
How to give your USB devices a Background Image
Fix it Solution Center: troubleshooting software issues
Windows Process Information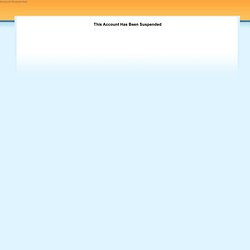 10 Coolest Windows Shortcuts You Never Knew About
Keyboard shortcuts are the essence of PC productivity.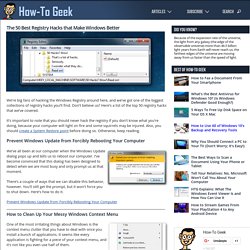 The 50 Best Registry Hacks that Make Windows Better
We're big fans of hacking the Windows Registry around here, and we've got one of the biggest collections of registry hacks you'll find.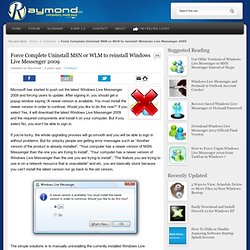 Force Complete Uninstall MSN or WLM to reinstall Windows Live Messenger 2009 | Raymond.CC Blog
Microsoft has started to push out the latest Windows Live Messenger 2009 and forcing users to update. After signing in, you should get a popup window saying "A newer version is available. You must install the newer version in order to continue.
100 keyboard shortcuts-WINDOWS [Archive] - ElaKiri Community
Autoruns for Windows
Introduction This utility, which has the most comprehensive knowledge of auto-starting locations of any startup monitor, shows you what programs are configured to run during system bootup or login, and shows you the entries in the order Windows processes them. These programs include ones in your startup folder, Run, RunOnce, and other Registry keys. You can configure Autoruns to show other locations, including Explorer shell extensions, toolbars, browser helper objects, Winlogon notifications, auto-start services, and much more. Autoruns goes way beyond the MSConfig utility bundled with Windows Me and XP.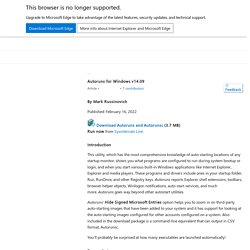 Even though we cover plenty of other topics, Windows has always been a primary focus around here, and we've got one of the largest collections of Windows-related how-to articles anywhere.
The 50 Best How-To Geek Windows Articles of 2010
UBCD for Windows
Greetings.
Who Owns Your PC? New Anti-Piracy Windows 7 Update "Phones Home" to Microsoft Every 90 Days
Over the years, we've written about loads of ways to disable features, tweak things that don't work the way you want, and remove other things entirely.
The 50 Best Ways to Disable Built-in Windows Features You Don't Want