WINDOWS
Microsoft Windows Operating System News
After giving you ten reasons why you should upgrade to Windows 8, it is now time to give you reasons why you may not want to upgrade to Windows 8. This is not a top ten list, and it does not have to be one as you do not need ten or more reasons not to switch. If there is one thing that is bothering you or keeping you from upgrading, it is sufficient.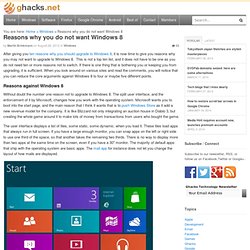 Reasons why you do not want Windows 8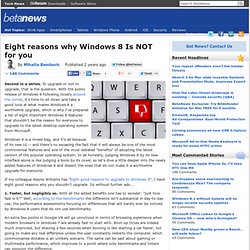 Second in a series. To upgrade or not to upgrade, that is the question. With the public release of Windows 8 following closely around the corner, it's time to sit down and take a good look at what makes Windows 8 a worthwhile upgrade, which is why I've prepared a list of eight important Windows 8 features that shouldn't be the reason for everyone to upgrade to the latest desktop operating system from Microsoft. Windows 8 is a mixed bag, and it's all because of its new UI -- and there's no escaping the fact that it will always be one of the most controversial features and one of the most debated "benefits" of adopting the latest version of the popular operating system. In all honestly, judging Windows 8 by its new interface alone is like judging a book by its cover, so let's dive a little deeper into the newly added features of Windows 8 and dissect the ones that do not make it a worthwhile upgrade for everyone.
Eight reasons why Windows 8 Is NOT for you
What Is...every file format in the world - A through E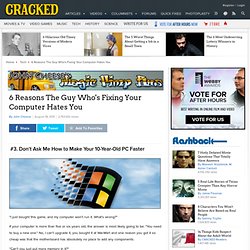 6 Reasons The Guy Who's Fixing Your Computer Hates You
#3. Don't Ask Me How to Make Your 10-Year-Old PC Faster "I just bought this game, and my computer won't run it.
Turn Off Unnecessary Windows Services - MarkSanborn.net
File Repair - easily repair corrupted files.
File Repair software is a powerful tool to repair your corrupted files. It scans the damaged file and extracts maximum data from it to a new usable file. Using File Repair, you can repair: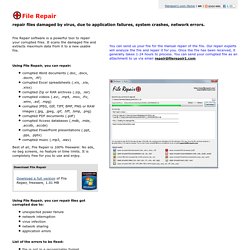 ProcessLibrary.com - The Online Resource For Process Information!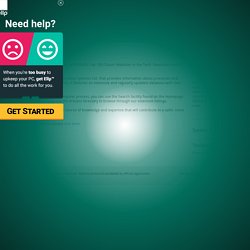 Welcome to ProcessLibrary.com, winner of PCMAG's Top 100 Classic Websites in the Tech: Download and DIY categories. ProcessLibrary is a free resource by Uniblue Systems Ltd. that provides information about processes and DLLs running or found on Windows PCs. It features an extensive and regularly updated database with over 195,000 entries and counting. To find more information about a computer process, you can use the Search facility found on the Homepage and on the right-hand menu or use the Process Directory to browse through our extensive listings.
Download your missing .dll files - DLL-files.com
AnswersThatWork - PC Tuning & Troubleshooting, HelpDesk, Fix PC Problems, Speed Up slow PC, Computer Tips & Solutions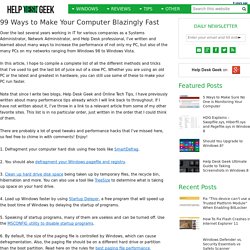 Over the last several years working in IT for various companies as a Systems Administrator, Network Administrator, and Help Desk professional, I've written and learned about many ways to increase the performance of not only my PC, but also of the many PCs on my networks ranging from Windows 98 to Windows Vista. In this article, I hope to compile a complete list of all the different methods and tricks that I've used to get the last bit of juice out of a slow PC. Whether you are using an old PC or the latest and greatest in hardware, you can still use some of these to make your PC run faster. Note that since I write two blogs, Help Desk Geek and Online Tech Tips, I have previously written about many performance tips already which I will link back to throughout. If I have not written about it, I've throw in a link to a relevant article from some of my other favorite sites. This list is in no particular order, just written in the order that I could think of them.
99 ways to Make Your Computer Blazingly Fast
Built into Windows is a special tool called the "Microsoft System Configuration Utility" or simply "MSCONFIG." Designed to help you troubleshoot problems with your computer, MSCONFIG can also be used to ensure that your computer boots faster and crashes less. Most people know that the more programs you have running on your computer at once, the more likely it is that your computer will either run slowly or even crash. What most people don't know is that every time you boot your computer a whole mess of "hidden" programs load in the background. Some of these hidden programs are essential, but most aren't. Turning off some of these hidden programs can significantly increase your computer's performance and reliability.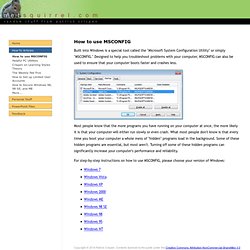 How to use MSCONFIG: NetSquirrel.com
How to Unlock a Computer Without a Password Reset Disk
Bootdisk.Com
DOS/Windows9X/Me/NT/2K/XP Excellent Bootdisks Windows XP Fresh Install Bootdisk And Bootable CD Driver Free Disk For BIOS Flashing 1 | 2 | 3 | About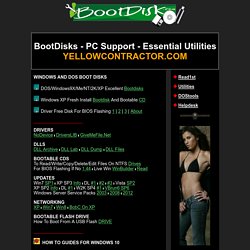 AutoItScript Website
MaxTo
Windows CMD Commands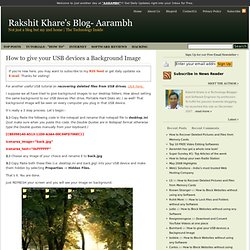 If you're new here, you may want to subscribe to my RSS feed or get daily updates via E-mail. Thanks for visiting! For another useful USB tutorial on recovering deleted files from USB drives, click here. I suppose we all have tried to give background images to our desktop folders. How about setting the same background to our USB devices (Pen drive, Portable Hard Disks etc.) as well? That background image will be seen on every computer you plug in that USB device.
How to give your USB devices a Background Image
Fix it Solution Center: troubleshooting software issues
Windows Process Information
10 Coolest Windows Shortcuts You Never Knew About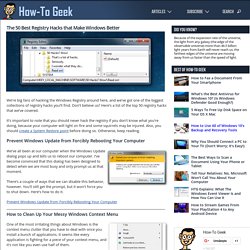 The 50 Best Registry Hacks that Make Windows Better
We're big fans of hacking the Windows Registry around here, and we've got one of the biggest collections of registry hacks you'll find. Don't believe us? Here's a list of the top 50 registry hacks that we've covered. It's important to note that you should never hack the registry if you don't know what you're doing, because your computer will light on fire and some squirrels may be injured.
Force Complete Uninstall MSN or WLM to reinstall Windows Live Messenger 2009 | Raymond.CC Blog
100 keyboard shortcuts-WINDOWS [Archive] - ElaKiri Community
Autoruns for Windows
Introduction This utility, which has the most comprehensive knowledge of auto-starting locations of any startup monitor, shows you what programs are configured to run during system bootup or login, and shows you the entries in the order Windows processes them. These programs include ones in your startup folder, Run, RunOnce, and other Registry keys. You can configure Autoruns to show other locations, including Explorer shell extensions, toolbars, browser helper objects, Winlogon notifications, auto-start services, and much more. Autoruns goes way beyond the MSConfig utility bundled with Windows Me and XP.
Even though we cover plenty of other topics, Windows has always been a primary focus around here, and we've got one of the largest collections of Windows-related how-to articles anywhere. Here's the fifty best Windows articles that we wrote in 2010. Want even more? You should make sure to check out our top 20 How-To Geek Explains topics of 2010, or the 50 Windows Registry hacks that make Windows better. How to Customize Your Windows 7 Taskbar Icons for Any App
The 50 Best How-To Geek Windows Articles of 2010
What is the Ultimate Boot CD for Windows? UBCD4Win is a bootable recovery CD that contains software used for repairing, restoring, or diagnosing almost any computer problem. Our goal is to be the most complete and easy to use free computer diagnostic tool.
UBCD for Windows
Greetings. Sometimes a seemingly small software update can usher in a whole new world. When Microsoft shortly pushes out a Windows 7 update with the reportedly innocuous title "Update for Microsoft Windows (KB971033)" -- it will be taking your Windows 7 system where it has never been before. And it may not be a place where you want to go.
Who Owns Your PC? New Anti-Piracy Windows 7 Update "Phones Home" to Microsoft Every 90 Days
Over the years, we've written about loads of ways to disable features, tweak things that don't work the way you want, and remove other things entirely. Here's the list of the 50 best ways to do just that. Just in case you missed some of our recent roundup articles, here's a couple of roundups of our very best articles for you to check out: If you've already been through those, keep reading for how to disable loads of Windows features you might not want.
The 50 Best Ways to Disable Built-in Windows Features You Don't Want