Windows XP
Repair XP. Repair XP Following are my experiences with repairing XP.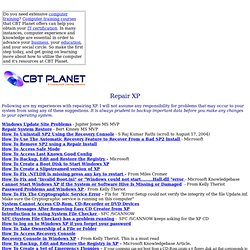 I will not assume any responsibility for problems that may occur to your system from using any of these suggestions. It is always prudent to backup important data before you make any changes to your operating system. Troubleshooting Windows XP, Tweaks and Fixes for Windows XP. 25+18=43 Hidden Applications in Windows XP | Sizzled Core - Android, Internet Media, Gadget Reviews. I have compiled a list of all the hidden applications available in Windows XP .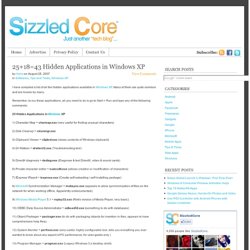 Many of them are quite common and are known by many. Remember, to ruu these applications, all you need to do is go to Start > Run and type any of the following commands: 1) Character Map = (very useful for finding unusual characters) 2) Disk Cleanup = XP Performance Tweaks.
---