Windows Phone 7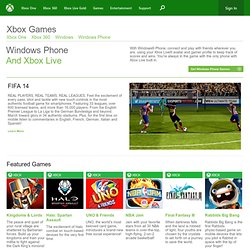 REAL PLAYERS, REAL TEAMS, REAL LEAGUES. Feel the excitement of every pass, shot and tackle with new touch controls in the most authentic football game for smartphones. Featuring 33 leagues, over 600 licensed teams, and more than 16,000 players. From the English Premier League to La Liga to the German Bundesliga and beyond.
LIVE on Windows Phone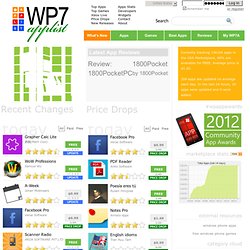 10: 0.000210046768188 sec 20: 0.00188803672791 sec 30: 0.002366065979 sec 40: 0.00525307655334 sec 50: 0.00533294677734 sec
WP7applist
Windows Phone 7 Live Tile Apps
Only Windows Phone has Live Apps that put the information you want right on your Start screen. Updating in real time, the Live Tiles for these apps show you the latest tweets, news headlines, weather, and more, so you stay in touch with your constantly changing, updating world. On Windows Phone, apps like The New York Times, eBay, and ESPN ScoreCenter come alive with current news, up-to-the-minute deals, and the latest scores.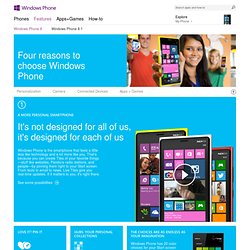 Discover Windows Phone 7
EverythingWM
If you don't mind sticking with Windows Phone 7.8, you might want to check out today's eBay Daily Deal. You can pick up an unlocked 16GB Nokia Lumia 900 for just $220. This comes with free shipping to boot. I should caution that while it's an eBay seller with over 74,000 in feedback, they have a high level of complaints – 34 in the past month.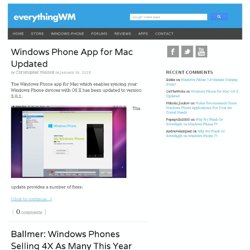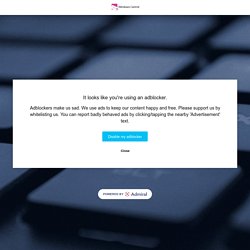 So far, the Preview for Developers program with Windows Phone 8.1 is going very well for Microsoft and those interested in getting an early look at the next OS. The preview, however, is not completely optimized for individual devices, and they still need new firmware to be complete. Once "official" updates rollout with OEM firmware, we expect things to be even better for consumers. Still, Microsoft is in a 'pay attention to the customer' mode, reacting very quickly to user feedback.
While Microsoft already has a Windows Embedded in-car computer system used in systems like Ford Sync, Microsoft is working on a new system which will project your windows phone onto your car's dashboard using the new Mirrorlink standard supported by Nokia and Sony, and soon many others OEMs. The system features a finger-friendly interface and a special selection of apps from the Windows Phone Store. The system is at present a concept,but one which Microsoft is actively testing, and which will hopefully mean Windows Phone will not be left behind when Mirrorlink capable displays become common in cars in the near future. See the video demo after the break.