Wikiscanner
Pour Wikipédia, le Wikiscanner est "un outil formidable"
Florence Devouard (DR) Florence Devouard, présidente de la fondation Wikimédia, explique à Rue89 pourquoi elle va demander l'adaptation dans d'autres langues du site lancé par l'étudiant américain Virgil Griffith, et revient sur les problèmes de fiabilité de l'encyclopédie en ligne. Au mois de mai, Wikipédia a franchi la barre des sept millions d'articles dans 250 langues. Selon la Française Florence Devouard, élue fin 2006 à la tête de la fondation Wikimédia qui édite l'encyclopédie libre, douze langues dépassent les 100 000 notices, ce qui est « infiniment plus important que n'importe quelle encyclopédie papier ayant existé jusque-là ». La langue anglaise est la plus représentée, suivie de l'allemand et du français, qui pourrait passer au deuxième rang, prévoit la fondation.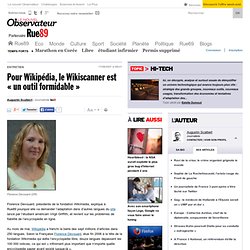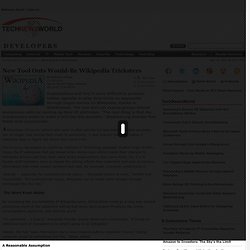 Organizations will find it more difficult to promote hidden agendas or play dirty tricks on opponents through bogus entries on Wikipedia, thanks to WikiScanner. The new tool can expose groups behind anonymous edits by looking up their IP addresses.
Developers: New Tool Outs Would-Be Wikipedia Tricksters
LE MONDE | • Mis à jour le | Par Jean-Marc Manach Un moteur de recherche, le Wikiscanner, lancé le 13 août aux Etats-Unis, permet d'identifier les organismes à l'origine des modifications, effectuées de façon anonyme, sur l'encyclopédie collaborative Wikipédia.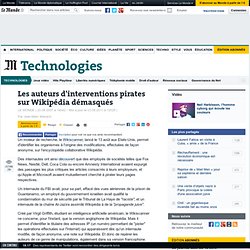 Les auteurs d'interventions pirates sur Wikipédia démasqués
The Editors: Wikipedia edit
Exposed: guess who has been polishing their Wikipedia entries? - Times Online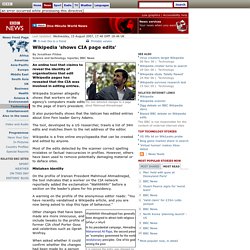 Technology | Wikipedia 'shows CIA page edits'
An online tool that claims to reveal the identity of organisations that edit Wikipedia pages has revealed that the CIA was involved in editing entries.
Wikipedia Scanner outs Vatican, CIA
New Wiki program tracks and shows edits CIA made changes to Iran President's entry CIA claims "vital mission to protect US" The CIA has been accused of editing entries on the interactive encyclopedia Wikipedia. Wikipedia Scanner, an online tool, allegedly shows that workers on the agency's computers edited the page of Iran's president, the BBC reported.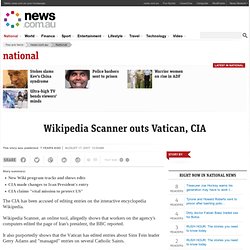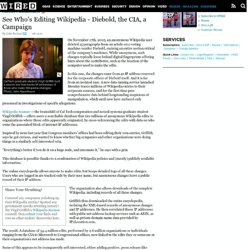 On November 17th, 2005, an anonymous Wikipedia user deleted 15 paragraphs from an article on e-voting machine-vendor Diebold, excising an entire section critical of the company's machines.
See Who's Editing Wikipedia - Diebold, the CIA, a Campaign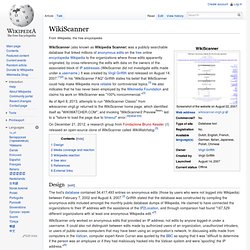 On December 21, 2012, a research group from Fondazione Bruno Kessler (it) released an open-source clone of WikiScanner called WikiWatchdog.[5]
WikiScanner
The reliability of Wikipedia (primarily of the English-language edition), compared to other encyclopedias and more specialized sources, has been assessed in many ways, including statistically, through comparative review, analysis of the historical patterns, and strengths and weaknesses inherent in the editing process unique to Wikipedia.[1]
Reliability of Wikipedia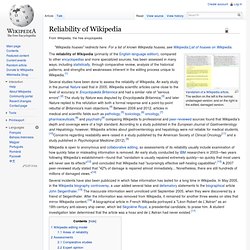 WikiScanner
Un article de Wikipédia, l'encyclopédie libre.