Wikiscanner
Pour Wikipédia, le Wikiscanner est "un outil formidable"
Florence Devouard (DR)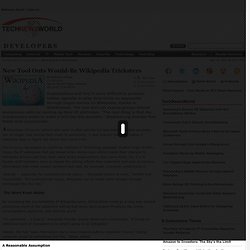 Organizations will find it more difficult to promote hidden agendas or play dirty tricks on opponents through bogus entries on Wikipedia, thanks to WikiScanner. The new tool can expose groups behind anonymous edits by looking up their IP addresses.
Developers: New Tool Outs Would-Be Wikipedia Tricksters
Un moteur de recherche, le Wikiscanner , lancé le 13 août aux Etats-Unis, permet d' identifier les organismes à l'origine des modifications, effectuées de façon anonyme, sur l'encyclopédie collaborative Wikipédia. Des internautes ont ainsi découvert que des employés de société s telles que Fox News, Nestlé, Dell, Coca Cola ou encore Amnesty International avaient expurgé des passages les plus critiques les articles consacrés à leurs employeurs, et qu' Apple et Microsoft avaient mutuellement cherché à pirater leurs pages respectives.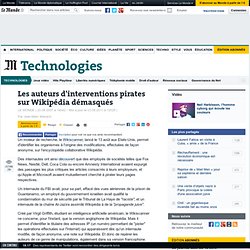 Les auteurs d'interventions pirates sur Wikipédia démasqués
The Editors: Wikipedia edit
Exposed: guess who has been polishing their Wikipedia entries? - Times Online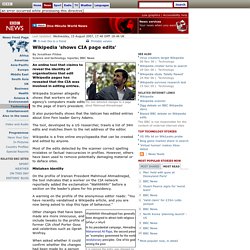 Technology | Wikipedia 'shows CIA page edits'
An online tool that claims to reveal the identity of organisations that edit Wikipedia pages has revealed that the CIA was involved in editing entries.
Wikipedia Scanner outs Vatican, CIA
The CIA has been accused of editing entries on the interactive encyclopedia Wikipedia. Wikipedia Scanner, an online tool, allegedly shows that workers on the agency's computers edited the page of Iran's president, the BBC reported. It also purportedly shows that the Vatican has edited entries about Sinn Fein leader Gerry Adams and "massaged" entries on several Catholic Saints. It is believed the Vatican removed a link to newspaper stories alleging Mr Adams's fingerprints and handprints were found on a car used during a double murder in 1971. On the profile of Iranian President Mahmoud Ahmadinejad, the tool indicates a worker on the CIA network reportedly added "Wahhhhhh!"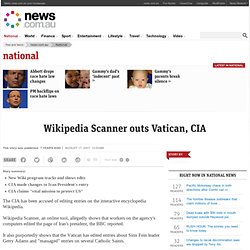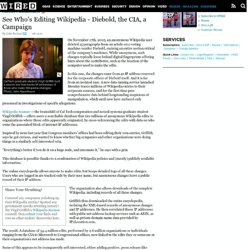 On November 17th, 2005, an anonymous Wikipedia user deleted 15 paragraphs from an article on e-voting machine-vendor Diebold, excising an entire section critical of the company's machines.
See Who's Editing Wikipedia - Diebold, the CIA, a Campaign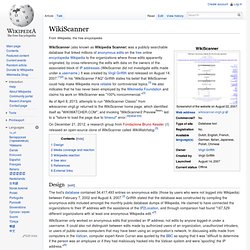 WikiScanner (also known as Wikipedia Scanner ) is a (former) publicly searchable database that linked millions of anonymous edits on the free online encyclopedia Wikipedia to the organizations where those edits apparently originated, by cross-referencing the edits with data on the owners of the associated block of IP addresses (WikiScanner did not investigate edits made under a username .)
WikiScanner
The reliability of Wikipedia (primarily of the English-language edition ), compared to other encyclopedias and more specialized sources, is assessed in many ways, including statistically , through comparative review, analysis of the historical patterns, and strengths and weaknesses inherent in the editing process unique to Wikipedia. [ 1 ]
Reliability of Wikipedia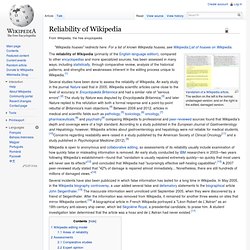 WikiScanner
Un article de Wikipédia, l'encyclopédie libre.