Wikileaks War
Tv5 piraté pour demander la libération de Julian Assange Publié le 14-12-2010 à 13:09:52 dans le thème Hacking Pays : Canada - Auteur : La rédaction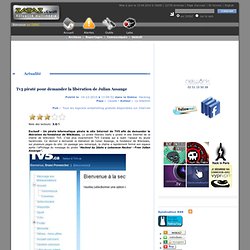 Tv5 piraté pour demander la libération de Julian Assange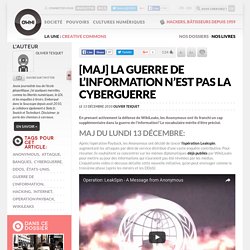 En prenant activement la défense de WikiLeaks, les Anonymous ont-ils franchi un cap supplémentaire dans la guerre de l'information? Le vocabulaire mérite d'être précisé. MAJ du lundi 13 décembre:
New domain again This time it's http://thepiratebay.gy New domain, and soon we'll switch again! We are now at http://thepiratebay.ac but that won't last for long, we'll soon be on our way to the next.
The Pirate Bay - The world's most resilient bittorrent site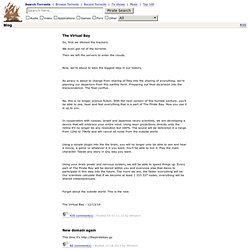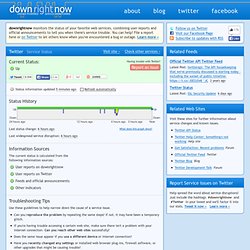 Likely Service Disruption - Twitter status at downrightnow
Status History What does this graph show? Last status change: 3 days ago
Operation Payback Setup Guide
AnonOps: TARGET: WWW.TWITTER.COM: F
WikiLeaks sympathisers attack websites
It's not just you!
Posted to Pastebin by anonymous on 8th of December. Claimed t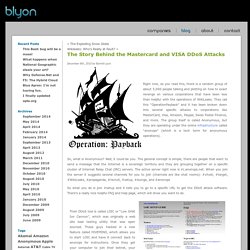 Right now, as you read this, there is a random group of about 5,000 people talking and plotting on how to exact revenge on various corporations that have been less than helpful with the operations of WikiLeaks. They call this "OperationPayback" and it has been broken down into several specific attacks to corporations like MasterCard, Visa, Amazon, Paypal, Swiss Postal Finance, and more. The group itself is called Anonymous, but they are operating under the online infrastructure called "anonops" (which is a tech term for anonymous operations). So, what is Anonymous?
Verbophobia | The Story Behind the Mastercard DDoS
Performance report