WikiLeaks & Technologie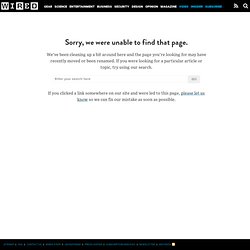 ANALYSIS: Twitter introduced a new feature last month without telling anyone about it, and the rest of the tech world should take note and come up with its own version of it. Twitter beta-tested a spine. On Friday, it emerged that the U.S. government recently got a court order demanding that Twitter turn over information about a number of people connected to WikiLeaks, including founder Julian Assange, accused leaker Pfc.
WikiLeaks: Police to investigate Anonymous online attacks | Technology
The Metropolitan police is to investigate recent online attacks on companies – including Visa, MasterCard and PayPal – that have cut ties with the whistleblowing site WikiLeaks.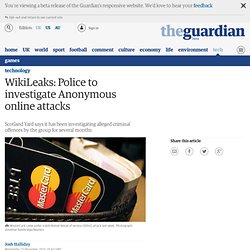 Un groupe de hackers prête main forte à Wikileaks
L'affaire Wikileaks, un sale coup pour le Cloud Computing public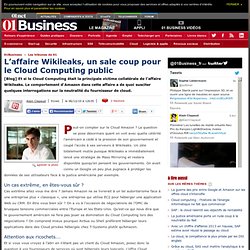 01net. le 06/12/10 à 12h35 Peut-on compter sur le Cloud Amazon ? La question se pose désormais quant on voit avec quelle célérité l'américain a cédé à la pression de son gouvernement et coupé l'accès à ses serveurs à Wikileaks.
WikiLeaks fights to stay online after US company withdraws domain name | Media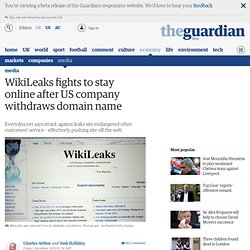 The US was today accused of opening up a dramatic new front against WikiLeaks, effectively "killing" its web address just days after Amazon pulled the site from its servers following political pressure. The whistleblowers' website went offline for the third time in a week this morning, in the biggest threat to its online presence yet.
Twitter Explains Why #WikiLeaks Isn't Trending
Les "sites miroirs" de WikiLeaks pullulent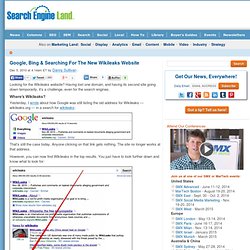 Looking for the Wikileaks website? Having lost one domain, and having its second site going down temporarily, it's a challenge, even for the search engines. Where's Wikileaks? Yesterday, I wrote about how Google was still listing the old address for Wikileaks — wikileaks.org — in a search for wikileaks: That's still the case today.
Google, Bing & Searching For The New Wikileaks Website
Even though Amazon and Paypal have severed their relationships with the controversial to say the least WikiLeaks, the @WikiLeaks Twitter account is still holding strong. Some are wondering why Twitter has as of yet to cut ties with the service after this week's leak of 251,287 diplomatic cables, which pissed some high powered people off to put it lightly. Perhaps WikiLeaks founder Julian Assange is wondering the same thing. Which would explain why only account @WikiLeaks is following at the moment is @TweetBackup, a service that allows you to back up your tweets daily. Tweetbackup, run by Backupify, requires that you follow it in order to use it, which means that Assange has no other choice but to follow if he wants Tweetbackup to preserve his tweets in case of a takedown.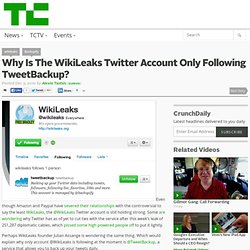 Why Is The WikiLeaks Twitter Account Only Following TweetBackup?
WikiLeaks : bras de fer entre Besson et l'hébergeur du site en France
WikiLeaks interdit de séjour en France ? Depuis le 2 décembre, les serveurs de la société française OVH, située dans le Nord, héberge le site de Julian Assange, qui a mis en ligne des milliers de documents ultrasecrets. Dans une lettre adressée au Conseil général de l'industrie, de l'énergie et des technologies (CGIET), Eric Besson, nouveau ministre de l'Economie numérique, semble visiblement déterminé à interdire cet hébergement. WikiLeaks.org n'existe plus. La page Internet, qui publie depuis dimanche des télégrammes diplomatiques américains, affiche un message d'erreur. Après avoir été abandonné par Amazon.com, et après seulement 6 heures d'interruption sur la Toile, le site est désormais disponible sur plusieurs autres adresses, situées partout dans le monde : http://46.59.1.2/ mais aussi sur une adresse suisse (wikileaks.ch), suédoise, ainsi que sur les serveurs d'OVH .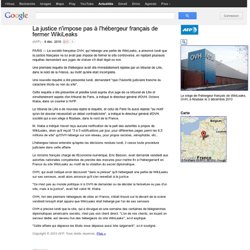 La justice n'impose pas à l'hébergeur français de fermer WikiLeaks (AFP) – 6 déc. 2010 PARIS — La société française OVH, qui héberge une partie de WikiLeaks, a annoncé lundi que la justice française ne lui avait pas imposé de fermer le site controversé, en rejetant plusieurs requêtes demandant aux juges de statuer s'il était légal ou non. Une première requête de l'hébergeur avait été immédiatement rejetée par un tribunal de Lille, dans le nord de la France, au motif qu'elle était incomplète.
La justice n'impose pas à l'hébergeur français de fermer WikiLeaks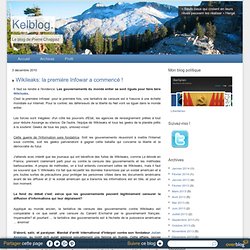 Il faut se rendre à l'évidence: Les gouvernements du monde entier se sont ligués pour faire taire Wikileaks. C'est la première Infowar: pour la première fois, une tentative de censure est à l'oeuvre à une échelle mondiale sur Internet. Pour la contrer, les défenseurs de la liberté du Net vont se liguer dans le monde entier. Les forces sont inégales: d'un côté les pouvoirs d'Etat, les agences de renseignement prêtes à tout pour réduire Assange au silence. De l'autre, l'équipe de Wikileaks et tous les geeks de la planète prêts à la soutenir. Geeks de tous les pays, unissez-vous!
Le Monde.fr avec AFP et Reuters | • Mis à jour le Le géant américain de la distribution en ligne Amazon a cessé d'héberger le site WikiLeaks, affirme mercredi 1er décembre dans un communiqué le sénateur américain indépendant Joe Lieberman, président de la commission sénatoriale de la sécurité intérieure. Le site, qui révèle depuis dimanche 250 000 notes diplomatiques américaines, suscitant la colère de Washington et l'embarras de plusieurs gouvernements, était partiellement inaccessible mercredi. WikiLeaks aurait depuis migré ses serveurs vers la Suède. "Ce matin, Amazon a informé mon équipe qu'il avait cessé d'héberger le site de WikiLeaks", a déclaré le sénateur. La mesure prise par Amazon est la "bonne décision et devrait constituer une référence pour les autres entreprises que WikiLeaks utilise pour diffuser illégalement ses informations", a ajouté l'élu.
Amazon cesserait d'héberger le site WikiLeaks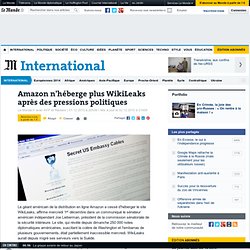 Spain's El Pais, France's Le Monde, Germany's Speigel, The Guardian. and the New York Times are set to publish the material. British officials fear that the confidential cables will reveal details of a secret operation to disrupt Iranian smuggling of nuclear materials through the Gulf and Turkey. Officials involved in overseeing British policy in the region say that diplomatic materials compiled between 2008 and 2010 on Iran contained sensational information that could jeopardise efforts to disrupt the nuclear programme if unveiled on WikiLeaks. The Italian Prime Minister Silvio Berlusconi's "close relationship" with Russian counterpart Vladimir Putin, is also said to be among WikiLeaks documents due to be released. Mr Berlusconi has been friends with former KGB agent Mr Putin, for more than five years and the two have held numerous bilateral meetings as well as entertained each other on holiday.
WikiLeaks 'under cyber attack'
01net le 03/12/10 à 16h00 Comme nous l'indiquions précédemment, Eric Besson, ministre chargé de l'Economie numérique, souhaite que WikiLeaks – le site qui affole la diplomatie mondiale depuis plusieurs jours –, ne soit pas hébergé en France.
Affaire Wikileaks : OVH demande à la justice de se prononcer
Want to explore the "Cablegate" material that Wikileaks released last week for yourself, but have no idea where to start? There's a new search engine for the material. Cablesearch: A Google For Cablegate Called Cablesearch, it's a project from the Eccar: The European Center of Computer Assisted Reporting.
Searching The Wikileaks Cablegate Archives With Cablesearch