WikiLeaks & Technologie
WIKILEAKS PHENOMENA. WikiLeaks: Police to investigate Anonymous online attacks | Technology. The Metropolitan police is to investigate recent online attacks on companies – including Visa, MasterCard and PayPal – that have cut ties with the whistleblowing site WikiLeaks.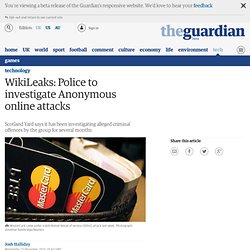 Scotland Yard today said that for several months it has been examining a number of alleged criminal offences by Anonymous, the loose-knit group committed to bringing down sites perceived to be acting against WikiLeaks. Downing Street was this week preparing to face a major attack on its sites from the group after Swedish prosecutors challenged the decision to grant bail to the WikiLeaks founder, Julian Assange, over charges of alleged sex crimes in Sweden. The Swedish prosecution office's website, aklagare.se, was attacked for 11 hours overnight on Tuesday after it maintained it would press for Assange to be extradited. The so-called "distributed denial of service" (DDoS) attacks, which bring down sites by overpowering them with repeated requests to load, are illegal in the UK. Un groupe de hackers prête main forte à Wikileaks. L'affaire Wikileaks, un sale coup pour le Cloud Computing public.
01net. le 06/12/10 à 12h35 Peut-on compter sur le Cloud Amazon ?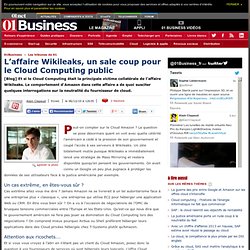 La question se pose désormais quant on voit avec quelle célérité l'américain a cédé à la pression de son gouvernement et coupé l'accès à ses serveurs à Wikileaks. WikiLeaks fights to stay online after US company withdraws domain name | Media. The US was today accused of opening up a dramatic new front against WikiLeaks, effectively "killing" its web address just days after Amazon pulled the site from its servers following political pressure.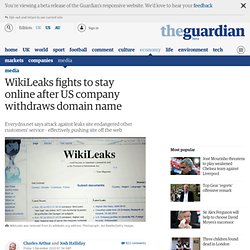 The whistleblowers' website went offline for the third time in a week this morning, in the biggest threat to its online presence yet. Joe Lieberman, chairman of the Senate's committee on homeland security, earlier this week called for any organisation helping sustain WikiLeaks to "immediately terminate" its relationship with them. On Friday morning, WikiLeaks and the cache of secret diplomatic documents that have proved to be a scourge for governments around the world were only accessible through a string of digits known as a DNS address. The site later re-emerged with a Swiss domain, WikiLeaks.ch. Julian Assange this morning said the development is an example of the "privatisation of state censorship" in the US and is a "serious problem. "
Twitter Explains Why #WikiLeaks Isn't Trending. Twitter has finally responded to numerous accusations that it has been purposely keeping #WikiLeaks and related hashtags out of its Trending Topics list.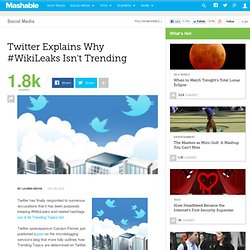 Twitter spokesperson Carolyn Penner just published a post on the microblogging service's blog that more fully outlines how Trending Topics are determined on Twitter. In essence: Twitter favors novelty over popularity. Les "sites miroirs" de WikiLeaks pullulent. Google, Bing & Searching For The New Wikileaks Website.
Looking for the Wikileaks website?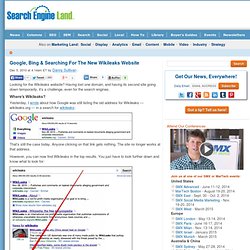 Having lost one domain, and having its second site going down temporarily, it's a challenge, even for the search engines. Where's Wikileaks? Yesterday, I wrote about how Google was still listing the old address for Wikileaks — wikileaks.org — in a search for wikileaks: That's still the case today. Why Is The WikiLeaks Twitter Account Only Following TweetBackup? Even though Amazon and Paypal have severed their relationships with the controversial to say the least WikiLeaks, the @WikiLeaks Twitter account is still holding strong.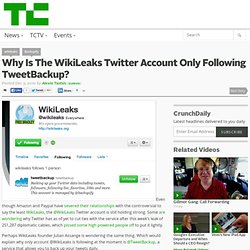 Some are wondering why Twitter has as of yet to cut ties with the service after this week's leak of 251,287 diplomatic cables, which pissed some high powered people off to put it lightly. Perhaps WikiLeaks founder Julian Assange is wondering the same thing. Which would explain why only account @WikiLeaks is following at the moment is @TweetBackup, a service that allows you to back up your tweets daily. Tweetbackup, run by Backupify, requires that you follow it in order to use it, which means that Assange has no other choice but to follow if he wants Tweetbackup to preserve his tweets in case of a takedown.
WikiLeaks : bras de fer entre Besson et l'hébergeur du site en France. Wikileaks: la première Infowar a commencé. Il faut se rendre à l'évidence: Les gouvernements du monde entier se sont ligués pour faire taire Wikileaks.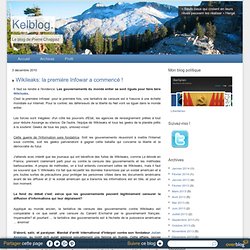 C'est la première Infowar: pour la première fois, une tentative de censure est à l'oeuvre à une échelle mondiale sur Internet. Pour la contrer, les défenseurs de la liberté du Net vont se liguer dans le monde entier. Les forces sont inégales: d'un côté les pouvoirs d'Etat, les agences de renseignement prêtes à tout pour réduire Assange au silence. De l'autre, l'équipe de Wikileaks et tous les geeks de la planète prêts à la soutenir. Geeks de tous les pays, unissez-vous! Amazon cesserait d'héberger le site WikiLeaks. Le Monde.fr avec AFP et Reuters | • Mis à jour le Le géant américain de la distribution en ligne Amazon a cessé d'héberger le site WikiLeaks, affirme mercredi 1er décembre dans un communiqué le sénateur américain indépendant Joe Lieberman, président de la commission sénatoriale de la sécurité intérieure.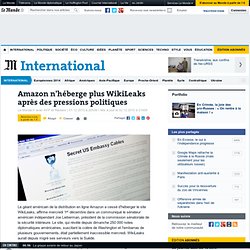 Le site, qui révèle depuis dimanche 250 000 notes diplomatiques américaines, suscitant la colère de Washington et l'embarras de plusieurs gouvernements, était partiellement inaccessible mercredi. WikiLeaks aurait depuis migré ses serveurs vers la Suède. "Ce matin, Amazon a informé mon équipe qu'il avait cessé d'héberger le site de WikiLeaks", a déclaré le sénateur. La mesure prise par Amazon est la "bonne décision et devrait constituer une référence pour les autres entreprises que WikiLeaks utilise pour diffuser illégalement ses informations", a ajouté l'élu.
WikiLeaks 'under cyber attack' WikiLeaks. Affaire Wikileaks : OVH demande à la justice de se prononcer. 01net le 03/12/10 à 16h00 Comme nous l'indiquions précédemment, Eric Besson, ministre chargé de l'Economie numérique, souhaite que WikiLeaks – le site qui affole la diplomatie mondiale depuis plusieurs jours –, ne soit pas hébergé en France.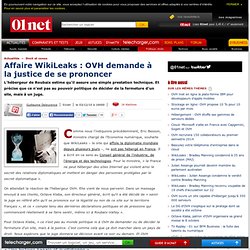 Searching The Wikileaks Cablegate Archives With Cablesearch. Want to explore the "Cablegate" material that Wikileaks released last week for yourself, but have no idea where to start?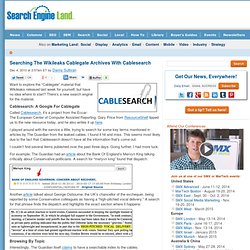 There's a new search engine for the material. Cablesearch: A Google For Cablegate Called Cablesearch, it's a project from the Eccar: The European Center of Computer Assisted Reporting.
---