Wikileaks on TechCrunch
WikiLeaks, the Sweden-based organisation that publishes anonymous leaks of secret material (most recently 90,000 documents about the War in Afghanistan) has until now, relied on donations to fund its activities.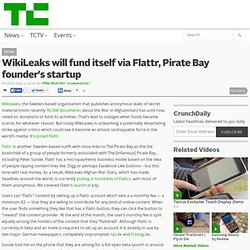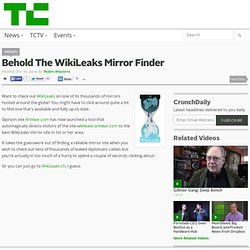 Want to check out WikiLeaks on one of its thousands of mirrors hosted around the globe?
Behold The WikiLeaks Mirror Finder
Le Web. I'm still unclear on the unique selling point of Europe's "leading technology conference", and yet here I am, for the third year in a row, hanging out in a snow-bound venue four hundred miles from the centre of Paris, watching a succession of American entrepreneurs being interviewed – in English – by journalists who have flown in specially from California.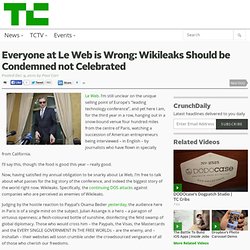 Everyone at Le Web is Wrong: Wikileaks Should be Condemned not Celebrated
PayPal VP On Blocking WikiLeaks: State Department Said It Was Illegal
Milo Yannopoulos' very first question on stage to PayPal's VP of Platform Osama Bedier was about why PayPal blocked WikiLeaks payments and froze its account. The question was met with boos from the mostly European audience.