Wikileaks on TechCrunch
[2010] WikiLeaks will fund itself via Flattr, Pirate Bay founder's startup. WikiLeaks, the Sweden-based organisation that publishes anonymous leaks of secret material (most recently 90,000 documents about the War in Afghanistan) has until now, relied on donations to fund its activities.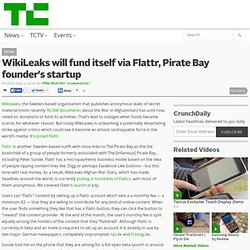 That's lead to outages when funds became scarce, for whatever reason. But today WikiLeaks is unleashing a potentially devastating strike against criitics which could see it become an almost unstoppable force in the world's media. It's joined Flattr. Flattr is another Sweden-based outfit with close links to The Pirate Bay as the the brainchild of a group of people formerly associated with The [infamous] Pirate Bay, including Peter Sunde. Behold The WikiLeaks Mirror Finder. Want to check out WikiLeaks on one of its thousands of mirrors hosted around the globe?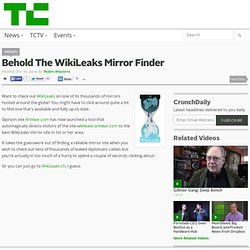 You might have to click around quite a bit to find one that's available and fully up-to-date. Opinion site Antiwar.com has now launched a tool that automagically directs visitors of the site wikileaks.antiwar.com to the best WikiLeaks mirror site in his or her area. It takes the guesswork out of finding a reliable mirror site when you wish to check out tens of thousands of leaked diplomatic cables but you're actually in too much of a hurry to spend a couple of seconds clicking about. Everyone at Le Web is Wrong: Wikileaks Should be Condemned not Celebrated. Le Web.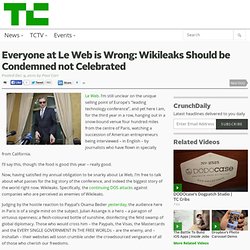 I'm still unclear on the unique selling point of Europe's "leading technology conference", and yet here I am, for the third year in a row, hanging out in a snow-bound venue four hundred miles from the centre of Paris, watching a succession of American entrepreneurs being interviewed – in English – by journalists who have flown in specially from California. I'll say this, though: the food is good this year – really good. Now, having satisfied my annual obligation to be snarky about Le Web, I'm free to talk about what passes for the big story of the conference, and indeed the biggest story of the world right now.
Wikileaks. Specifically, the continuing DOS attacks against companies who are perceived as enemies of Wikileaks. PayPal VP On Blocking WikiLeaks: State Department Said It Was Illegal. Milo Yannopoulos' very first question on stage to PayPal's VP of Platform Osama Bedier was about why PayPal blocked WikiLeaks payments and froze its account.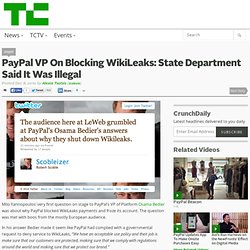 The question was met with boos from the mostly European audience. In his answer Bedier made it seem like PayPal had complied with a governmental request to deny service to WikiLeaks, "We have an acceptable use policy and their job is make sure that our customers are protected, making sure that we comply with regulations around the world and making sure that we protect our brand." Bedier also said that PayPal's decision was influenced by the fact that the State Department deemed WikiLeaks illegal in a letter sent on November 27th, a statement that was not followed up on by Yiannopoulos. It is still unclear what exact US laws WikiLeaks is breaking.
---