Torture
Secret order that let US ignore abuse. A prisoner was kneeling on the ground, blindfolded and handcuffed, when an Iraqi soldier walked over to him and kicked him in the neck.
A US marine sergeant was watching and reported the incident, which was duly recorded and judged to be valid. The outcome: "No investigation required. " That was a relatively minor assault. Secret Iraq Files. Detainees handed over despite reports of torture. Special Rapporteur on Torture. Special Rapporteur on torture and other cruel, inhuman or degrading treatment or punishment Latest 2011 - General Assembly report - A/66/268 A much needed push to eradicate torture in Latin America and the Caribbean , 14 June 2011 The visit of the UN Special Rapporteur on torture and other forms of cruel, inhuman, degrading treatment or punishment in Tunisia (15- 22 May) Press Statement [ E F ]
Systematisk tortyr under kriget. I genomsnitt rapporterades under perioden 2004-2009 ett misstänkt övergrepp eller krigsbrott per dag begånget av de amerikanska soldaterna, deras irakiska allierade eller okända gärningsmän.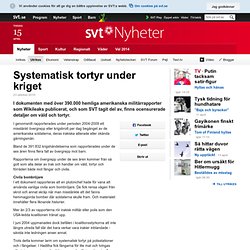 Bland de 391.832 krigshändelserna som rapporterades under de sex åren finns flera fall av övergrepp mot barn. Rapporterna om övergrepp under de sex åren kommer från så gott som alla delar av Irak och handlar om våld, tortyr och förräderi både mot fångar och civila. Civila bombröjareI ett dokument rapporteras att en plutonchef hade för vana att använda vanliga civila som bombröjare.
---