Questions d'éthique
[2010] Is radical transparency compatible with total anonymity? - By Farhad Manjoo
[2010] Who watches WikiLeaks? | Media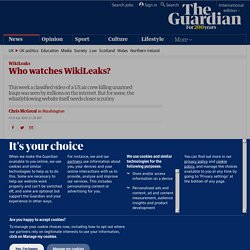 It has proclaimed itself the "intelligence service of the people", and plans to have more agents than the CIA. They will be you and me. WikiLeaks is a long way from that goal, but this week it staked its claim to be the dead drop of choice for whistleblowers after releasing video the Pentagon claimed to have lost of US helicopter crews excitedly killing Iraqis on a Baghdad street in 2007.
Have the activists behind WikiLeaks—and in particular the Web site's founder, Julian Assange—become intoxicated by their own myth? Two recent events involving the now internationally watched Assange and the Web site seem to indicate that this is the case. WikiLeaks proclaims lofty goals . "Since July 2007, we have worked across the globe to obtain, publish and defend [sensitive] materials, and, also, to fight in the legal and political spheres for the broader principles on which our work is based: the integrity of our common historical record and the rights of all peoples to create new history.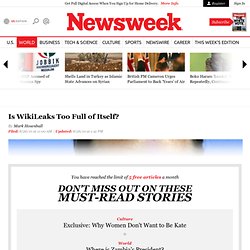 [2010] Is WikiLeaks Too Full of Itself? - Newsweek
[2010] Wikileaks n'est pas une solution à la crise du journalisme d'investigation
[2010] Wikileaks, une question d'éthique et de méthode
[2010] I love WikiLeaks for restoring distrust in our most important institutions. - By Jack Shafer
[2010] No evidence that WikiLeaks releases have hurt anyone - World AP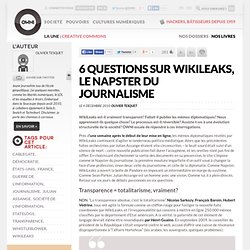 [2010] Le Napster du journalisme » Article » OWNI, Digital Journalism
WikiLeaks est-il vraiment transparent? Fallait-il publier les mémos diplomatiques? Nous apprennent-ils quelque chose? Le processus est-il réversible? Assiste-t-on à une évolution structurelle de la société? OWNI essaie de répondre à ces interrogations.
[2010] Jimmy Wales (Wikipedia) vs WikiLeaks