Questions d'éthique
[2010] Is radical transparency compatible with total anonymity? - By Farhad Manjoo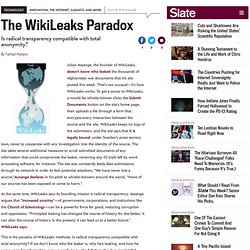 Consider the Afghanistan war logs. WikiLeaks says that its source has given the site more than 91,000 classified military reports. So far, WikiLeaks has posted all but 15,000, which have been delayed "as part of a harm minimization process demanded by our source." What does this mean?
[2010] Who watches WikiLeaks? | Media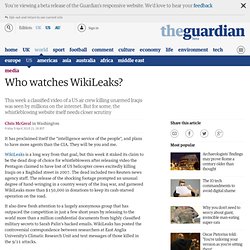 It has proclaimed itself the "intelligence service of the people", and plans to have more agents than the CIA. They will be you and me.
Have the activists behind WikiLeaks—and in particular the Web site's founder, Julian Assange—become intoxicated by their own myth?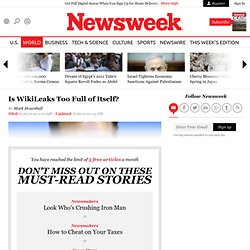 [2010] Is WikiLeaks Too Full of Itself? - Newsweek
[2010] I love WikiLeaks for restoring distrust in our most important institutions. - By Jack Shafer
International scandals—such as the one precipitated by this week's WikiLeaks cable dump—serve us by illustrating how our governments work. Better than any civics textbook, revisionist history, political speech, bumper sticker, or five-part investigative series, an international scandal unmasks presidents and kings, military commanders and buck privates, cabinet secretaries and diplomats, corporate leaders and bankers, and arms-makers and arms-merchants as the bunglers, liars, and double-dealers they are. The recent WikiLeaks release, for example, shows the low regard U.S. secretaries of state hold for international treaties that bar spying at the United Nations. Both Secretary of State Hillary Clinton and her predecessor, Condoleezza Rice, systematically and serially violated those treaties to gain an incremental upper hand.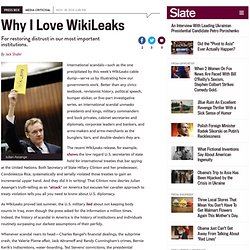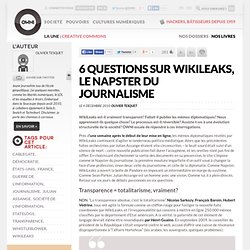 [2010] Le Napster du journalisme » Article » OWNI, Digital Journalism
WikiLeaks est-il vraiment transparent? Fallait-il publier les mémos diplomatiques? Nous apprennent-ils quelque chose? Le processus est-il réversible? Assiste-t-on à une évolution structurelle de la société? OWNI essaie de répondre à ces interrogations.
[2010] Jimmy Wales (Wikipedia) vs WikiLeaks